Her legal team claims the videos are in violation of the state's revenge porn laws
Get the latest from Brad Hunter straight to your inbox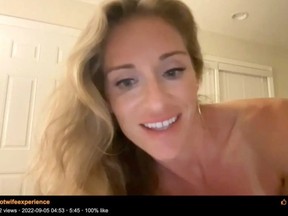 Virginia Democratic candidate Susanna Gibson is irate that her saucy performances on a porn site have been made public. SCREENGRAB
Neophyte politician and porn enthusiast Susanna Gibson's electoral fortunes are in freefall after racy video footage emerged of the pol and her hubby.
Article content
The Democratic candidate for the Virginia legislature was literally caught in the act and even soliciting tips during one of her online sex shows.
Article content
Now, her poll numbers have dropped by a whopping 10% among likely voters in her district.
Gibson, who is running to represent the 57th District in the Old Dominion's House of Delegates, now trails Republican David Owen by 49.5% to 38.9%, a Cygnal poll exclusively obtained by the New York Post reveals.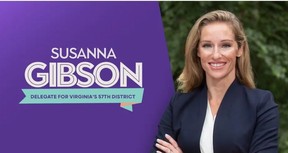 VOTE FOR ME! Susanna Gibson. FACEBOOK
Before the scandal exploded in early September, Owen had a narrow 4% lead. Then, the Washington Post broke the sex show story.
By signing up you consent to receive the above newsletter from Postmedia Network Inc.
Thanks for signing up!
A welcome email is on its way. If you don't see it, please check your junk folder.
The next issue of Your Midday Sun will soon be in your inbox.
Article content
Article content
More than 80% were aware of Gibson's carnal capers.
In the GOP camp, operatives smell blood in the water.
"It's no surprise that Ms. Gibson's polling poorly," Owens spokesman Aaron Evans told the Post. "David Owen is remaining focused on his common-sense agenda of renewing the economy, lowering crime, and improving our schools for the future of Virginia families."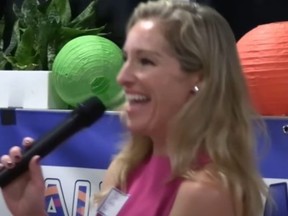 SUSANNA GIBSON: Democratic hopeful in action.
Photo by Screenshot
For her part, Gibson, 40, has refused to bail on the election to save the day for the Democrats.
An unknown local political gadfly in suburban Richmond, Gibson is now very well known — but not for the reasons she had hoped. She streamed more than a dozen live sex romps with her hubby to the delight of her 5,770 Chaturbate followers.
She maintained the account even after announcing her candidacy. Using the handle HotWifeExperience, Gibson last posted a photo on Sept. 5, 2022.
Article content
Gibson and her lawyer husband pressed fans for more "tokens" in exchange for certain sex acts. She claimed she was "raising money for a good cause."
The political rookie has slammed her political opponents for "gutter politics."
She said in a statement: "My political opponents and their Republican allies have proven they're willing to commit a sex crime to attack me and my family because there's no line they won't cross to silence women when they speak up.
"There's too much at stake in this election and I'll never stop fighting for our community."
Her legal team claims the videos are in violation of the state's revenge porn laws.
The Cygnal poll surveyed 325 likely voters in the 57th District between Sept. 19 and 21, with a margin of error of plus or minus 5.4%.
bhunter@postmedia.com
@HunterTOSun
Article content