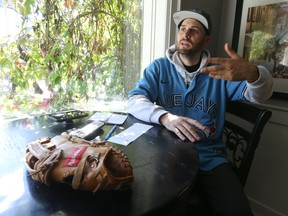 Frankie Lasagna, at his Italian restaurant Terrazza, on Harbord St., talks about missing out on catching New York Yankees star Aaron Judge's record-tying 61st home run during the seventh inning of Wednesday night's Blue Jays game on Thursday, Sept. 29, 2022.

Photo by JACK BOLAND

/

TORONTO SUN
Frankie Lasagna couldn't catch a break no matter how hard he tried.
Or catch a ball either.
From our newsroom to your inbox at noon, the latest headlines, stories, opinion and photos from the Toronto Sun.
By clicking on the sign up button you consent to receive the above newsletter from Postmedia Network Inc. You may unsubscribe any time by clicking on the unsubscribe link at the bottom of our emails. Postmedia Network Inc. | 365 Bloor Street East, Toronto, Ontario, M4W 3L4 | 416-383-2300
Thanks for signing up!
A welcome email is on its way. If you don't see it, please check your junk folder.
The next issue of Your Midday Sun will soon be in your inbox.
But the Toronto restauranteur admits he was catching a little flak Thursday. While some were quick to judge, Aaron Judge sure wasn't.
The happiest person in the Rogers Centre on Wednesday night following Judge's 61th home run of the season — tying the American League record with Roger Maris — was the New York Yankees slugger himself. Not only has he solidified his place in Yankees folklore, he didn't have to negotiate with anybody about the record-tying ball.
For a few minutes, the saddest person in the dome was Lasagna, who owns and operates the popular Terrazza restaurant on Harbord St. Actually, there were a few frowning fans who came within inches of being partners with No. 99 on what happens with that baseball.
Move over, the shot heard heard around the world. This was the drop seen around the world. Well, it wasn't really a drop. More of a miss — one that may have cost Frankie, and another unknown glove man next to him, a cool million.
"So close and yet so far," the 37-year-old restauranteur teased the day after he came inches from riches and going down in history.
Even with the noodling he's taking, Lasagna is still going to be part of Toronto baseball legend for a long time. Sometimes not making the play is the best play of all. There were thousands at the Rogers Centre who would have loved to have been in his shoes. Like so many at this game, Frankie had a first baseman's glove he found in the garage out and ready for his moment.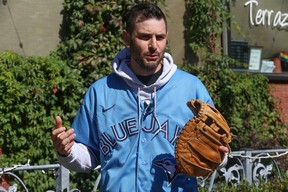 Frankie Lasagna says he was "so close and yet so far" from catching the Aaron Judge home run ball on Wednesday night at the Rogers Centre. JACK BOLAND/TORONTO SUN
"You hear the crack and, 'oh my God, it's coming to us,'" said Frankie, who was decked out in his Blue Jays garb in the front row of in left field above the Blue Jays bullpen. "Then it was gone, in a blink of an eye."
The ball dropped into the bullpen where bullpen coach Matt Buschmann grabbed it and was seen by his wife Sara Walsh, battening down the hatches of their Hurricane Ian-affected home, walking away with it in hand. Little did she know he soon turned it over to the Yankees to give to Judge, to which she joked in a tweet "Oh cool. He just handed that back without checking to see if our house is still here. I'd next like to announce our divorce."
It seems many wanted to get their hands on this coveted baseball, which some experts say could go on the market for anywhere between $250,000 and a cool million. It would have been like a lottery win for Lasagna, who himself played baseball as a kid at Christie Pits and is a huge Jays fan.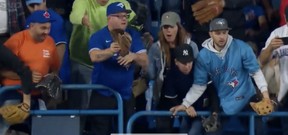 A screen grab of the big play in the stands on Wednesday night.
"I thought about maybe raising some money with Aaron for charity with it," he said. "They say it would be like winning the lottery but I already won the lottery with my beautiful wife and two kids."
Still, you could see the anguish on his face as he put his hands over his head at just how close he came to being the one who owned the ball. He was, however, not as animated as the other gentleman in the Bo Bichette jersey who looked really distraught.
SIMMONS: Walks stall New York Yankees' Aaron Judge's home run chase

Blue Jays playoff push on hold as Aaron Judge hits historic blast
"He took a lot of heat from the fans," said Lasagna. "A lot of people thought I was him and he was me. I felt bad for him. At the end of the day this was Aaron's ball so it all worked out."
Not only has Lasagna invited this mystery fan to come to his restaurant to have a meal and cry in a beer together, he's invited Judge and his teammates and family to come as well.
"I think we can all have a laugh about it," said Lasagna.
Back making pizzas and pasta in his restaurant Thursday, his phone was ringing of the hook with reservations. Turns out, even without catching the ball, it wasn't just Aaron Judge who hit a home run.