The city's online registration system for swimming classes toutinely overflows as parents compete for the limited spaces available in each class.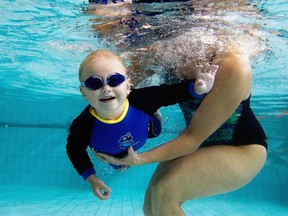 Registering children for swimming classes in Ottawa is no mean feat for parents.

Photo by Ian Waldie

/

Getty Images
If you are a parent in Ottawa, and you want your child to learn to swim, you know what Monday is. (I can hear the knuckles cracking and necks flexing from here.)
If this falls outside your experience, here's a quick primer.
With the turning of every season, the city's swimming registration overflows as parents compete for the limited spaces available in each class. Preparing for the 9 p.m. online sign-up is a sport unto itself. It involves vigorous scrolling of the city's app, intensive "hearting" of desired classes, and tears of frustration when the best laid plans go awry.
It's as close as most of us parents will get to competitive sport. Thankfully it only comes around once a quarter, as we spend the intervening months recovering.
In pre-pandemic times, the system was clunky but predictable. If you had the time and energy to log in about 45 minutes before go-time, and moved your mouse with regularity, you'd likely get one of your top three picks, based on the fact that most parents are too tired, harried or burdened to dedicate 45 prime-time minutes to mindless mouse movements.
I'd gotten caught flat-footed more than once, misguidedly trying to log in at the appointed time, not realizing the competition had gotten a head-start, snapping up top spots like Saturday morning or Tuesday at 6 p.m., leaving only a few less desirable options like the impossible-to-make-it-there-on-time-4 p.m.-on-a weekday classes.
And, just as I got wise to the ways of the successful swim mom, the city released a new, more democratic system, that doesn't favour early birds, nor punish those who arrive on time. It treats everyone with equal disdain. When the masses converge at 9 p.m., it'll freeze you out just as soon as it will let you in.
Parents exchange frantic texts. "I'm frozen!" "It kicked me out!" "I was next in line but now I'm booted out entirely." These are invariably followed by a lot of expressive emojis. Think face palm, devil's horns, and the laugh-crying face, which denotes the nuanced, "I know this isn't really worth crying about, but at the same time, I hoped my kids might one day learn this life skill and it's looking unlikely so I might just have to toss them in and hope for the best."
If you've got more than one child, and want them to swim at around the same time, at the same location (gasp!) this highly elevates your level of difficulty.
Some parents allocate one device and consenting adult to each child in question. While an apt strategy, it has been known to lead to the dissolution of marriages. "Jill is in Swim Colours Green at 6 p.m.! Did you get Jack into Swim Colour Lime at 6:15 like we planned?" And silence came the loud reply.
Other families take a more sanguine approach, such as "pick your favourite child," or, "focus efforts on the child most likely to drown."
But come hell or high water, Monday at 9 p.m., Ottawa parents will sink or swim.
Suzanne Westover is an Ottawa writer.
Pellerin: Name public buildings after community heroes, not the highest bidder

Kurl: The RCMP faces yet another critical moment to improve. But history leaves us sceptical