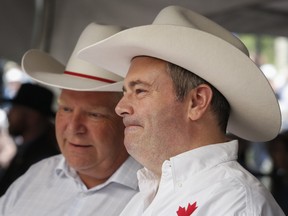 Premiers Jason Kenney, right, of Alberta, and Doug Ford, of Ontario, attend the Premier's Stampede Breakfast in Calgary, in 2019.
Photo by Jeff McIntosh/The Canadian Press
Ontario endured strict and lengthy pandemic lockdowns, especially compared to Alberta's much lighter touch. But conservative voters seem ready to reward Doug Ford's Ontario PCs with re-election while, out West, angry conservatives in Alberta have driven their premier from office. Hamish Marshall, a former national Conservative campaign manager, joins Anthony Furey this week to discuss how Ontario's political culture has shifted since COVID and how Ford — unlike Kenney — has captured the conservative mood in his province, all while stealing traditional supporters of the Liberals and NDP. (Recorded May 26, 2022)
Subscribe to Full Comment on your favourite podcast app.
Sign up to receive the daily top stories from the National Post, a division of Postmedia Network Inc.
By clicking on the sign up button you consent to receive the above newsletter from Postmedia Network Inc. You may unsubscribe any time by clicking on the unsubscribe link at the bottom of our emails. Postmedia Network Inc. | 365 Bloor Street East, Toronto, Ontario, M4W 3L4 | 416-383-2300
Thanks for signing up!
A welcome email is on its way. If you don't see it, please check your junk folder.
The next issue of NP Posted will soon be in your inbox.