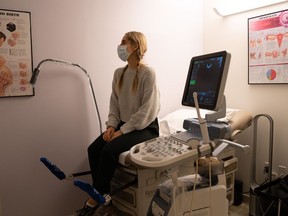 Megan sits in a monitoring room at her fertility clinic, waiting for a transvaginal ultrasound of her ovaries. During an egg-freezing cycle, women must attend monitoring appointments every few days.

Photo by Matilda Hay

/

For The Washington Post
Reviews and recommendations are unbiased and products are independently selected. Postmedia may earn an affiliate commission from purchases made through links on this page.
Megan B., a 36-year-old therapist and executive coach living in New York, decided to freeze her eggs after a breakup at 35. But it wasn't an easy decision.
Article content
"This is such an empowering thing, and technology's amazing," she says the night before starting treatment. "But the primary feelings are not positive ones. They're grief and anxiety and fear and shame, and those are really difficult feelings."
Article content
An image of Sisyphus, fated to eternally push a boulder uphill, hangs on Megan's living room wall. She sees it as a metaphor of the endless, evolving expectations on women — egg freezing the latest one. Newly single last year, she was shocked when several men asked her during first dates whether she'd frozen her eggs. It seems to have become a commodity, she says: "another thing you have to do to stay relevant."
Since the technology's "experimental" label was lifted in 2012, interest in egg freezing has soared.
Article content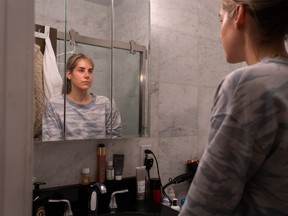 Megan prepares for bed the night before her egg retrieval. After a disappointing monitoring scan, she's feeling anxious about how many eggs might be retrieved.

Photo by Matilda Hay

/

For The Washington Post
In 2015, the Society for Assisted Reproductive Technology (SART) recorded about 7,600 egg freezing cycles in SART-affiliated clinics in the United States; by 2019, the number was nearly 16,000 egg freezing cycles. Demand jumped again during the pandemic. SART-affiliated clinics reported a 31% increase in freezing cycles between 2020 and 2021.
The procedure is also on the rise in the United Kingdom, Australia and New Zealand, and Singapore recently approved elective egg freezing.
Marcia Inhorn, an anthropology professor at Yale University, embarked on a decade-long study to understand what drives healthy women to freeze their eggs. She expected to hear that it was about fitting their fertility around ambitions and careers. But the results, she says, were "astounding."
By signing up you consent to receive the above newsletter from Postmedia Network Inc.
Thanks for signing up!
A welcome email is on its way. If you don't see it, please check your junk folder.
The next issue of Your Midday Sun will soon be in your inbox.
Article content
Article content
"It was overwhelmingly about relationship issues," Inhorn explains. "Amazing woman, after amazing woman, all without a partner." She identified three main categories of those who froze their eggs: women freezing after a breakup or divorce, women still single despite years of dating and women with partners who weren't ready for children.
RECOMMENDED VIDEO
Many people blamed themselves for their situations, but Inhorn says that they shouldn't, citing underlying demographic disparities, such as our changing gender ratios in higher education, as a factor. In 2012, there were only three male graduates in the United States for every four female ones, Jon Birger wrote in The Washington Post in 2015. For educated women seeking an equal partner, their dating pool is lopsided.
Article content
Another factor may be changing attitudes toward fatherhood. In her recent book, "Motherhood on Ice," Inhorn notes that it is often men, not women, who want to delay child rearing. American women, she writes, "are waiting to find a man who is ready to have children . . . we need to understand why many men are now waiting, or opting out of these pathways altogether."
Of course, there are alternative ways to create a family, but many people who freeze their eggs are holding out hope for a traditional partnership. In this way, Inhorn believes egg freezing is simultaneously a "technology of hope" that buys time and "a technology of despair," adopted as a last resort.
Megan experiences this conflict keenly. She says she feels grief for a life previously envisioned — "I had hoped I'd be married with kids at this point" — and failure for not having it. But she also feels gratitude that egg freezing exists. With the average freezing cycle costing $10,000 to $12,000, it's a luxury not everyone can afford.
Article content
She finds the process itself anxiety-inducing. Once her period arrives, Megan must inject herself with hormones each night for roughly two weeks, stimulating her ovaries to produce multiple eggs. Another medication is added in the second week, to prevent early ovulation. The size of her follicles must be monitored at a clinic every few days, with a final "trigger shot" administered exactly 36 hours before retrieval, which is a short surgery performed under sedation.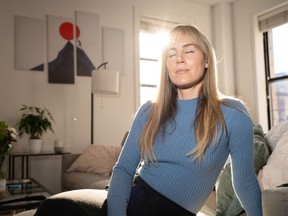 Megan relaxes at home four days after her egg retrieval.

Photo by Matilda Hay

/

For The Washington Post
There are a lot of possibilities for mistakes, she says, or worse. "What if I don't get any eggs?"
Plus, egg freezing doesn't guarantee a future baby.
Research from New York University Grossman School of Medicine and the NYU Langone Fertility Center found that 70% of women who froze eggs before age 38 and who later thawed 20 eggs had a baby. While some women achieve this number of eggs in a single cycle, others might need as many as four cycles, depending on their age, ovarian reserve and how their body responds to hormones.
Article content
It's also impossible to tell whether eggs are good quality — able to be fertilized and form embryos — at the time of freezing.
Women are bombarded with advice on how to improve their egg quality. (Do: take prenatal vitamins, cut refined sugar and have acupuncture. Don't: eat from plastic containers, drink alcohol or touch receipts.) But it's unclear how much difference these changes make and they feel "very stressful," Megan says.
Recommended from Editorial
We carry DNA from extinct cousins like Neanderthals. Science is now revealing their genetic legacy

Kesha 'almost died in January' after freezing her eggs

Unwed Chinese woman appeals in fight for right to freeze her eggs
Stress, ironically, can reduce fertility. It's hard not to be anxious about the side effects, though, which include weight gain, insomnia and mood changes. There's also a small risk of ovarian hyperstimulation syndrome, a serious condition that can require hospitalization and emergency treatment.
Article content
Layered on top is an added dissonance: Megan is back with her previous partner. If things work out as she hopes, she won't need to use her frozen eggs. But she can't yet trust that this relationship will last.
It's a strange head space, spending thousands of dollars on a backup you hope not to use, and that might not work if you do. But the trade-off is what Inhorn describes as "psychological optimism." Of the 150 women she interviewed, over 90% of them were pleased they had frozen their eggs.
"Some were wildly happy," she recalls, "they felt so empowered, and that they had more time on their side."
For Megan, it's about living without regret.
"Whatever the outcome, given the information I had at the time, this is the right decision," she says. In the end, she was overjoyed with her result: 21 frozen eggs.
Whatever the future brings, she now has some options.
For more health news and content around diseases, conditions, wellness, healthy living, drugs, treatments and more, head to Healthing.ca – a member of the Postmedia Network.
Article content