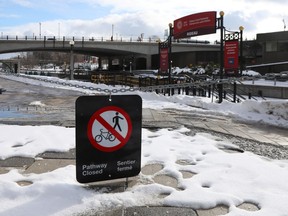 Despite signs of a cold spell coming, the BeaverTails Ottawa Ice Dragon Boat Festival, has been cancelled, as Ottawa experiences has so far been the third-warmest winter ever.

Photo by Jean Levac

/

Postmedia
After what's so far been Ottawa's third warmest winter on record, a cold snap is coming with weather watchers predicting some below-average temperatures to start off February.
But it comes just too late for the BeaverTails Ottawa Ice Dragon Boat Festival, which had hoped to host its sold-out races on Dow's Lake Feb. 3 and 4 as the 45th edition of Winterlude gets underway.
Sign up to receive daily headline news from Ottawa Citizen, a division of Postmedia Network Inc.
By clicking on the sign up button you consent to receive the above newsletter from Postmedia Network Inc. You may unsubscribe any time by clicking on the unsubscribe link at the bottom of our emails or any newsletter. Postmedia Network Inc. | 365 Bloor Street East, Toronto, Ontario, M4W 3L4 | 416-383-2300
Thanks for signing up!
A welcome email is on its way. If you don't see it, please check your junk folder.
The next issue of Ottawa Citizen Headline News will soon be in your inbox.
Having to cancel is "crushing," CEO John Brooman said Friday.
"We've got about 110 teams coming — we're completely sold out. Seventy per cent of those are from out of town, either flying in or driving in. So, from a tourism perspective and an economic impact for the City of Ottawa, it's probably in the neighbourhood of about $4 million loss.
"For us, it's a devastating blow because we have obviously just come through COVID and this is our first kick at the can to come back for the ice event for the BeaverTails Ottawa Ice Dragon Boat Festival. Sponsors are in place, teams are very excited to be coming in."
Organizers had exhausted efforts to find a new venue or reschedule the event, which features boats with dragon heads and tails running the course on skate-like blades.
"There's no blame, there's no fault, simply that Dow's Lake has about 6 inches of ice on it right now and the rest is a combination of water and slush and snow," Brooman said.
The National Capital Commission is "doing what they can but it's not going to happen."
The National Capital Commission is "doing what they can but it's not going to happen."
Registered racers will get a full refund with organizers planning to welcome them back in 2024.
An upside is that the festival has a full slate of free concerts lined up at The Rainbow through Winterlude, which runs until Feb. 20, Brooman said. Its foundation will also continue its Shiver 'N Giver charity fundraiser for BGC Ottawa, Cornerstone Housing For Women, Kidney Foundation of Canada, and Tim Hortons Foundation Camps.
The National Capital Commission is "doing what they can but it's not going to happen."
Looking at November through January, this so far has been Ottawa's third warmest winter in records going back to 1872, Environment Canada senior climatologist David Phillips said Thursday. Only the winters of 1931 and 2001 were milder.
"What a winter this has been," he said. "It's looked liked winter but it doesn't feel like winter. It's been so mild and yet it's been snowy."
January has so far been about five degrees warmer than normal with an average temperature of -5.1 C when it should be -10.3 C. December was more than 3 C warmer than normal and November was 1.5 C to 2 C warmer.
The coldest "moment" in Ottawa this winter was -18.3 C on Jan. 16, a threshold beaten 22 times last winter.
Most Canadians would call -20 C a cold day, Phillips said, and Ottawa gets an average of 16 or 17 in an average winter. There have been none this winter when normally there would have been a dozen by late January.
As of Thursday — with snow still falling — Ottawa had received 171 cm of snow when it would normally have 122 cm. A small storm is predicted for the weekend with another 10 cm forecast.
The entire snowfall for a typical winter is about 210 cm.
And there's "still a lot more plowing and pushing and shovelling to go."
Get ready for a cold snap, though. Much colder temperatures are expected to start Sunday night with a forecast low of -16 C and to linger next week, dipping as low as an expected -25 C Thursday night.
Weather models have February in Ottawa starting with two cold weeks and then likely average temperatures.
"Don't give up on winter," Phillips said, adding "maybe the coldest moment of the winter is before us."
According to a report commissioned by the NCC and released in 2020, winters could be four weeks shorter by the 2030s, with average temperatures in Ottawa are expected to rise by 1.8 C by the 2030s and 3.2 C by the 2050s.
"This may be the dress rehearsal of what we're going to see that's normal," Phillips said. "In 2050, this may be the normal kind of winter — it starts at the end of January and is over by March 1.
"Its not saying that next winter is going to be like this winter plus one — it doesn't work that way."
Canadian Heritage said the team behind Winterlude "pays continual attention to weather conditions and develops contingency plans as required" and had adapted activities and venues to changing conditions. The NCC updates Winterlude on ice conditions daily.
Ice sculptures on Sparks Street can be covered to protect them during warm spells, for example. For the Snowflake Kingdom at Jacques Cartier Park, the City of Gatineau uses "snow cannons" that can operate in changing weather conditions, making snow when temperatures are best.
"Should the weather impact planned activities, efforts will be made to relocate or adapt them — cancelling would be the last resort," a Canadian Heritage spokesperson said in an email.
NCC crews will soon resume work to build up the ice on the skateway follow several days of snow, a spokesperson said Friday. The skateway can't open for its season until the surface is at least 30 cm thick with good quality ice.
"For that to happen, we need 10 to 14 days of consecutive cold weather. So far, the winter has been mild and hasn't reached the temperatures and number of consecutive days required. In the meantime, for safety reasons, the NCC asks the public not to venture on the ice."
With cold temperatures just around the corner, it's frustrating for folks like Brooman to have just missed that weather window.
"It's going to be painful to watch the snowblowers on Dow's Lake next week."
-with files from Joanne Laucius