Served on a fresh baguette, this recipe is the perfect savoury treat to add to a seasonal charcuterie board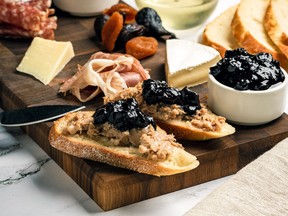 Duck confit with blueberry chutney.

Photo by MICHAEL AUDET

/

B.C. Blueberry Council
Reviews and recommendations are unbiased and products are independently selected. Postmedia may earn an affiliate commission from purchases made through links on this page.
Delightfully rich, this recipe shared by the B.C. Blueberry Council pairs duck with a sweet blueberry chutney made with local berries. Served on a fresh baguette, it's the perfect savoury treat to add to a seasonal charcuterie board.
Duck Confit With Blueberry Chutney
Start planning for your weekend with expert recommendations from our team of writers on what to cook, where to dine, and the perfect wine pairing delivered straight to your inbox on Thursday at noon.
By clicking on the sign up button you consent to receive the above newsletter from Postmedia Network Inc. You may unsubscribe any time by clicking on the unsubscribe link at the bottom of our emails. Postmedia Network Inc. | 365 Bloor Street East, Toronto, Ontario, M4W 3L4 | 416-383-2300
Thanks for signing up!
A welcome email is on its way. If you don't see it, please check your junk folder.
The next issue of West Coast Table will soon be in your inbox.
We encountered an issue signing you up. Please try again
3 x 125 mL canning jars with rings and lids
2 pieces duck legs
1 container (300 g) rendered duck fat
1 tbsp (15 mL) whole black pepper corns
1 tbsp (15 mL) whole coriander
1 tbsp (15 mL) Dijon mustard
3 cloves garlic
1 recipe Blueberry Chutney (recipe below)
1 demi baguette
Flaked sea salt
Sterilize canning jars, rings and lids. Set aside.
In a small roasting pan place duck legs, skin side up. Sprinkle pepper and coriander. Smash garlic to remove the paper and place in the roasting pan. Pour rendered duck fat over the duck legs. The legs should be just covered with the fat.
Cover roasting pan tight with foil and place in a cold oven. Turn oven to 300°F/148°C. Roast for 2 to 2 1/2 hours. Remove from oven and remove foil. Let stand for 30 minutes or until cool enough to touch. Drain fat and set aside. Be sure to remove and peppercorns, coriander seeds and garlic and discard.
Remove the skin and discard. Remove duck meat from the bones, discarding the bones. Shred the meat with a fork or you can just use your hands. Be sure to remove any peppercorns, coriander seeds and garlic and discard.
In a stand mixer fitted with the paddle attachment place the shredded duck meat with Dijon mustard and mix on low. While mixing, slowly drizzle in about 3 tablespoons of the duck fat until well incorporated.
Place the duck mixture into the 3 prepared jars. Be sure to press in the duck mixture so there are no pockets of air. Cover the mixture with a layer of duck fat. Ensure the entire top of the mixture is covered with the fat. Place lid and ring on jar and refrigerate for 24 hours.
Slice demi baguette and lightly toast. Spread duck confit on toast. Sprinkle with sea salt and top with blueberry chutney. Serve immediately.
Recipe notes: The remaining duck fat can be placed in an airtight container and stored in the refrigerator. The fat can be used in your next duck confit or used to make duck fat roasted potatoes.
Blueberry Chutney
4 cups (1 L) frozen or fresh blueberries
1 can (16 ounces) whole berry cranberry sauce
1/4 cup (60 mL) sugar
3 tbsp (45 mL) balsamic vinegar
1 1/2 tsp (7 mL) grated orange peel
1 tsp (5 mL) ground ginger
1/4 to 1/2 tsp (1 to 2 mL) crushed red pepper
1/4 tsp (1 mL) ground black pepper
In a medium, non-reactive saucepan combine blueberries, cranberry sauce, sugar, balsamic vinegar, orange peel, ginger, and red and black peppers. Bring to a boil; boil uncovered, stirring frequently, until slightly thickened, 15 to 20 minutes. Pour into clean jars; cover and refrigerate up to 3 weeks, place in canning jars and process according to manufacturer's directions, or place in covered plastic containers and freeze.
Yields: 3 cups.
Serves two.