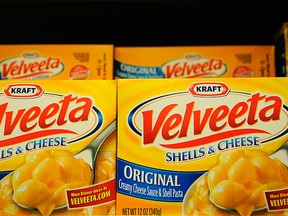 Boxes Velveeta Shells and Cheese sit on a store shelf August 4, 2011 in Los Angeles, United States. (Photo by Kevork Djansezian/Getty Images)

Photo by Kevork Djansezian

/

Getty Images
It's not easy being cheesy.
A Florida woman is suing the parent company of Velveeta's microwavable pasta cups, alleging they take longer to prepare than what the instructions specify.
As the Canadian national soccer teams head to their respective FIFA World Cups, Derek Van Diest is on the scene to cover all the action. Expect expert insights and analysis in your inbox daily throughout the tournaments, and weekly on Thursdays for the rest of the season.
By clicking on the sign up button you consent to receive the above newsletter from Postmedia Network Inc. You may unsubscribe any time by clicking on the unsubscribe link at the bottom of our emails. Postmedia Network Inc. | 365 Bloor Street East, Toronto, Ontario, M4W 3L4 | 416-383-2300
Thanks for signing up!
A welcome email is on its way. If you don't see it, please check your junk folder.
The next issue of Corner Kicks with Derek Van Diest will soon be in your inbox.
Amanda Ramirez of Hialeah, Fla., filed the $5-million class-action lawsuit against Kraft Heinz Foods Company on Nov. 18, Fox News reported.
According to the court document, Ramirez alleged that the statement on the packaging, "'ready in 3 ½ minutes' is false and misleading because the product takes longer than the 3-and-a-half minutes to prepare for consumption."
RECOMMENDED VIDEO
It lists the four steps to prepare the meal:
It then goes on allege the three-and-a-half-minute "ready" time only accounts for "the length of time to complete one of several steps" (Step 3) and not the other three steps.
The lawsuit, however, does not specify how long it took Ramirez to prepare the cups for eating.
It does claim the convenient pasta bowl sells for a "premium price" of $10.99 before tax for eight 2.39-ounce cups, which it says is higher than similar products "represented in a non-misleading way," according to the outlet.
Skittles are toxic, U.S. lawsuit claims

Tim Hortons offers coffee and doughnut as proposed settlement in class action lawsuit

MANDEL: Billion-dollar class action wins go-ahead against alleged nationwide bread price-fixing
Ramirez and other consumers like her gravitate to "bold statements of value when quickly selecting groceries" during a time when they are stretching "their money as far as possible" when food-shopping.
The suit claims Ramirez "believed and expected" the product would be ready to eat in a total of three-and-a-half minutes.
The Kraft Heinz Company issued a statement to Fox.
"We are aware of this frivolous lawsuit and will strongly defend against the allegations in the complaint."