"We can replace a house, but not you. You must go. Already houses have been swept away, so you have to go now."
Author of the article:

La Presse Canadienne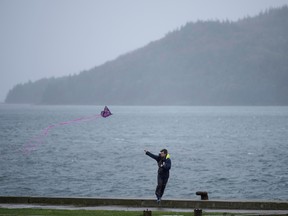 A man flies a kite along the Canso Causeway as wind and rain from post-tropical storm Fiona hits the region Sept. 24, 2022 in Port Hastings, N.S.

Photo by Drew Angerer

/

Getty Images
Police say two people were blown away when their residences collapsed during post-tropical storm Fiona.
According to Corporal Jolene Garland, of the Newfoundland and Labrador RCMP, a woman was rescued by fellow residents of Port-aux-Basques.
Sign up to receive daily headline news from the Montreal Gazette, a division of Postmedia Network Inc.
By clicking on the sign up button you consent to receive the above newsletter from Postmedia Network Inc. You may unsubscribe any time by clicking on the unsubscribe link at the bottom of our emails. Postmedia Network Inc. | 365 Bloor Street East, Toronto, Ontario, M4W 3L4 | 416-383-2300
Thanks for signing up!
A welcome email is on its way. If you don't see it, please check your junk folder.
The next issue of Montreal Gazette Headline News will soon be in your inbox.
A second woman from the same town was swept into the ocean. She is missing. It's too dangerous to conduct research in the area.
Fiona, one of the worst storms to hit the region in several years, battered the Atlantic provinces Saturday. The Canadian Hurricane Centre in Dartmouth, N.S., says Fiona set a record for the lowest-ever barometric pressure for a tropical storm making landfall in Canada.
The storm is forcing Madelinots to limit their drinking water consumption, Deputy Mayor Richard Leblanc said Saturday.
Not as much water as usual can be pumped because of power outages, he said: "It is better to save now just in case."
Gusts of 119 km/h were recorded in Îles-de-la-Madeleine by Environment Canada on Saturday morning. The agency said winds are expected to ease very slowly during the day.
This type of storm always causes a strong undertow, Environment Canada said. Dangerous waves of up to eight metres hit the Îles-de-la-Madeleine.
Roads have been completely closed to traffic since Saturday morning.
"There are many obstacles in the way. There are trees. There are stones. There are materials that have flown away. There are overflows, floods. That's why we're asking you to stay off the road this morning. You are asked to avoid any travel," he said at a press conference.
He said 22 victims had been evacuated from their homes.
"We have been evacuating since this morning, from the early hours of the morning, especially in the La Grave and La Pointe de Havre-aux-Maisons sector," said Mr. Leblanc, who asked citizens who do not feel not safe to call 911.
He said that while the winds are expected to calm down, the storm is not over and that the winds will pick up again at the end of the afternoon.
Two submerged coastal sectors were evacuated by 9 a.m., tweeted PQ MNA Joël Arseneau, who represents Îles-de-la-Madeleine. "Driving rain and sustained winds … debris on the road network, fishermen worried about their ships. No, the storm is not over."
Damaged submarine cable
One of the two telecommunications cables linking the Îles-de-la-Madeleine to the mainland, COGIM 1, was damaged by the storm.
"According to our telemetry, there seems to be a cut 14 kilometres from the shore," said Nicholas Payant, vice-president of connectivity and reliability at Bell. He said a second cable has taken over and services are uninterrupted. A third cable will take over if that one is damaged. Generators have been deployed where there have been power losses.
Power outages
According to the Info-Panes website, nearly 7,000 customers were without power in the Gaspésie and Îles-de-la-Madeleine regions at noonn. That number had dropped to 5,996 an hour later.
In a press briefing, Hydro-Québec's communications adviser, Ariane Doucet-Michaud, said 10 teams are on the ground.
"It's mainly to patrol for repair work, so they're going to target on the network, it's going to be where the highest priority places are, what they're going to need as equipment. They are preparing in advance so that when the winds drop, they can go and intervene," she said.
The Quebec Ministry of Public Security is working with the municipality of Îles-de-la-Madeleine.
"The municipality is very well prepared, the emergency measures plan is in force and effective. The resources are mobilized, the disaster service centres are open, have the necessary equipment to take care of the people who have been evacuated or who will be evacuated, "said Félix Caron, civil security adviser at the ministry.
Storm damage
The winds and the storm surge caused a lot of damage in Îles-de-la-Madeleine. In addition to breaks on the Hydro-Québec network, buildings on the coast were damaged.
"The church of L'Étang-du-Nord, which lost its roof, is among things we're not used to experiencing," said a resident of L'Étang-du-Nord, Anne- Marie Potvin.
She considers herself lucky to be in a spared area, sheltered on the island of Cap-aux-Meules.
"There, we are a bit in the eye of the hurricane, we can say that the situation has calmed down all the same, but it is starting to pick up a little. It's not over at all," she said shortly before 2 p.m.
Elsewhere in Quebec
Winds of 60 km/h, gusting to 90 km/h, were recorded along the Gaspé coast Saturday morning. The municipality of Percé closed Route 132 between Belvédère Rd. and Route Lemieux in L'Anse-à-Beaufils because of fallen Hydro-Québec poles.
At least 26 service interruptionswereare reported in Gaspésie on the Info-Panes site, affecting several thousand Hydro-Québec customers.
According to the latest Environment Canada bulletin, the system should head north during the day to reach the Lower North Shore. Coastal flooding is possible throughout the St. Lawrence estuary and on the Lower North Shore.
People in Fiona's path have been advised to have provisions for a 72-hour period.
The Quebec election campaign
CAQ Leader François Legault and Québec solidaire co-spokesperson Gabriel Nadeau-Dubois suspended their Quebec election campaigns Friday night as Fiona was bearing down on Quebec. Legault resumed his campaign after updating Quebecers on the storm situation. He said people whose insurance will not completely coverage storm damage will receive help from the province.
Liberal Leader Dominique Anglade said she was closely monitoring the situation and that her thoughts were with storm victims.
Conservative Party of Quebec Leader Eric Duhaime's team sent an agenda for Saturday that included a press conference and campaigning in his Quebec City-area riding.
Parti Québécois Leader Paul St-Pierre Plamondon suspended his campaign Friday because of flu-like symptoms.
Prime Minister Justin Trudeau delayed his departure for Japan, where he is to attend the funeral of former Japanese prime minister Shinzo Abe. "We are working with the provinces and we are ready to help if needed. Be careful," Trudeau tweeted. "Our team continues to monitor Hurricane Fiona and the situation in Atlantic Canada and Quebec."
The Atlantic provinces
Brian Button, the mayor of Port-aux-Basques, N.L., said houses were swept away by high winds and rising waters. In a Facebook Live, he urged the population not to venture outside and recommended the residents most at risk to take refuge in higher areas.
"Anyone who has been told to leave their house, do it! There are no ifs or buts, you have to go."
He warned that those trying to stay at home risk finding themselves isolated.
"We can replace a house, but not you. You must go. Already houses have been swept away, so you have to go now."
The RCMP issued a similar message: "Several electrical fires, flooded residences and washed-out roads are keeping first responders busy. Obey evacuation orders and find a safe place to weather the storm."
Halifax Stanfield International Airport reported gusts of 109 km/h at 3 a.m. A gust even reached 135 km/h in the mouth of Halifax Harbour.
In Sydney, N.S., Cape Breton's largest city, the wind reached 141 km/h at 3 a.m., causing severe damage to some homes and forcing families to flee.
A spokeswoman for the region, Christina Lamey, confirmed damage to structures, but said no one was injured. She said it was unclear how many houses had been damaged. There were reports of collapsed walls and missing roofs.
"Frontline responders are everywhere. We want people to avoid the roads," she said. "Most of the roads are currently dangerous. Several trees and power lines have fallen."
"We heard a loud noise outside. We then realized that walls were cracking. We looked outside and saw trees falling, said Arlene Grafilo, who had taken refuge with several dozen people at the Centre 200 arena in Sydney. We were imprisoned and couldn't even open the doors and windows. So we decided to call 911. The kids were scared."
The Canadian Press contributed to this contributed to this report.
'Historic storm': Hurricane Fiona forecast to bring flooding, 'severe' winds to Atlantic Canada

'A real shock': Lessons from Hurricane Dorian fuel preparation for Fiona in Atlantic Canada

Exclusive: What it's like to live in Hurricane Fiona's destructive path