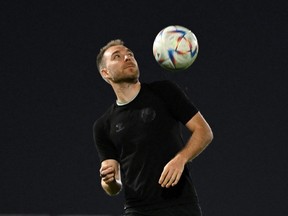 Denmark midfielder Christian Eriksen takes part in a training session.
Getty Images
Reviews and recommendations are unbiased and products are independently selected. Postmedia may earn an affiliate commission from purchases made through links on this page.
With the final round of group stage games set to start on Tuesday, there is still a lot up in the air with just three teams having already punched their tickets to the next round and two teams having been eliminated – sorry, Canada and Qatar fans.
Here are the scenarios for each remaining team to advance to the knockout phase of the tournament, which starts on Saturday.
As the Canadian national soccer teams head to their respective FIFA World Cups, Derek Van Diest is on the scene to cover all the action. Expect expert insights and analysis in your inbox daily throughout the tournaments, and weekly on Thursdays for the rest of the season.
By clicking on the sign up button you consent to receive the above newsletter from Postmedia Network Inc. You may unsubscribe any time by clicking on the unsubscribe link at the bottom of our emails. Postmedia Network Inc. | 365 Bloor Street East, Toronto, Ontario, M4W 3L4 | 416-383-2300
Thanks for signing up!
A welcome email is on its way. If you don't see it, please check your junk folder.
The next issue of Corner Kicks with Derek Van Diest will soon be in your inbox.
GROUP A
Our first group is perhaps the easiest to parse out, with Netherlands and Ecuador both needing either a win or a draw to get through. The Dutch could also advance with a loss to Qatar, if Senegal beats Ecuador. The West Africans need a win over Ecuador to go through. With two losses, host Qatar has already been eliminated.
GROUP B
Here's the easy part of the group: The U.S. will advance with a win over Iran or go home with any other result. The rest, however is trick. If Iran wins, it will go through, but a draw wouldn't be good enough if Wales beats England as the Welsh would go through in that scenario. England is most likely to advance, as even if it loses to Wales, thanks to a +4 goal differential, it would have to lose by seven to be overtaken by a drawing Iran or by four if Iran wins.
GROUP C
If there is a winner in the Argentina-Poland match, that team would advance. If there is a draw, then Poland would advance and Argentina would need some help. Saudi Arabia would advance with a win over Mexico and could also get through with a draw if Argentina loses. If there are two draws, Poland and Argentina advance. Mexico needs a win to advance and for Argentina to lose, or for Poland to lose and make four goals in differential.
GROUP D
France is already through after winning its first two games. Second-place Australia would advance with a draw against Denmark as long as Tunisia doesn't beat France. After that it could come down to goal differential. If Tunisia beats France and Denmark beats the Socceroos, the North Africans would need to score a bigger margin of victory to advance since it trails Denmark in goals scored. Denmark advances with a win and a French win or draw.
GROUP E
Thanks to its massive +7 goal differential, Spain is through to the next round if it gets a draw. If Japan and Costa Rica win their matches against Spain and Germany, respectively, the two underdogs would advance. If Costa Rica draws with Germany, it would need Spain to lose by 13, which is not going to happen. Germany can advance with a win if Japan loses, but would need to win by at least two goals if Japan and Spain draw. If Germany wins by one and Japan draws, whichever team scores the most goals on Thursday would advance.
GROUP F
Croatia and Morocco both can advance with draws in their matches against Belgium and Canada, respectively. Belgium needs to win its finale to advance, unless Morocco loses its match by four goals, which would swing the differential in Belgium's favour. Canada has already been eliminated with two losses.
GROUP G
Brazil is already through to the next round after winning its two opening games. Switzerland will advance with a win against Serbia and could advance with a draw if Cameroon can't beat by Brazil. For Serbia to advance, it will need to beat the Swiss and hope Cameroon doesn't beat Brazil. If Cameroon and Serbia both win on Friday, Serbia would need to win by one more goal than the Africans to make up goal differential while also scoring more total goals (the two sides are tied with three).
GROUP H
Portugal has clinched its spot in the next round. Ghana can go through with a win over Uruguay or with a draw if South Korea fails to beat Portugal by at least two goals. South Korea can also advance if it wins and Uruguay wins, if the Asians maintain their superior goal differential. Uruguay needs a win over Ghana and a South Korea loss to make it through. Draws would do nothing Korea or Uruguay.
Postmedia's soccer expert Derek Van Diest is on the ground in Qatar to cover every kickoff of the 2022 FIFA World Cup. Subscribe today and get access to all his coverage.
VAN DIEST: Key for Canada Soccer to improve is to incorporate lessons

STINSON: Canada had bigger problems against Croatia than John Herdman's salty language