With its canary yellow jerseys, blue shorts and white sock, Brazilian players did not appear to run on the perfectly manicured grass of Stadium 974, but instead, glide over it.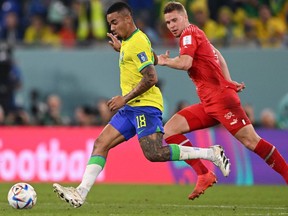 Brazil's forward #18 Gabriel Jesus (L) and Switzerland's defender #04 Nico Elvedi fight for the ball during the Qatar 2022 World Cup Group G football match between Brazil and Switzerland at Stadium 974 in Doha on November 28, 2022.

Photo by FABRICE COFFRINI

/

AFP via Getty Images
Reviews and recommendations are unbiased and products are independently selected. Postmedia may earn an affiliate commission from purchases made through links on this page.
DOHA, Qatar — There is watching soccer and then there is watching Brazil play soccer.
With its legendary canary yellow jerseys, blue shorts and white socks, Brazilian players did not appear to run on the perfectly manicured grass of Stadium 974 but, instead, glide over it.
As the Canadian national soccer teams head to their respective FIFA World Cups, Derek Van Diest is on the scene to cover all the action. Expect expert insights and analysis in your inbox daily throughout the tournaments, and weekly on Thursdays for the rest of the season.
By clicking on the sign up button you consent to receive the above newsletter from Postmedia Network Inc. You may unsubscribe any time by clicking on the unsubscribe link at the bottom of our emails. Postmedia Network Inc. | 365 Bloor Street East, Toronto, Ontario, M4W 3L4 | 416-383-2300
Thanks for signing up!
A welcome email is on its way. If you don't see it, please check your junk folder.
The next issue of Corner Kicks with Derek Van Diest will soon be in your inbox.
Even without star Neymar in the lineup, out nursing a sore ankle, Brazil was a treat to watch; the way they controlled the ball effortlessly and passed it around brilliantly.
Brazil held the ball so long in the first half trying to break down Switzerland in the second Group G game for each team, they only added one minute of added time.
In the end, it was Casemiro of Manchester United who found the breakthrough, hammering a shot after a three-player combination at the top of the penalty area, which hit Switzerland defender Manuel Akanji and sailed past goalkeeper Yann Sommer.
"I believe it's very important of regardless of who scored the goal to help the team," Casemiro said. "When we win, we all win and when we lose, we all lose together. It doesn't change my mindset, but this is a group; when we talk about the Brazilian national team, we are talking about all players.
"We are considered a group, that is what we need to get the title."
Brazil appeared to have scored 20 minutes earlier when Vinicius Jr. broke in alone and slipped the ball past Sommer. The play was reviewed, however, for a possible offside just inside the Switzerland half and the goal was waved off.
Playing literally to the beat of its own drummer, Brazil methodically passed the ball around looking for the go-ahead goal, which finally came in the 83rd minute.
"I think we defended well. It was hard to defend against them, they have a good team," Switzerland midfielder Michel Aebischer said. "They are good players in one-against-one situations, but in the attack, we didn't create a lot of chances. At the end of the day, we wanted a point but, unfortunately, we conceded the goal.
"We didn't want only to defend, we also wanted to attack and create chances, but first off, it was clear we wanted to defend our goal and I think we did that well."
With the win, Brazil advanced to the next round, while Switzerland, Cameroon and Serbia will battle it out for the second spot into the Round of 16.
Neymar is not expected to get back in the lineup until the knockout stage, but Brazil coach Tite has plenty of options on his start-studded roster looking to win its first World Cup title in 20 years.
"Obviously, Neymar has a different skillset, he can dribble past a player and it'll make you say, 'what happened there?' He has that skill," Tite said. "Other players are getting to the level that he's at, and I hope they get there.
"We do miss Neymar, he has a big creative power and he's very offensive, but there are other players that can make the most of this opportunity."
GOALS GALORE
Cameroon and Serbia may have played the best game of the tournament early Monday, a back-and-fourth encounter which ended in a 3-3 tie.
Eric Maxim Choupo-Moting scored the tying goal in the 66th minute and both teams had chances to pull out the victory at the Al Janoub Stadium in Al Wakrah.
Vincent Aboubakar had come off the bench and pulled Cameroon to within a goal just three minutes earlier.
"We saw how Morocco play yesterday (a 2-0 win against Belgium) and I said in this tournament we must have the willpower to look for the win," Aboubakar said. "I believe my teammates had an excellent first half, despite some minor errors.
"Nonetheless, we had an excellent mindset and we felt from the bench that the Serbs were a bit tired. They were depleted, they couldn't follow through with deep passes. From the bench, I tried to see how it's going, so when the coach sent me in, I took that advantage."
Serbia had the early run of play and Aleksandar Mitrovic should have scored in the 17th minute, but he missed the target from 12 yards out.
The miss proved costly as Jean-Charles Castelletto scored in 29th to give Cameroon 1-0 lead. It was Castelletto's first international goal.
Serbia tied it a minute into first-half injury time through Strahinja Pavlovic, and Sergej Mikinkovic-Savic added a second two minutes later for a 2-1 lead. Serbia, which lost its first game 2-0 to Brazil, took a 3-1 lead in the 53rd minute as Mitrovic scored.
Serbia looked as though it would be able to close out the game before Aboubakar scored eight minutes after coming off the bench. He then set up the tying goal by Choupo-Moting.
"The atmosphere in the locker room is still normal and calm," said Serbia head coach Dragan Stojkovic. "We're regretting our mistakes that cost us the win. I think we played an interesting and exciting match, we created several colossal chances, and we scored three goals because of some of them.
"But the players don't need to lose their heads. Of course, we're all frustrated because we wanted to win today, we had the match in our hands, but we let Cameroon avoid defeat because of our mistakes."
KANE GOOD TO GO
England striker Harry Kane is expected to play in England's final group game Tuesday against Wales at the Ahmad Bin Ali Stadium in Al Rayyan.
Kane sustained an ankle injury in England's 6-2 win against Iran on Monday and had to be substituted out of the game. He played in the scoreless draw against the United States on Friday, but was ineffective outside of a late chance.
"With Harry, obviously, we are going to pick a team we believe can win the game," England coach Gareth Southgate said. "That is our priority as always. He is fine in terms of the knock he had. He's trained well."
Email: dvandiest@postmedia.com
On Twitter: @DerekVanDiest
Postmedia's soccer expert Derek Van Diest is on the ground in Qatar to cover every kickoff of the 2022 FIFA World Cup. Subscribe today and get access to all his coverage.
VAN DIEST: Key for Canada Soccer to improve is to incorporate lessons

STINSON: Canada had bigger problems against Croatia than John Herdman's salty language