This map will track where the colours are at the peak, when they've passed the peak and when the changes are over, signalling winter.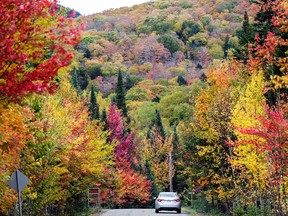 Mont-Tremblant is full of colour in late September.

Photo by John Mahoney

/

Montreal Gazette files
It's already happening in Mont-Tremblant. The green is bleeding out of the leaves, leaving burnished reds and yellows across the mountains.
The changes aren't happening because the days are chillier, but because the days are shorter, McGill University's David Wees told the Montreal Gazette last year.
Article content
"This is why the Laurentians, where the days are already a bit shorter than in the St. Lawrence Valley, the colour change is a bit more advanced," Wees said. "If you drive south into the U.S., the leaves are a bit behind us because the days are longer there. But it'll come."
Article content
As the changes seep slowly southward, people can follow the colours in a series of day trips, one weekend at a time.
An interactive map by Bonjour Québec updates the foliage using regional and provincial parks as benchmarks. It showed Wednesday morning that the leaves are at their mid-point in the Abitibi region. They're beginning to change in Mont-Tremblant and Ste-Adèle and are expected to start soon in other parts of the Laurentians.
It is still early in the season; soon the map will track where the colours are at their peak, when they've passed the peak and when the changes are over, surely signalling winter. When the Quebec colours have been exhausted, there will still be leaf-peeping opportunities across the border in the U.S.
On your leaf-peeping day trips, be mindful of road signs and respectful of the people who live in the areas you're visiting. Rather than driving too slowly to take in all the beauty, find a safe spot — not private property — to stop so local traffic can pass you. Support local businesses when it's time for a snack or to gas up. When visiting parks, stay on the marked trails.
Fall is also the season that wild turkeys are most likely to be crossing roads, often in families of five or more. Keep your eyes peeled for them.
Find Bonjour Québec's map at tinyurl.com/3vhjn46t.
Related Stories
Juhl: Do the autumn leaves change colour, or were they spectacular all along?

Laurentians a popular destination for leaf-peeping day trippers
Article content
Article content