"He (Austin Mack) is young and he'll learn from it, but he knows he has to be better for us," QB Cody Fajardo said of the league leading receiver's thrown punch in a 39-10 loss in Toronto.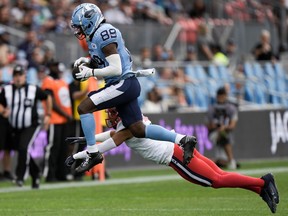 Argonauts wide receiver Cam Phillips (89) jumps with the ball to avoid being tackled by Alouettes defensive back Ciante Evans (4) during first half CFL football action in Toronto on Saturday, Sept. 9, 2023.

Photo by Arlyn McAdorey

/

The Canadian Press
Going into Toronto and defeating the defending Grey Cup champions would have been a formidable task for the Alouettes at the best of times.
Accomplishing this without their best player? Virtually impossible.
Austin Mack, the CFL's leading receiver heading into this week's games, was disqualified late in the first quarter on Saturday after getting into a skirmish that started against cornerback Qwantez Stiggers and continued near the sideline as more players from both teams entered the fray. That's when Mack, a rookie, made the cardinal mistake of throwing a punch, which resulted in an automatic ejection on top of taking a rough play penalty.
The Alouettes were already trailing 17-7 with Mack. Without him, they were nothing more than road kill as the Argonauts cruised to an easy and convincing 39-10 victory before 14,415 BMO Field spectators.
"He (Mack) is young and he'll learn from it, but he knows he has to be better for us," quarterback Cody Fajardo told reporters in Toronto. "We're a much better team with him on the field than in the locker room."
Montreal was sitting pretty in the East Division halfway through the schedule at 6-3 and firmly established in second place. While the Alouettes remain in second, they're now 6-6 following their third successive loss — the second time this season this streaky team has been on a three-game losing skid. And there is a return encounter against the Argos looming Friday night at Molson Stadium.
To make matters potentially worse, the Hamilton Tiger-Cats (5-7) are suddenly breathing down the Als' necks. While Montreal already has captured the season series against the Ticats, in effect providing it with a two-game lead, the teams complete the regular schedule with a game at the McGill University venue.
By signing up you consent to receive the above newsletter from Postmedia Network Inc.
Thanks for signing up!
A welcome email is on its way. If you don't see it, please check your junk folder.
The next issue of Road to the Cup will soon be in your inbox.
Of the Alouettes' remaining six games, split evenly between home and away, two are against the last-place Ottawa Redblacks. But Montreal must also travel to Calgary and Edmonton, which could prove to be formidable challenges. It's hard to envision the Alouettes finishing better than 9-9 — even an 8-10 record is possible.
In losing successive games to Winnipeg, B.C. and Toronto, the league's three best teams, the Alouettes have been outscored 120-52 while being held to three offensive touchdowns. Montreal's offence has found the end zone 20 times in 12 games — an alarming total in the normally high-scoring CFL.
After trailing 14-0 Saturday before the opening quarter was halfway through — the Argos required only 63 seconds to score two touchdowns — Fajardo passed 19 yards to Cole Spieker for a major at 8:22, leaving the Alouettes with some cautious optimism despite being held to one first down through 15 minutes.
But the visitors wouldn't score again until 5:29 of the third period. David Côté kicked a 10-yard field goal with the Als unable to score a touchdown from inside the Toronto five-yard line. Montreal head coach Jason Maas was unwilling to gamble on third down from the three with his team trailing 23-7 at the time. If Maas believed a field goal was going to put a dent into the Argos' arsenal at that juncture, he was badly mistaken.
The Alouettes committed five turnovers in the game — four alone in the opening half when everything seemingly worked against them.
While Fajardo completed 21 of 24 passes — including 15 straight at one point — for 236 yards, teams aren't going to win when held to one touchdown.
This is a club that claimed it was going to run the ball effectively heading into the season, likely realizing Fajardo can't beat teams without a strong ground attack. On Saturday, Walter Fletcher gained 10 yards on five carries. William Stanback had six yards on two carries and also fumbled once. The Alouettes were held to 24 rushing yards as Montreal was constantly losing the battle along the line of scrimmage. This team simply isn't physical enough.
The Alouettes generated only 16 first downs and 305 yards' net offence on 45 offensive plays. At the same time, this undisciplined team took nine penalties for 101 yards.
"We had four turnovers in the first half against the best team in the CFL," Fajardo said. "We never really gave ourselves a chance. Our big point of emphasis this week was to end every drive with a kick. But we ended a lot of drives with turnovers. It's OK to punt in this league, but to turn the ball over against the best team as many times as we did was unacceptable."
Defensively, the Alouettes succumbed to spending nearly 35 minutes on the field. But they also had no answer for Toronto's bruising tailback A.J. Ouellette, who gained 105 yards on 19 carries while also scoring two touchdowns. With injuries to Avery Williams, Najee Murray, J.R. Reed and Tyrell Richards, Montreal was badly exposed at linebacker, forced to rely on Frédéric Chagnon and Bryce Notree.
Montreal's defence denied Toronto a two-point convert in the third quarter and some of their players celebrated as though they'd just won a championship despite trailing by 19 points at the time. It was embarrassing to witness.
The Argos remain undefeated in six home games and clinched a playoff berth with the win — their fourth straight — and improved to 10-1 for the first time since 1996. Despite playing last Monday and having only one full practice this week, Toronto manhandled the Alouettes, who must do some serious soul-searching before their season is potentially squandered.
hzurkowsky@postmedia.com
twitter.com/HerbZurkowsky1
The Alouettes need to prove they can beat one the CFL's top teams

Inside the CFL: Alouettes' Austin Mack embracing Montreal culture

Alouettes' QB Fajardo admits his play must improve for team to challenge for Grey Cup