"All my toughness comes from her," safety says of his mother, Carolann Grilli, who lost her decade-long battle to breast cancer on Sept. 16.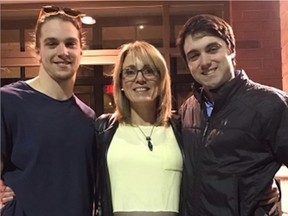 Montreal Alouettes safety Marc-Antoine Dequoy, left, with his mother, Carolann Grilli, and older brother Older brother Laurent in 2019.

Photo by Courtesy of Marc-Antoine Dequoy

/

Postmedia
Carolann Grilli loved her son's long, flowing hair — a trait that defines Marc-Antoine Dequoy as much as the speed, finesse and playmaking ability he brings as the Alouettes' starting safety.
She often said the hair — it went beneath his shoulders at times when he played at Université de Montréal — made it easy to spot her son on the field during his career with the Carabins. As for Dequoy's, at times, shaggy beard? That was another story; Grilli often admonishing her son, playfully, to have it trimmed.
Since the Montreal Canadiens making the Stanley Cup finals for the first time in 28 years, this newsletter is the dedicated Montreal Canadiens fan's source for exclusive Habs content, insight and analysis.
By clicking on the sign up button you consent to receive the above newsletter from Postmedia Network Inc. You may unsubscribe any time by clicking on the unsubscribe link at the bottom of our emails. Postmedia Network Inc. | 365 Bloor Street East, Toronto, Ontario, M4W 3L4 | 416-383-2300
Thanks for signing up!
A welcome email is on its way. If you don't see it, please check your junk folder.
The next issue of HI/O: Montreal's Road to the Cup will soon be in your inbox.
What Dequoy would give to be told that just one more time; to watch one more TV show, movie, or have one more phone conversation with his mother, who lost her decade-long battle to breast cancer on Sept. 16 — 13 days before her 58th birthday and while the Als had a bye week in their schedule.
That's how Grilli would have wanted it. She tried hanging on for two more months, until after the Grey Cup, not wanting to disrupt the Als' season or distract Dequoy's attention. It was she, after all, who pushed Dequoy into football at age 5, insisting he continue to play, despite the inherit risks, because she wanted him in a team environment, exposed to different players from different cultures, part of a bigger family.
"She loved us with all her heart," an emotional Dequoy, his voice occasionally quivering, told the Montreal Gazette on Thursday, only now willing to break his silence following a weeklong period of mourning during which he didn't practise or play against Hamilton on Sept. 23, followed by another week of reflection without interviews.
"Everything she ever did was for me and my brother. She was a momma bear and we love her for that. She did everything for us. You could see how she fought until the end — and she beat cancer three times. I have respect for her and all my toughness comes from her. Her mindset was 'I'm never going to give up'. And there were some hard days. She was in pain for two years, always in pain and she kept on fighting. After a while, the pain starts to mess with you and you're always suffering. She can now rest in peace after all the fighting and hold her head high."
Grilli, a primary school teacher, taught Dequoy and his older brother, Laurent, the importance of education and family — the latter meant everything to her. She never smoked, she trained and maintained a healthy diet, so the original cancer diagnosis, in 2012, was shocking. She was in remission close to four years before it returned and eventually metastasized. It was two or three years ago, Dequoy remembered, her oncologist advised the family Grilli had three months to live, the cancer having spread into her bones.
"She said 'no, I'm going to keep on living,' " Dequoy said. "And she kept on living. She was strong, tough and determined … the type of woman who would never take no for an answer. If she wanted something done, she'd do everything to make sure it was done. It was her way or the highway."
Danny Maciocia, the Als' general manager and interim head coach — and a former Carabins' head coach — got to know Grilli well during Dequoy's university days. He asked her to become president of the parents' committee, a group formed to ensure the student-athletes were getting everything required on and off the field.
"She was so dynamic and brought in so many of her own ideas," Maciocia said. "We incorporated them into what we were doing. Everyone felt she was an extended member of the football family.
"You could tell she was a caring and loving person. She was very dynamic, intelligent, outgoing and engaging. You felt her presence when she was around. She was a huge fan."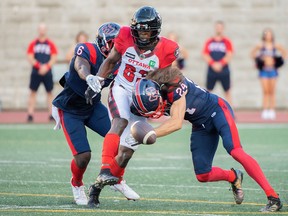 Montreal Alouettes' Marc-Antoine Dequoy, right, and Davis Alexander tackle Ottawa Redblacks' Llevi Noel during first half in Montreal on June, 3, 2022.

Photo by Graham Hughes

/

The Canadian Press
Selected 14th overall by the Als in 2020, Dequoy attended training camp with the Green Bay Packers as an undrafted free agent before being waived in mid-August that year. He was living with his mother from 2019, following his university career, until last year. With the CFL season cancelled in 2020 due to COVID-19, Dequoy could devote his full-time attention to Grilli, but also was there to witness her pain.
On Sept. 15, the night before Grilli's death, the family gathered at his grandparents' home — her residence the last six months — to celebrate Dequoy's 28th birthday. Everyone came, including Grilli's two sisters, their four boys, Laurent and his daughter. Grilli was weak, but awake. One day earlier, she and Dequoy watched a replay of the Als' 31-10 victory against B.C. on Sept. 9, during which he forced and recovered a fumble.
Surrounded by her family that night, Grilli perhaps realized the time had arrived. She died peacefully the following morning.
"I think for her that moment was just … she realized she could finally let go," Dequoy said, not willing to share the final conversations that occurred between a mother and son. "I'm composed, but it's really hard not having her. I think about her every day and am just hoping she doesn't suffer anymore.
"Life goes on but … my life stopped that day."
hzurkowsky@postmedia.com
twitter.com/HerbZurkowsky1
Alouettes turn to Île-Bizard speedster Marc-Antoine Dequoy at safety

Alouettes select Carabins DB Dequoy 14th overall in CFL draft

Île-Bizard's Dequoy pursuing NFL dream at Packers training camp