By Sadiel Mederos Bermudez (El Toque)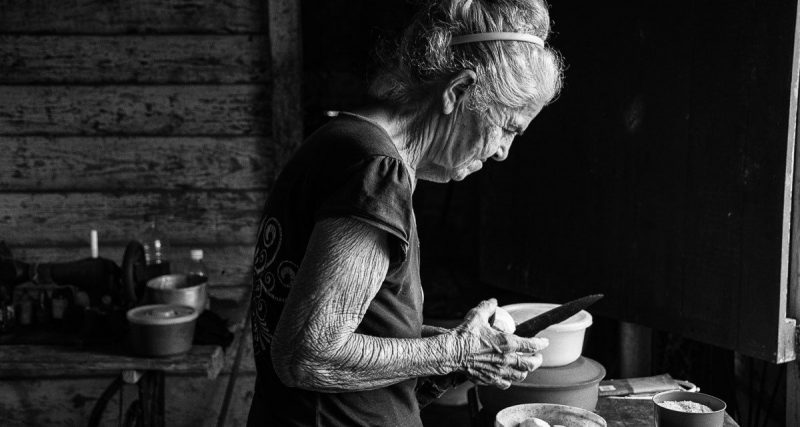 HAVANA TIMES – An old black cat slinks over between the warm stones that cover the road to Vista Hermosa, Hato Viejo and El Hueco, shapeless and precarious little hamlets on the outskirts of Santa Clara. It reaches the place it calls home and looks, with indifference, at the other cats who are meowing at Rosa, his host, every time she moves a cooking pot in her narrow kitchen.
She is keeping an eye on the dark clouds above. She lays down plastic, puts out pots and vessels on the furniture and smooth cement floor, in case it begins to rain. It is only mid-morning, but they will stay for the rest of the day. She drinks the last sip of coffee that was made at dawn. Her breakfast was a bread roll, which is sold every day via the rations booklet, with some scrambled eggs and water with brown sugar. Luckily, she has five Creole hens that lay really colorful eggs. "Maybe because they eat so much bitter melon," she weighs in.
Pretty much always a housewife, Rosa spent a few years baking desserts to sell on the street, when she used to live in the center of Santa Clara, close to the Belico river, one of the most polluted rivers that runs through the city. She leans over a box, digs between mangoes and some bananas, she reaches three medium-size sweet potatoes right at the bottom and smiles while she caresses the sprouts that have grown. "If I leave them a little longer, I could grow them here myself."
She lives with her son, Papelito, a fan of fishing. He normally goes down to the dam in front of the house. It's a small dam that was built by a neighbor in the '90s, when local farming plans were given a boost. He carries a hook, earthworms and a trammel net he's borrowed. "It's better to eat fresh fish. Even if it takes you longer and you fish less," Papelito says.
Rosa and her son's life has been getting increasingly harder, just like their blistered hands.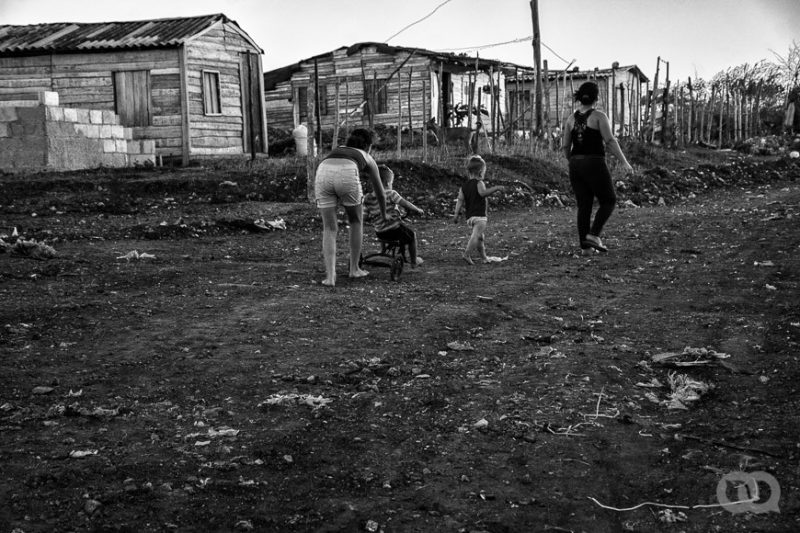 View from Rosa's neighborhood, at the end of El Hueco, at 6.2 km away from the center of Santa Clara, Villa Clara.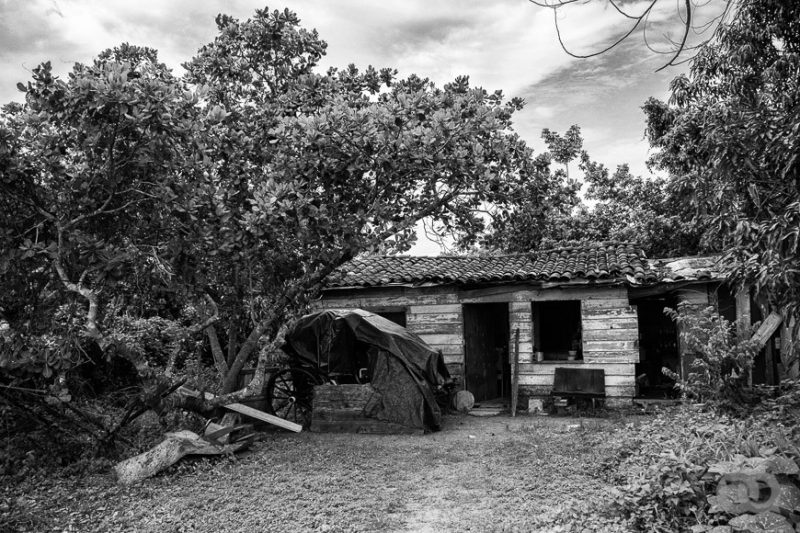 Front of the house where Rosa and her son Papelito live.
Rosa regularly receives a visit from four cats. Even though she doesn't consider herself their owner, she is pained by the attacks they receive.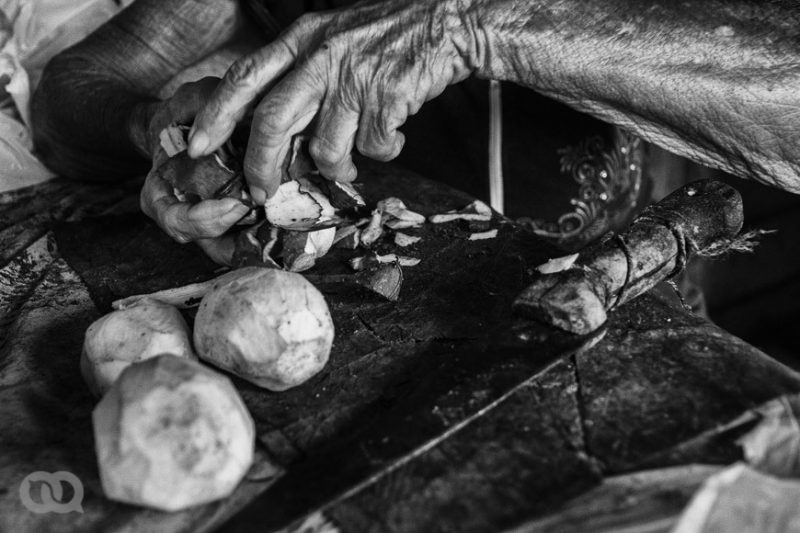 She sweetens sweet potato with brown sugar honey. She would add cinnamon, anis seed or a touch of clove, but she hasn't had these spices for years now.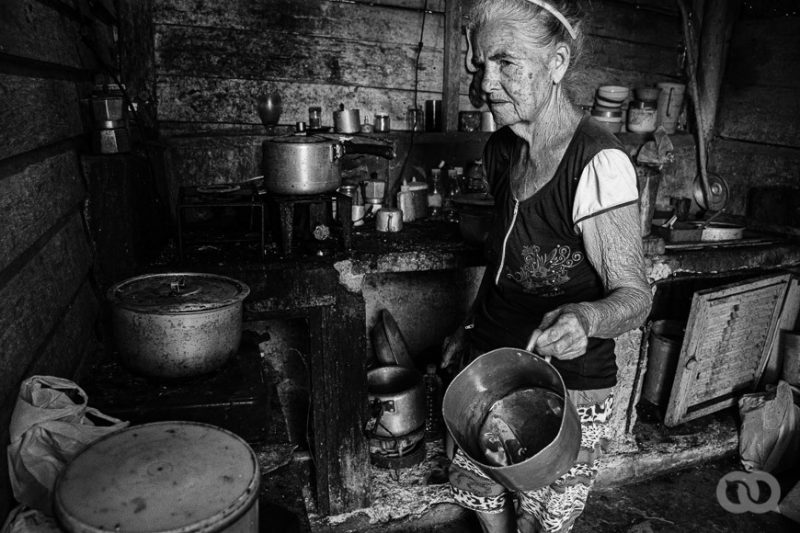 She sweetens sweet potato with brown sugar honey. She would add cinnamon, anis seed or a touch of clove, but she hasn't had these spices for years now.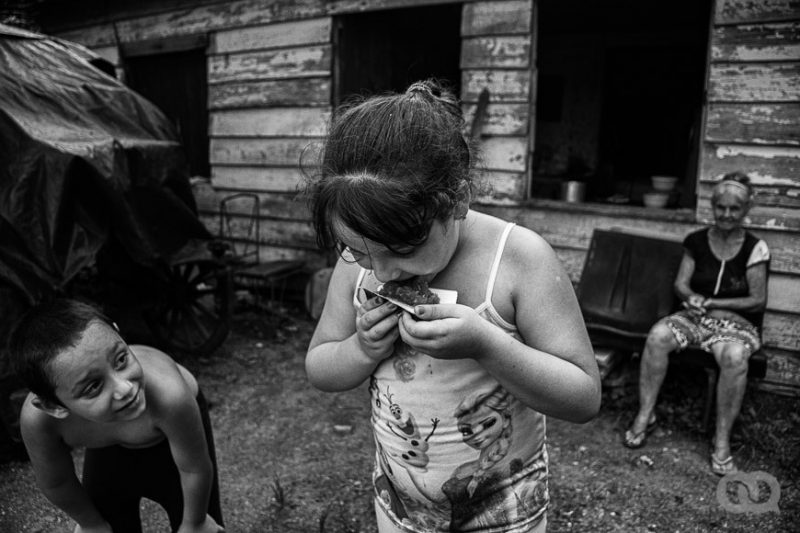 Rosa shares this sweet potato dessert with some children from the neighborhood.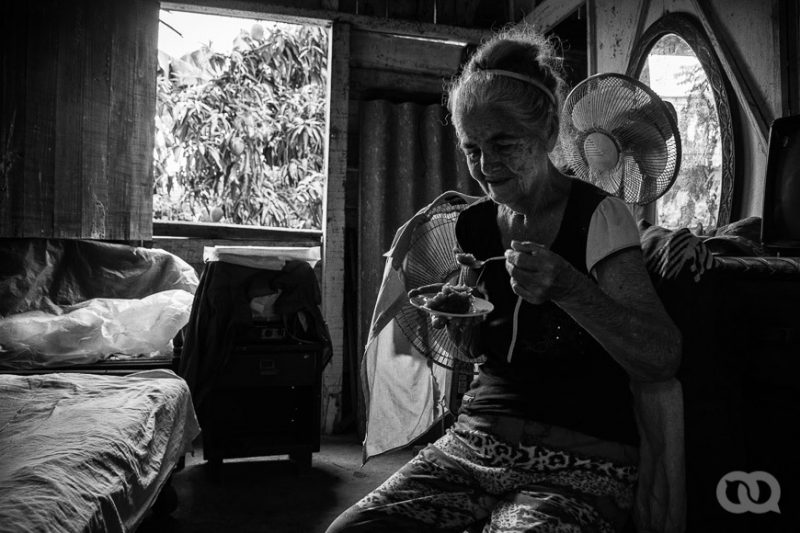 It's time to sit down. She is calm at last, as she listens to Radio Enciclopedia.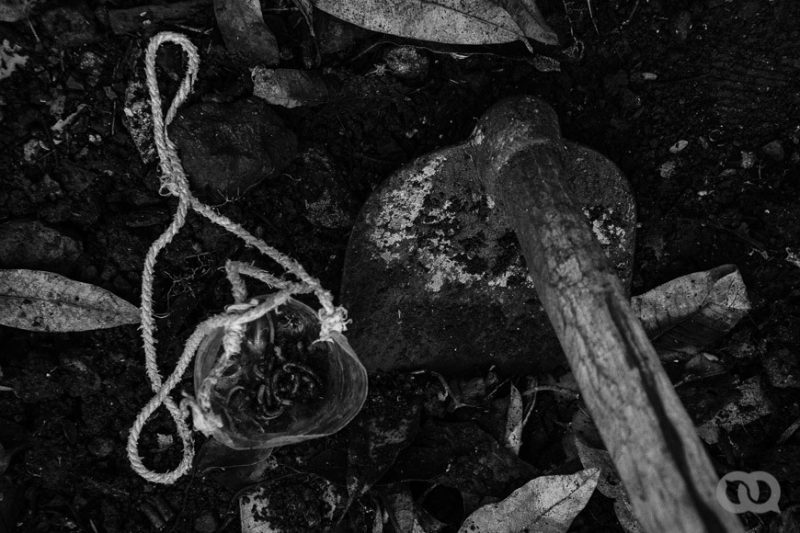 Even since Papelito discovered that three or four earthworms come out of a crack in a neighbor's backyard, he has started his fishing trip backwards.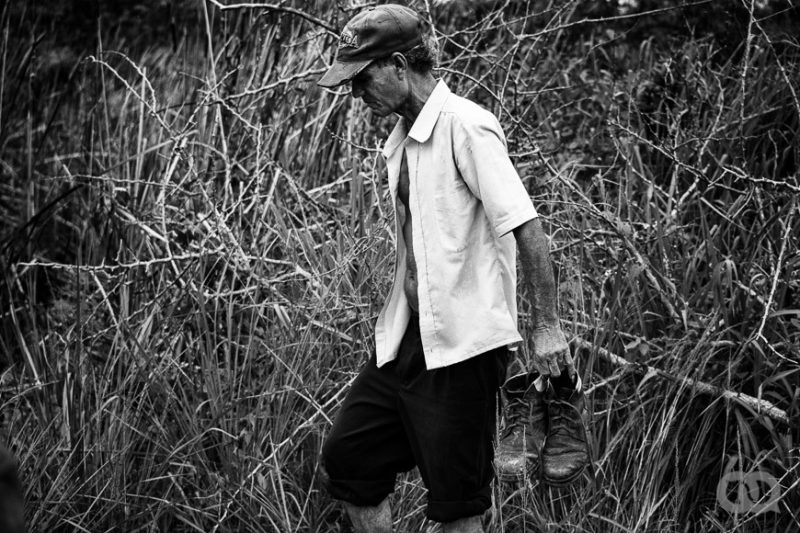 Right next to the dam, there used to be dumping ground for the National Industry of Domestic Utensils (INPUD), for a long time.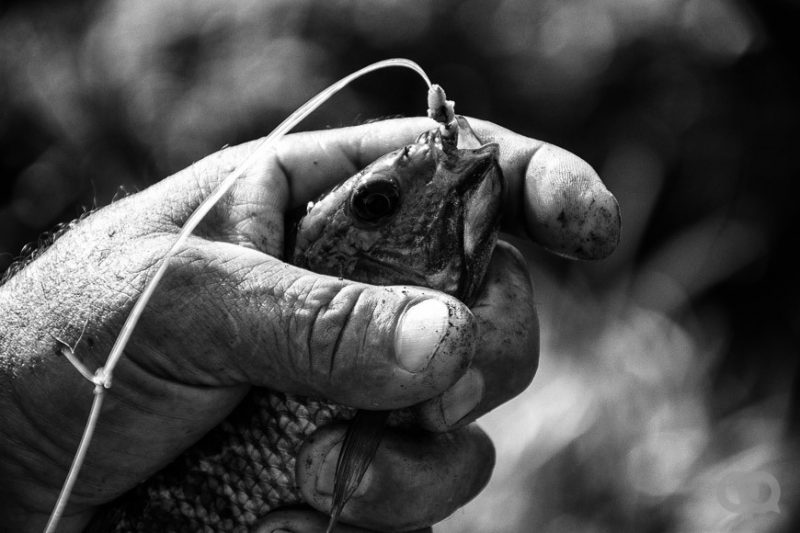 Some tilapias found refuge in the dam's deepest areas.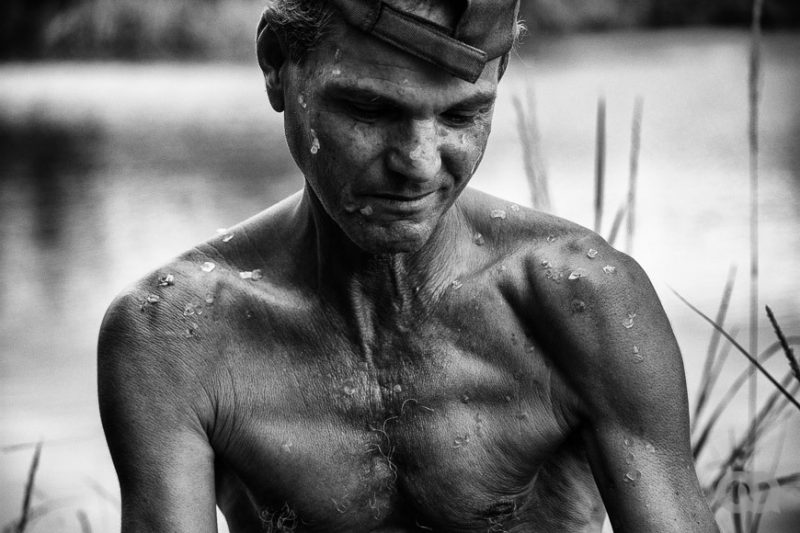 Only two tilapias bite his line in an hour, which he cleans right there and then on a rock.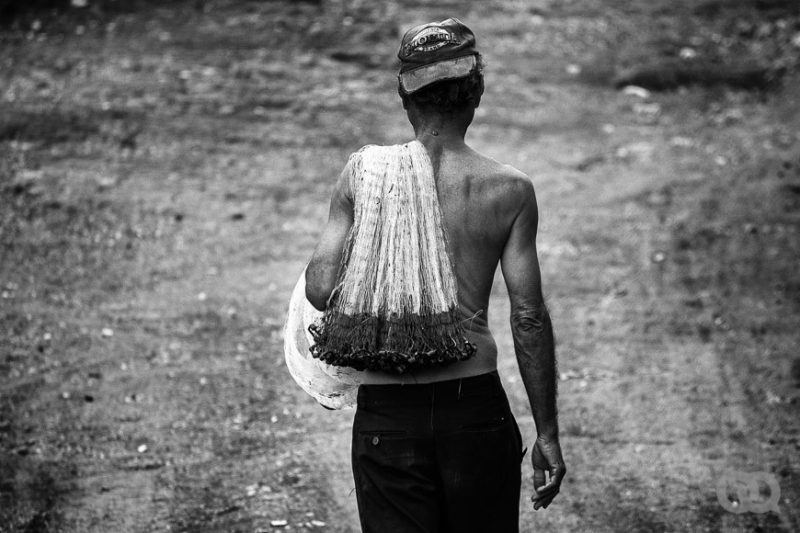 "A couple of months need to pass before you can fish here," Papelito says.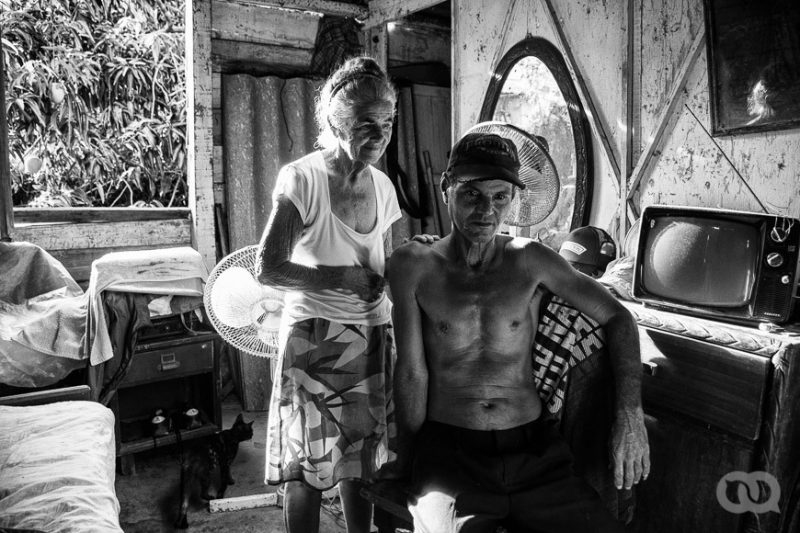 Three years ago, Papelito got sick and had to sell his horse and hand in his horse drawn wagon driver's license.
After dinner, Rosa and Papelito go outside to get a breath of fresh air in the backyard. Behind them, there is the table with the radio, their Soviet blender and a half-empty plastic bottle of rum.
(Click on an image to display the gallery.)