The TV award event this year included a mixture of in-person and remote segments, with host Jimmy Kimmel performing to an empty Staples Center in Los Angeles.
Aniston, who was nominated for Outstanding Lead Actress in a Drama Series for The Morning Show appeared on video during one clip where she was joined by former co-star Cox, with Kimmel asking: "Courteney's there?"
"Of course I'm here," the actor replied. "We live together."
Aniston added: "Yeah, we've been roommates since 1994, Jimmy."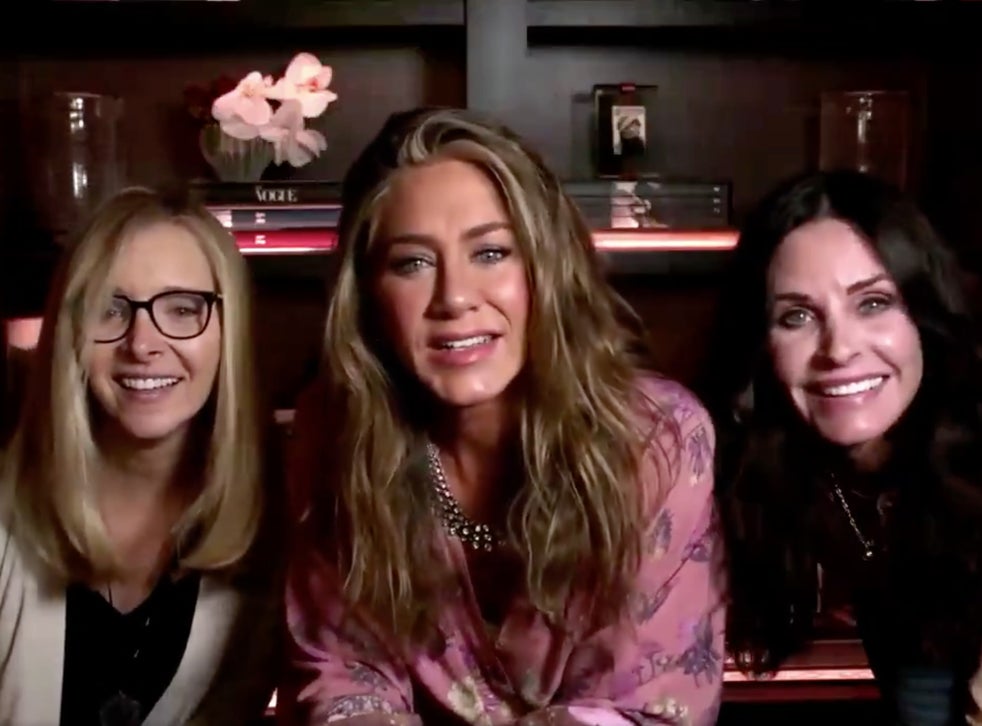 'We live together,' Cox (right) told Emmy host Jimmy Kimmel
(Emmy Awards)
The pair were then joined by fellow Friends actor Kudrow, with Kimmel asking the actor: "Lisa Kudrow, you live there too?", to which she replied: "Yeah, where else would I live?"
There was also a surprise appearance from Jason Bateman who asked whether Kimmel was "calling to kick me out of my own house too", seemingly in reference to a mix-up at the Creative Arts Emmys on Saturday where the actor was wrongly announced as an award-winner.
With Kimmel questioning whether the actor also lived in the Friends stars' house, Aniston explained that he was staying "just until he goes off to college."
As well as appearing virtually, Aniston also appeared in an in-person segment alongside Kimmel to present the Outstanding Lead Actress in a Comedy Series category. During the accompanying comedy skit, the pair set the winners envelope on fire in a bid to make sure it was fully sanitised.
Aniston missed out on an Emmy for her role in Apple TV+'s The Morning Show, with Zendaya taking home the prize for her role as Rue in Euphoria. You can see the full winners list here.
Watching the ceremony with her Friends co-stars isn't the only reunion Aniston has had this week, after teaming up with ex-husband Brad Pitt to read a sex scene during the virtual Fast Times at Ridgemont High reunion.