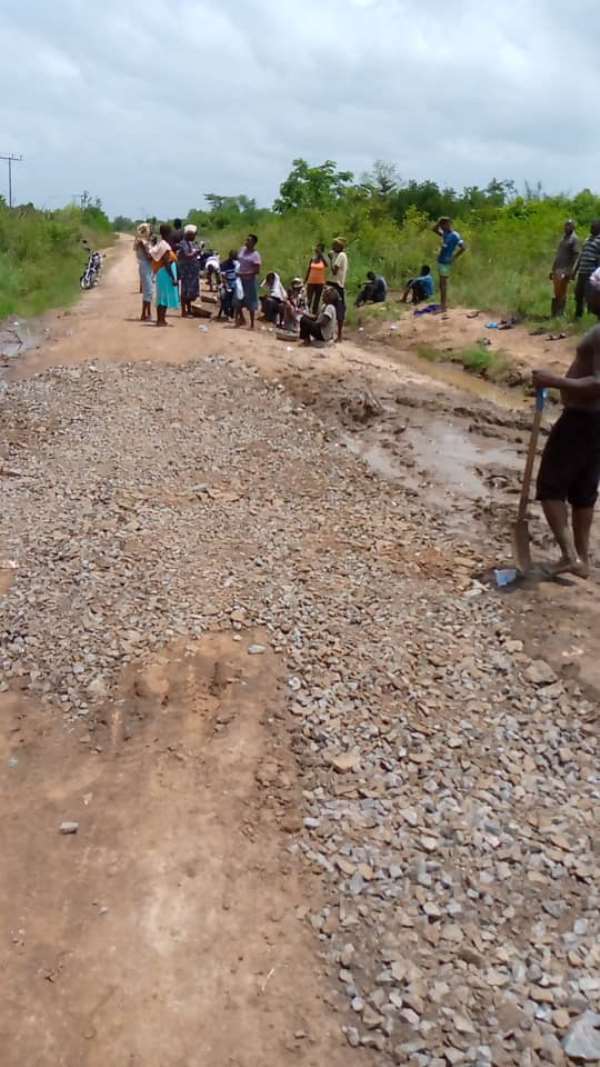 Residents of Agormor, a farming community and its surrounding towns in the Akatsi North District of the Volta region have lamented the bad road network in the area. .
They have held communal labour to construct the roads.
The road linking Agormor, Zemu and its surrounding towns to Avedakpa and Akatsi have been in a very deplorable state for more than seven years.
Mr Cephace Weto, the Assemblymember for Agormor-Zemu electoral area in an interview with ModernGhana News disclosed that, all their efforts to let the authorities of Akatsi North District Assembly to at least grade or reshape the road have fallen on deaf ears.
He disclosed that, the residents through their own efforts contributed some money to buy stones and other materials to construct the road on their own.
"Our people are farmers who produce many crops but no good road to convey them to Akatsi and Avedakpa markets," he stated.
Mr Weto also mentioned that the authorities of the Akatsi North District Assembly have shown little or no interest in the construction of the road.
They are appealing to the Akatsi North District Assembly authorities to come to reshape the poor roads causing farm produces to be stranded in farms at Akatsi and Avedakpa.
Dr Prince Amuzu Sodoke, the District Chief Executive for Akatsi North Assembly told ModernGhana News that the road has been awarded to constructors under the One million One Constituency project.
He mentioned that there are other roads that needed to be constructed in the area.
According to him, the engineers and constructors will soon come back to work after a short break.
"We should encourage volunteerism and communal labour to help alleviate some of our problems before government set in, "Dr Sodoke noted.