Business News of Monday, 13 January 2020
Source: classfmonline.com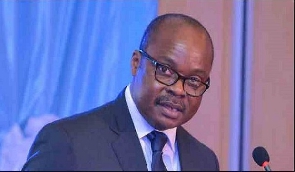 Dr Ernest Addison, BoG Governor
Days after some customers of the defunct First Allied Savings and Loans Company applauded the Bank of Ghana for its initiative that resulted in the payment of their locked-up cash, some members of the Coalition of Affected Savings and Loans Customers (CASLOC) in the diaspora have kicked against plans by the central bank to cap, at GH¢20,000, the payment of their locked-up funds with the now-defunct savings and loans firms instead of paying them in full.
According to the group, so far as the Banking and Deposit-Taking Act does not prevent them from depositing more than GH¢20,000 in savings and loans companies; it is unreasonable for the central bank to cap their investments.
The leader of the group, Joseph Amankwaa told Class News' Maxwell Attah that he deposited over GH¢430,000 while a friend of his residing in the UK also invested about GH¢1 million, yet the BoG wants to pay only GH¢20,000.
He, therefore, argued that the inhuman manner in which the regulator is dealing with the customers of the collapsed firms would demotivate Ghanaians in the diaspora from investing their hard-earned money in the country.
According to Mr Amankwaa, the banking sector clean-up, including the receivership of the insolvent savings and loans companies, has affected their lifestyle, expressing fears that it would take years for the receiver to pay them judging from the pace at which they are being paid.
"It's six months now, even the cap amount of GH¢20,000.00, it hasn't even paid 20 per cent of the depositors. So, many people have still not even received their messages, and to us, the procedure the receiver is using to pay us will take many years before we can get our funds", he fumed.
Mr Amakwaa, therefore, implored the BoG to either credit every depositor with their full investment just as the government did to customers of the collapsed commercial banks or migrate their accounts to the Consolidated Bank Ghana and promise them with an amount that can be withdrawn monthly.
The Nana Akufo-Addo-led government has assured the repayment of 4.6 million depositors' funds after GH¢15.6 billion was approved and made available to pick up the tabs of the banking sector clean-up exercise.