A Ghanaian man has been recorded on television heavily descending on the Parliament of Ghana for failing the people of Ghana. Speaking on TV, the man said that he read a report about how Ghana borrows money and he was totally devasted. And the report said that a bank or a former bank belonging to the Finance Minister, Ken Ofori, and assistant Finance Minister, Charles Adu Boahen get a commission anytime Ghana goes to burrow. The names of these banks are Data Bank and Blackrock.
This is because these banks are the financial advisors anytime Ghana decides to go and borrow money. The man said that since the era of Nkrumah, he has never heard of this transaction; not in Ghana or even other countries. According to him, we can blame only one institution in Ghana for this and that is the Parliament of Ghana. They are elected to make sure that any imbalances in the appointment of the President are turned down but what did they do? They have watched for this corrupt act and conflict of interest to go on for years.
The man said that the Parliament of Ghana should be ashamed of themselves because they have failed the people of Ghana. He stressed that because of the negligence of parliament, anytime Ghana goes to burrow money, Ken Ofori Atta and Charles Adu Boahen will benefit. This is because they will not work in the interest of the country but in their . And what they have done means that they are giving the next government the opportunity to come and do the same.
This is what he said on TV, "A read a report recently and I was very sad about the amount of money Ghana owes now. I saw in the report that the ministers of finance companies or former companies are the financial advisors to the money we borrow. So as Ghana gets poorer, the ministers of finance companies get richer. Is this what we want as a country? We elect people into office and give them their pay and other benefits. And we allow them to create, loot, and share the other resources.
This is not only about the Minister of Finance but Parliament. Parliament you must be ashamed of yourselves; you have failed the people of Ghana. Because I don't think from the time of President Nkrumah until now, anyone who is the Finance Minister should be benefitting from the country anytime our country goes to burrow".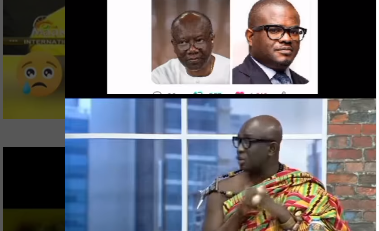 You can also watch the video through the link below:
Link
Content created and supplied by: AmuasiNews89 (via Opera
News )
, . , . () , , , , , , , , . / , and/or . , , and/or , and/or