By Jemima Holmes
After two years of inactivity owing to the coronavirus pandemic and the abrupt halt of the then ongoing Milo Boys' Under-18 Football competition, the Petra Organization are back with a bang, and will pick up from right where they had left off.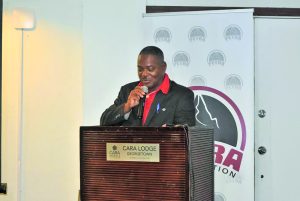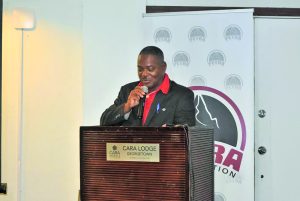 GFF's Franklyn Wilson
The Milo tournament, which has been critical in the discovery of numerous football stars, will resume on Saturday, June 18. This is an announcement that was made on Thursday evening when the Petra Organization hosted their "return to football" event.
"About ten years ago, one of our main sponsors reached out to myself and Marlon about continuing one of the programmes we would have started when we were members of the Georgetown Football Association. We set about putting together our plans, we accepted the challenge and the request from the sponsor; that's when we saw the birth of Petra," Petra Co-Director Troy Mendonca has shared as he reflected on the entity's rise to dominance.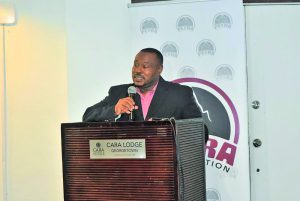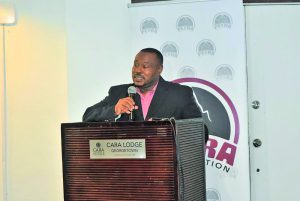 Petra Co-Director Troy Mendonca
"I think we all ought to be proud as a group, Petra and all these organisations that I would have mentioned," he said.
Discussing the intentions of the group, Mendonca has stressed on the focus at the grassroots level, and has expressed satisfaction at the positive results that are now being witnessed.
"When we looked at football at the grassroots level, we thought that schools represent a wider range of persons or players who might be available for grassroots sport," he shared.
Members of the Petra Organization along with representatives of their Title sponsors
Mendonca went on to add, "I know of a lot of players who started at the under-11 tournament, and they're now in the national set-up. You've seen them participate in the under-11s, in the under-18s, KFC Goodwill, that are now representing our country. I think that it gives us some sense of satisfaction to see us here, providing the opportunity for these players to develop," he said.
Shifting his focus to the restart of Petra's string of tournaments, he announced the resumption of the Milo Tournament next weekend.
"Our intention is to complete that tournament. Hopefully, we want to start that on the 18th of June and finish in July. We have our Guyoil/ Tradewind Tankers Under-18, which is a league format of the top 10 schools. We hopefully want to start that sometime in September," he said, as he went on to list the chronology of the ExxonMobil U14, Courts Pee Wee (Boys U11), Smalta Girls (U11), Guyoil/Tradewind Tankers League, and KFC Goodwill (U18 Boys), all tournaments that will run from July to December 2022.
Mendonca also expressed his appreciation for the GFF's efforts in the school arena by stating, "I want to commend the Guyana Football Federation and the Ministry of Education for the launching of the Football For Schools programme. We at Petra are very happy to have this programme, because it gives assistance in development of these young players."
Franklyn Wilson, Members Services Officer at the GFF, who stood in in President Wayne Forde's absence, has congratulated Petra on their milestone achievement, while reminding that all Football stakeholders are integral to development.
Wilson remarked, "You know, Troy and Marlon would have been involved in football from the club level, coming through the chute to the Association level, and they're very experienced in what they're doing. So, it's no surprise that the Petra Organization has been successful in its endeavours for the past ten years.
"GFF would like to remind this gathering that football belongs to all of us, and it is in this spirit that his (Wayne Forde's) administration continues to create an enabling environment that allows all stakeholders to participate and contribute to the development of the game and our young people," he further stated.
Kurt Braithwaite, who represented the Education Ministry's Allied Arts Department, has also commending Petra on their work.
"We feel that the best way to start with any project or any programe is to focus on the grassroots setting, and that is what the Petra Organization would have done. We would have seen many gaps in sports across our country, and Petra would have looked at everything and capitalised on what was most important," Braithwaite commented.
"And that was targeting sports within the primary school and then push it on to the secondary, so as to show that continuity."
Beepats (Nestle Milo), Guyoil/Tradewind Tankers, ExxonMobil, KFC, Courts Guyana, New GPC Inc (Limacol), Guyana Breweries Inc (Smalta), Top Brandz Distributors (Corona Extra) and Guyana Beverage Inc (Turbo) are all tournament sponsors for Petra-Organised competitions.