In observance of World Food Safety Day which was celebrated recently, the National Milling Company of Guyana (NAMILCO) and the Guyana National Bureau of Standards (GNBS) have joined forces to push Guyana's food safety agenda.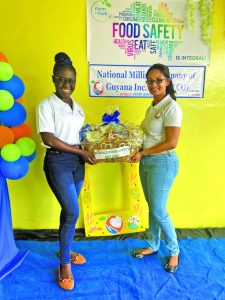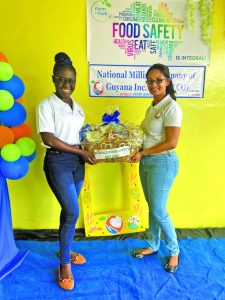 NAMILCO's food safety activity and hampers distributed
NAMILCO's simple but impactful observance of the ever-important day to the food production industry, entailed a fun interactive session with employees, in order to test their knowledge of food safety practices and reward them for such.
Quality Assurance Manager Taijawattie William shed some light on what the milling company hoped to achieve through the activity.
"We want to ensure that we are part of that observance of World Food Safety Day, that is why we planned this activity where the employees are going to come, they're going to answer questions, which is going to help us with our awareness session and we give them a chance to enter a raffle and win one of the three food baskets we have there," William explained.
The QA Manager added, "NAMILCO [has] been implementing food safety standards because we have customers like KFC, Popeyes, [and] Pizza Hut, they are demanding we have food safety standards. So, because we have implemented a lot of food safety standards, food safety culture is part of what we have to do as well."
William articulated the company's commitment to food safety practices while speaking on GNBS' role at the event.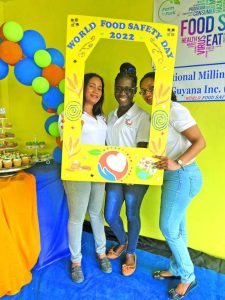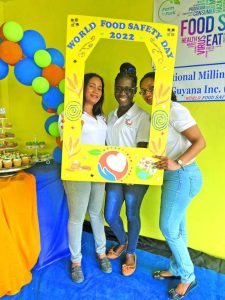 "Of course, we have GNBS here to give a food safety talk, and, you know, it's supposed to be a fun activity where we take pictures, we share cakes, one hour of production downtime, where everybody just takes that break and come and just understand food safety is part of what the food industry is all about," she said.
William concluded, "We want to show that we are behind food safety, food safety is one of our goals and we want to ensure that we're always working towards that."
Meanwhile, GNBS' Business Development Officer, Tyrone Rambacchus, shed some light on the importance of World Food Safety Day.
Rambacchus shared, "At the GNBS we actually promote because everybody consumes food. Food is of course something that can pose a lot of adverse risks for people, so we need to ensure that the food that they're purchasing and consuming, they are, of course, safe for consumption."
"So, in that case, World Food Safety Day is designed to bring awareness or to let persons know the importance of food safety so that they could implement those practices in place," He said, "Or even if they do have things in place, put those things in place so as to ensure that at the end of it, they are giving or selling, manufacturing, whatever it is they do, products or food products that are safe for consumption. And that would benefit them in the long run as well."
Turning his attention to his presence at NAMILCO's factory, Rambacchus praised the company for its proactivity and commitment to the cause.
"I think it's a really great initiative that they have going on here, because of course, NAMILCO is a company that everybody's familiar with and as a result of that, a lot of us consume their products that they put out there. So, the fact that they're bringing awareness through this initiative on the importance of world food safety and food safety in general, it shows a lot that they're prioritising food safety," Rambacchus opined.
He went on to add, "And of course, they're using quality and standards within their operations. So GNBS, we are happy to hear about that and we are of course happy that they have taken this initiative to be able to share with their employees about the importance of food safety."
Employees who displayed a great knowledge of food safety practices were rewarded with hampers of NAMILCO's products.