…says Regions 8 & 10 lag behind in vaccination drive
President Dr Irfaan Ali, on Thursday, during an address to the nation on his social media page, related that a total of 154,000 adults have already taken the COVID-19 vaccines. This accounts for just over 31 per cent of the adult population.
Giving a breakdown of the various age ranges, the Head of State noted that 61 per cent of persons over 60 years old have taken the vaccines. For those between the ages 40 and 59, 29 per cent have taken the jab. In addition, for those who are between the ages of 18 and 39, a total of 21 per cent have taken the first dose. He further added that persons have already started to receive their second dose.
Although reaching the 150,000 mark calls for a celebration, the President was concerned with the slow response by persons in Region Eight (Potaro-Siparuni) and Region 10 (Upper Demerara-Berbice).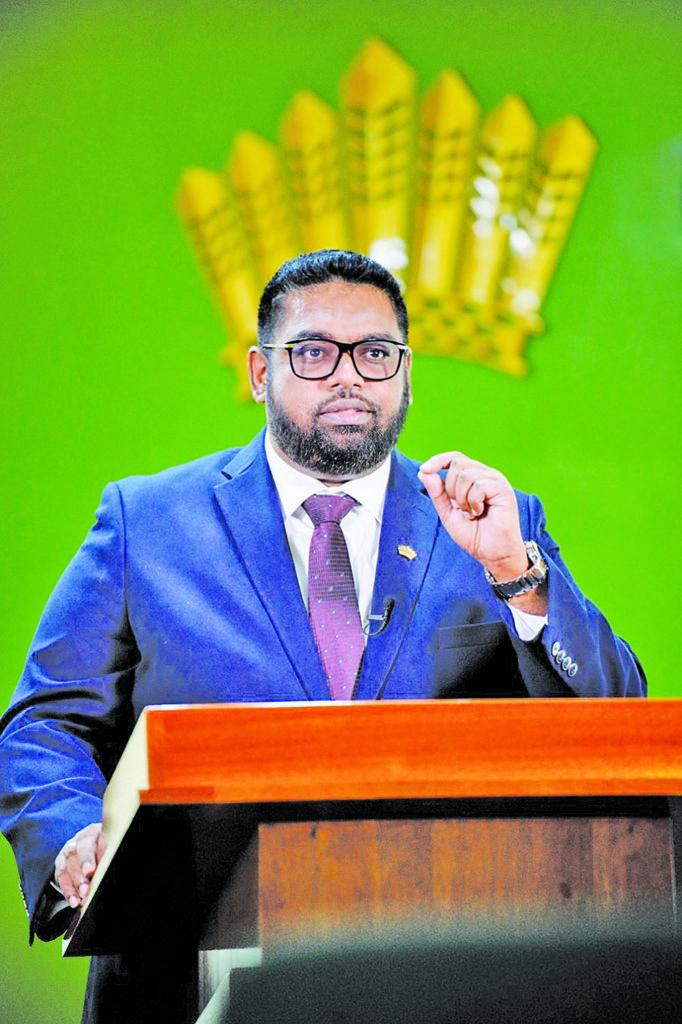 President Dr Irfaan Ali
"In every single administrative region, we would have had between 30 and 36 per cent coverage of the population above 18 years old, with the exception of Regions 8 and 10…Particularly in the case of Region 10, only 8.9 per cent of the population above 18 years old took the first dose of the vaccine to date… This is very concerning, this is very alarming." the President posited.
He noted that the Government has had continuous education programmes, making reference to a recent outreach over the weekend by Prime Minister Mark Phillips and team.
"We have seen some improvement, but we need to do much, much better…we need to understand that Region 10 is the gateway to the interior, which borders Brazil, and we all know that we have extensive borders and the likelihood of the borders being breached."
This, Dr Ali said, is a challenge that the Government is facing at this time. In an attempt to take up this challenge, he stated that there is additional human assets from the army, so that Guyana's borders can be better secured.
He is encouraging all Guyanese, though it is not mandatory at this stage, to take the vaccines, as it is the best option to save lives and exit the pandemic.
"I am very concerned also about the continued whisper campaign…not grounded in science or facts against vaccination. This does not help our communities and country to exit this pandemic. I appeal to all of us to put our country first, put the lives of the people of our country first, and help in advancing the vaccination programme by encouraging every Guyanese to come on board."
Further, he noted that the Government would continue to educate and provide opportunities for Guyanese to get vaccinated, but noted that persons must also take the individual and collective responsibility to ensure they are immunised.
"I call upon all leaders within our society to act maturely in not only taking the vaccine, but encouraging others to do the same…join in the public education programme and process. Not doing so is not fulfilling our duties and responsibilities…let us all take this responsibility seriously."
To this end, the Head of State said that, in the coming weeks, efforts will be ramped up to secure enough vaccines so that the country can achieve herd immunity.
"I want to assure Guyanese that our plan is to restore this country and economy to normalcy as fast as possible, and we're going to invest the necessary resources in the coming weeks to take us there through herd immunity."
As the Health Ministry continues to aggressively roll out the vaccination campaign, President Ali assured the nation that "adequate provisions" have been made for persons to get their second doses. He said the corresponding second shots are available and will be available to be administered to persons.
"So, we have no excuse when it comes to getting vaccinated. Your Government is taking all the necessary steps to ensure this. We're all in this together… We're facing this together as a collective, and we can only beat this or get ahead of this together and as a collective…this is not a Government-alone task."
The Head of State explained that the country will get ahead of the pandemic if all Guyanese work and come together in this fight. He said the country can be built and development achieved only if its population is alive and healthy to do this.
He also extended his sincere condolences to those who have lost loved ones to COVID-19.