The Disabled Peoples Network of Region Five (Mahaica-Berbice) has launched an initiative aimed at helping visually impaired persons to become more independent through the use of technology.
The three-month programme, which concluded on Monday, was done in collaboration with the Guyana Council for Persons with Disabilities.
One of the facilitators, Schemona Sugrim, related that the initiative sought to teach visually-impaired persons how to use a smart device.
"When we got here, most of the persons did not know how to use a smart device, so what we did was to teach them how to use all social media apps, YouTube, to help entertain themselves, and how to make regular phone calls, and this basically helped them to have a sense of independence when it comes to reading their own messages and communication with family and friends," the facilitator, who is also visually-impaired, stated.
Chairman of the Disabled Peoples Network, Bhoj Seeram, who is also visually-impaired, could not use a mobile phone until recently. He can now access multiple features on a smart device.
For the first time, he has been surprising family members when he sends them messages on social media and interacts with them.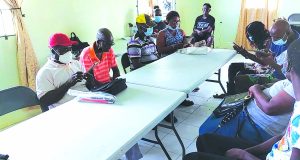 Some visually-impaired persons being enabled to use smart devices
Apart from him, some of the participants also told eye-watering stories about their lives prior to knowing how to use a smart device. Collie Crandon has said that, with the knowledge he gained over the three-month period, he can now teach others to use smart devices. Crandon, who is visually-impaired, couldn't imagine himself being able to operate a smart device.
"Like the tablet, I can operate any smart device that comes in front of me. It has given me a lot of confidence, and I can teach others now," he said.
Abagail Young-Hamilton, a mother of four, who lost her vision in 2009, could not have dialled a number on a mobile device.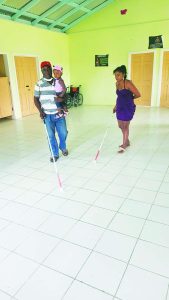 Visually-impaired persons being taught how to use the cane to walk
"Now I could dial. I can answer the phone. This is due to the accessibility and the training that I received," she disclosed.
She explained that, prior to the programme, she used to depend on her children and husband to move her around, but now she can move on her own. She benefited from the training on how to use a cane. While that aspect of the programme has come to an end, starting in July, visually-impaired persons would be taught how to use the computer.
This is according to one of the facilitators, Lata Jagmohan. "We will be teaching them how to use the software JAWS," she said.
Job Access With Speech (JAWS) is a screen reader developed for computer users whose vision loss prevents them from seeing a screen.
"Almost everything in today's world is computerized, and so almost everything is documented on your computer. People use soft copies more than hard copies. So, building that sense of independence would be good for them, and they will not have to depend on someone to send a document or (prepare) a document."
Also, those who require the skills can be taught how to cook.