Three Armagh goals saw Donegal embarrassed at Clones in the All-Ireland second round qualifier.
Donegal 0-16 Armagh 3-17
A goal after 10 seconds from Rory Grugan foreshadowed how the game would go for Donegal, but they hit back and raced into a four point lead.
A black card for Shaun Patton and a Rian O'Neill penalty turned the game on it's head as Armagh went into the break 2-8 to 0-10 ahead.
Donegal were unable to come back in the second half as Armagh extended their lead and a Stephen Sheridan goal killed the game off.
Donegal's Ryan McHugh gets his pass away during Sunday's game. Photo Evan Logan
Donegal had a nightmare start when O'Neill won the throw-in and kicked the ball into Grugan who caught the ball in the square before turning and smashing the ball into the top corner.
But Donegal responded brilliantly as they kicked six without reply.
Aaron Doherty got the first point of the game after his shot for goal was parried over the bar by Rafferty.
Ryan McHugh was the next man to point before Michael Murphy scored twice, first from a free then a massive kick from play.
Patrick McBrearty added to the scoreline and another Murphy free made it 0-6 to 1-0.
Donegal manager Declan Bonner during Sunday's game. Photo Evan Logan
Grugan's free got Armagh's first point of the game 11 minutes but Shane O'Donnell scored a great point from play.
O'Neill was next to score after some clever play from Armagh saw Peadar Mogan get blocked off, leaving O'Neill in space.
O'Donnell pointed again followed by Ciaran Thompson as Donegal cruised into a four point lead after 21 minutes.
But that would be the end of their scoring for 17 minutes as Armagh took control.
Kieran McGeevey's side would score 1-6 without reply as The Orchard County won almost every kick out and forced Donegal into errors in defence.
O'Neill scored the first two, the latter from play, while Jarly Óg Burns scored following patient build up.
A massive goal chance fell for Armagh after Stefan Campbell got the ball with Patton out of his net.
But the Clan Na Gael man's tame shot was blocked on the line by Caolan Ward and O'Neill converted the 45.
After Donegal lost possession near their own net, Armagh were in for a certain goal but Patton took down the Armagh man, resulting in a penalty and a black card for the St. Eunan's keeper.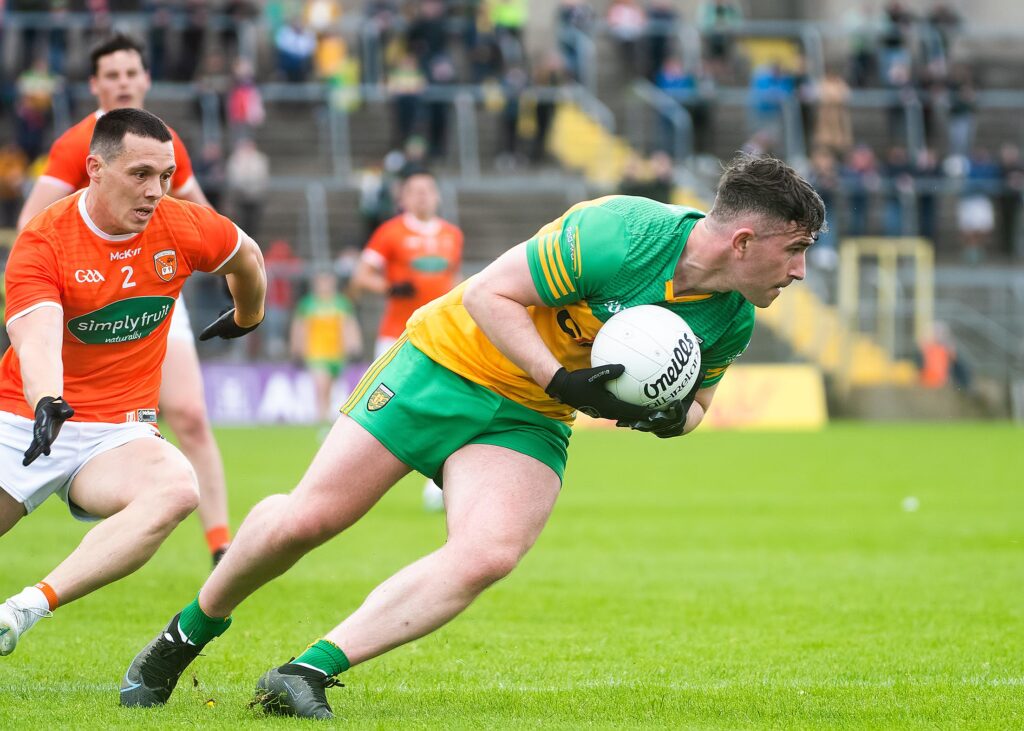 Donegal's Patrick McBrearty breaks past Armagh's James Morgan during Sunday's game. Photo Evan Logan
Rian O'Neill converted as Caolan McGonagle went in goal for the kick but couldn't keep the ball from hitting the back of the net.
Buoyed by the goal, Armagh extended their lead before half-time as Jason Duffy fisted over then Grugan cut inside and pointed well.
A Murphy free gave Donegal the last score of the half to make it 2-8 to 0-10, but it would only get worse for Declan Bonners side in the second half.
Burns got his second point and O'Neill was on target again while Stefan Campbell got a massive score to give Armagh a seven point lead.
They almost had another goal but for Brendan McCole's punch away as Patton was stranded again.
Another O'Neill free and a score from play had Armagh out of sight as Donegal looked out on their feet.
A Murphy free and a McGee point gave Donegal some hope but Armagh would get their third goal soon later.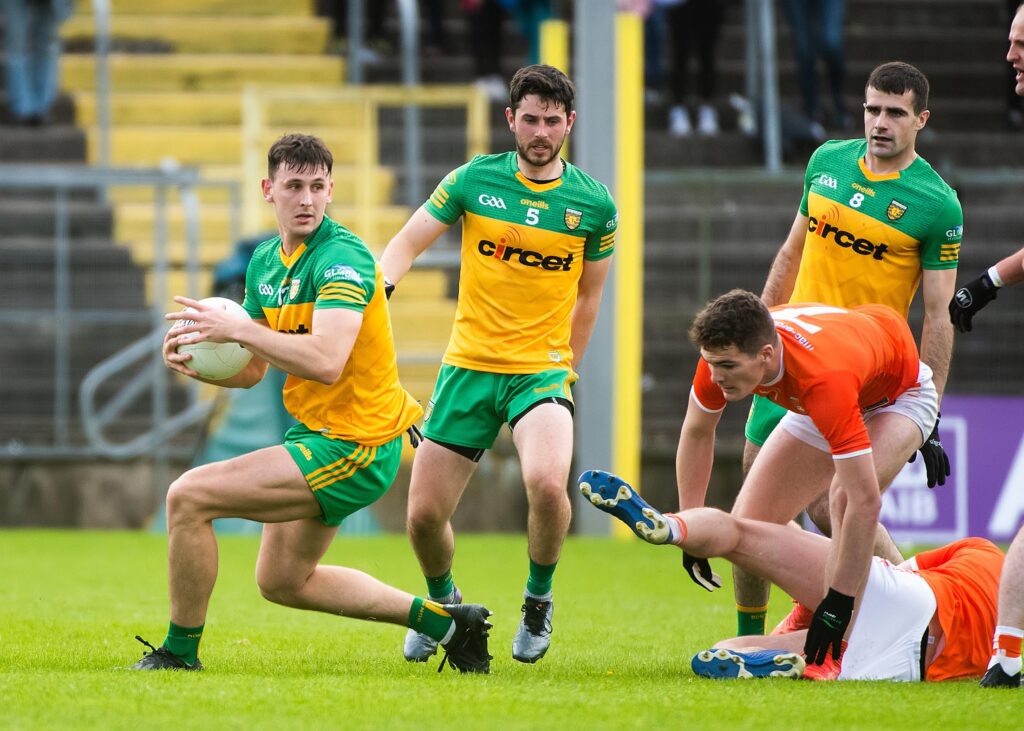 Donegal's Michael Langan wins the breaking ball during Sunday's game. Photo Evan Logan
Ben Crealey found Stephen Sheridan who feinted past Patton and kicked into the empty net.
A Murphy free and points from Shane and Niall O'Donnell were cancelled out by two from Conor Turbitt and points from Grugan and Burns as Armagh coasted to the win.
Shane O'Donnell got the final score of the game but Armagh advance to the quarter-finals with a 3-17 to 0-16 win.
Donegal: Shaun Patton; Caolan Ward, Brendan McCole, Aaron Doherty (0-1), Ryan McHugh (0-1), Eoghan Ban Gallagher, Odhran McFadden Ferry; Caolan McGonagle, Jason McGee (0-1); Ciaran Thompson (0-1), Peadar Mogan, Michael Langan, Patrick McBrearty (0-1), Michael Murphy (0-6,4f), Shane O'Donnell (0-4).
Michael Lynch for McBrearty (31 mins), McBrearty for Lynch (37 mins), Jamie Brennan for Thompson (47 mins), Niall O'Donnell (0-1) and Jeaic McKelvey for McHugh and Langan
Armagh: Ethan Rafferty; James Morgan, Aidan Forker, Conor O'Neill, Aaron McKay, Greg McCabe, Jarly Óg Burns (0-3); Stephen Sheridan (1-0), Ben Crealey; Rory Grugan (1-3,1f), Stefan Campbell (0-1), Connaire Mackin, Aidan Nugent, Rian O'Neill (1-7,3f/45), Jason Duffy (0-1).
Conor Turbitt (0-2) for Murnin (57 mins), Mark Shields for Nugent (70 mins), Justin Kieran for Conor O'Neill (74 mins)