When a fuming Afsana stands up and charges at Shamita, she is stopped in the nick of time. The latter is equally ready to take her on.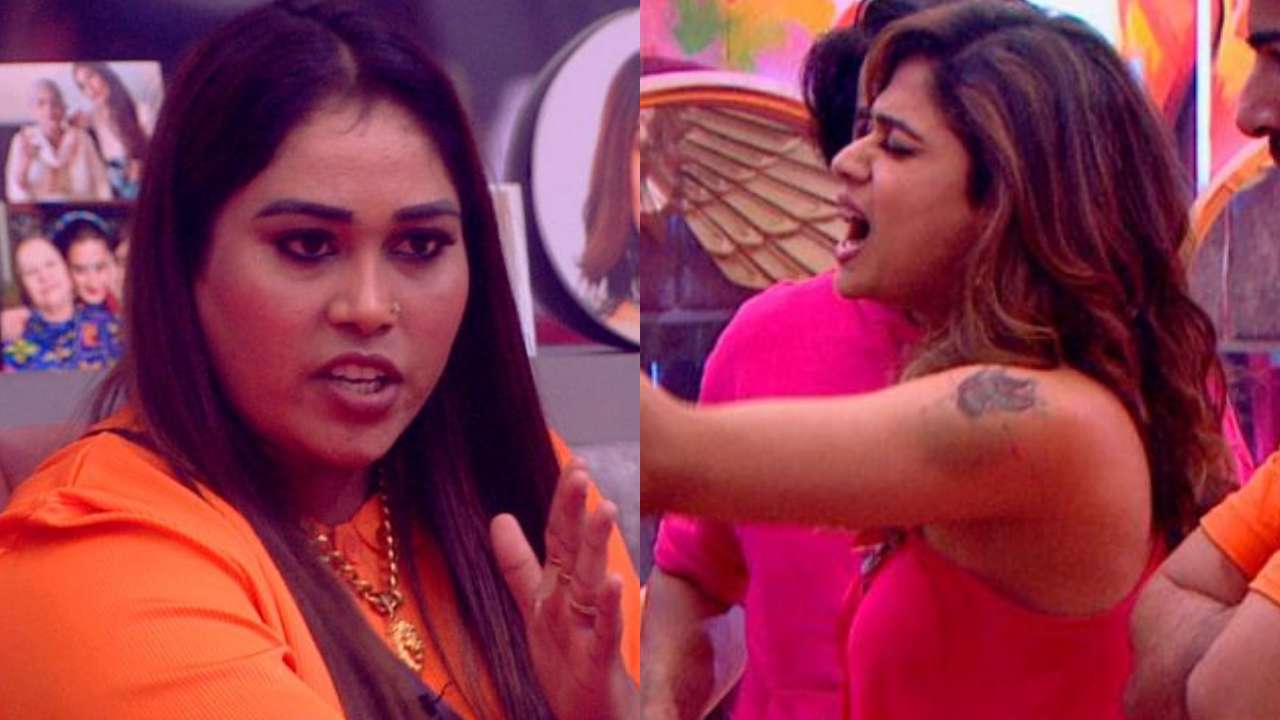 Edited By
Mugdha Kapoor Safaya
Just as 'Bigg Boss 15' had promised, all forms of intense dangals have taken place in the Bigg Boss jungle in the first two weeks itself. But what awaits everyone is the baap of all these dangals - 'Gharwasis' vs 'Junglewasis'. The contest is becoming tougher with each passing day, and the challenges that lie in front of them are about to test their patience, unity, friendships and characters to the absolute limits.
In the previous episodes, we saw how 'Junglewasis' tried to get inside the house by hook or crook. Strategies have been deployed, rivalries formed, and chaos ready to erupt like never before. The 'Junglewasis' are hungry to get the pathway pieces inside the main house. On the other hand, the 'Gharwasis' are determined to defend themselves at all costs. A vast showdown takes place as all of them literally start pushing and pulling each other, resulting in a massive dangal in this jungle. From dragging each other by the feet to screaming and shouting, expect all kinds of drama.
Meanwhile, Afsana Khan has a massive face-off with Shamita Shetty, and both are almost at each other's throats. During the task, both Afsana and Shamita were at each other about something or another. Their differences grew as the task moved forward and when Afsana hears Shamita talking about her and saying she never accepts her mistakes, Afsana loses her cool and she calls Shamita 'gandi aurut (bad woman)'. Afsana even questions Shamita's stardom and status and repeatedly says "Tujhe janta kon hai? (who knows you?)." Afsana is even heard calling Shamita a flop star. Shamita is also heard calling Gatiya Aurat'.
Its true #ShamitaShetty called #AfsanaKhan "Ghatiya Aurat".. But its totally justified ! Afsana called her gandi aurat, Flop star , Ott me fame nahi mila.. Heat of the moment me shamita ne keh dea.. Koi angel nahi hota , Gussa subko ata hai!! Afsana is wrong here 100%#BB15

— Rubiology @ItsRubiology) October 14, 2021
Afsana called #ShamitaShetty BUDDHI, commented on her career, gave gaalis and more

Jay, Vishal, Eishaan & Meisha asking Shams if if she's okay, telling her 'She's Stronger than this' #ShamitalsTheBoss, she gave it back. Dat k khadi rahi pure time coz she was RIGHT!! pic.twitter.com/gREiRT3Iqo

— (@gilmorexgurl) October 14, 2021
When a fuming Afsana stands up and charges at Shamita, she is stopped in the nick of time. The latter is equally ready to take her on. Vishal, who had recently attempted to partner up with Shamita, also jumps into this fight. He challenges Afsana by saying, "Tere mein dum hai toh tu haath uthaake dikha!" Karan Kundrra, Pratik Sahejpal and a few others are seen asking Afasana Khan to stop spewing filth as Jay Bhanushali, Miesha Iyer and others comfort a crying Shamita.
As the fire rages on, it will be pulsating to see where this fight goes!