The global equities rebounded, emerging markets (EM) calmed with modest hopes that the US-China talks may defuse global trade worries, the European Central Bank (ECB) stayed pat and lowered growth forecast last week. The crude prices firmed and the US benchmark treasury yields nudge towards the 3% mark - in a week that was marked by lower volatility and a sharp increase in Turkey's key rates. The Indian rupee weakened further and bonds sold off before news of a weekend meeting with the Prime Minister calmed the sentiments. India's CPI and WPI came in far lower than market expectations and are also below the Reserve bank of India's (RBI) target range.
In a surprise development, the US officials reached out to their Chinese counterparts ahead of the imposition of additional tariffs on $200 billion of imports from China. This is expected to yield hardly any major breakthrough in the simmering trade tensions but indicates that the two sides are willing to negotiate.
Seen against a background when ECB has downgraded its economic growth forecasts largely due to downside risks to the economic outlook from uncertainties relating to rising protectionism, vulnerabilities in EM and financial market volatility, it is highly desirable that an amicable solution to multilateral global trade is arrived at. Global growth is not even and some major economies have already peaked.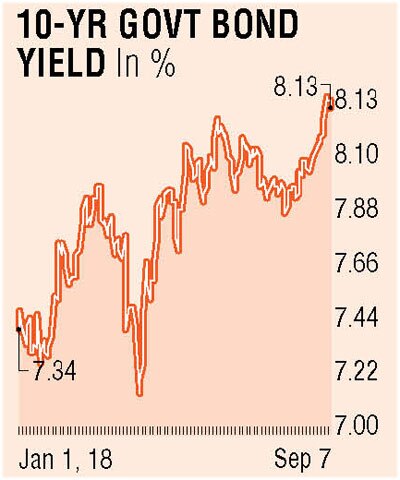 In other news, Bank of England's Carney agrees to stay in office a little longer than his scheduled completion of the term in June 2019 mainly to ensure a smoother Brexit transition. A lesser followed small business optimism index in the US, the National Federation of Independent Business Small Business Optimism index hit a 45-year high, since its inception, surpassing the high set during the Reagan era. The scourge of markets in recent times, the Turkish lira, remained flat to stronger last week as the Turkish Central Bank raised rates by 625 bases. Interest rate hikes appear to be a potent tool to manage exchange rates these days as a currency crisis leads to hyper-inflation which again feeds into further currency weakness.
Perhaps taking a cue from these, the Indian markets last week started pricing in sharp rate hikes in the coming days. The opinion ranged from an inter-meeting hike to policy day hike of anywhere between 25-50 basis points (bps). With inflation trending further lower than what it was for June, it remains to be seen if rate hike will be the only option to rein in currency weakness. CPI (retail inflation) data released last week showed headline softened to 3.69%, led by a sharp drop in food prices. Core inflation also dropped sharply by 40 points to 5.90%. While this augurs well for the broader economy, persistent rise in domestic fuel prices (contributed by a weaker rupee and rising international crude prices) may pose challenges. The last hike in repo rates was seen as per-emptive and virtually priced in prospects of elevated global crude prices and risk of the US rates on emerging markets.
The problem of the day is a relentless weakness of the Indian rupee. Last week the domestic currency traded quite close to the 73 mark and barring mild intervention by the central bank, there was nothing to support the beleaguered rupee. The RBI and DEA officials have met the Prime Minister and finance minister and some measures have been announced. Alongside, some more are expected during the days ahead – especially from the regulator. This should provide temporary relief and a move towards the mid of 70-71 range should follow in the coming days. The RBI governor in his press conference after the August MPC clearly stated that monetary policy will only be used to manage inflation expectations.
However, if the strategy is to slow down growth to manage worsening CAD, then a rate hike is more probable.
The RBI also announced an open market operation (OMO) of Rs 10,000 crore for 19th. This could be more to offset the tax outflows. Bond yields have retraced from 8.21% (benchmark yield) and may well move closer to 8% if the rupee stabilises and strengthens strongly. All indications point to another quarter of pain for bank treasuries. There has been a one-way movement in benchmark yields – from 7.12% on April 5 to intraday high of 8.21% on September 11. The second half's borrowing calendar and RBI support in the form of OMOs will be the key factors to create investor interest in bonds.
The writer is a market expert
COOLING DOWN