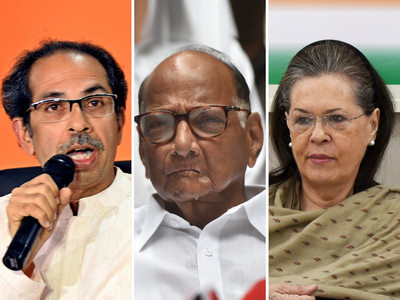 MUMBAI: Shiv Sena, Congress and NCP cancelled plans for a joint meeting with Governor Bhagat Singh Koshyari to discuss damage to crops in the state following unseasonal rains.
Sena legislature party leader Eknath Shinde had approached Raj Bhavan, saying a delegation of Sena, Congress and NCP leaders were keen to call on the Governor on Saturday to press for adequate financial aid for the farm sector. However, the meeting was cancelled.
Congress and NCP leaders admitted that since the tripartite alliance was not yet formal, they decided not to join a delegation with Sena. "It was felt it would not be appropriate, the alliance with Sena has not been forged officially,'' an NCP leader said.
However, Eknath Shinde said the reason for the cancellation was that many leaders were away in their constituencies to complete the process of submitting expenditure papers to returning officers. "Only a few days are left to submit documents pertaining to election expensee. Given the circumstances, most leaders were not available. So we requested the Governor to cancel it. We will meet the Governor next week,'' he said.
While Shinde said there was no politics in cancelling the meeting, Congress and NCP leaders told TOI that they decided not to join the delegation owing to differences on presenting a common front in the absence of a formal alliance.