Even as Telangana is headed for early polls, serious discrepancies have surfaced in the electoral rolls of the state.
A total of 48 lakh voters have been identified as 'duplicate voters' in the election draft list. Ten days ago, TRS led by acting Chief Minister K Chandrasekhar Rao had recommended early dissolution of the Telangana Assembly, which was opposed by the Governor. The TRS hopes that the party will retain power if elections are held early.
The draft electoral rolls published by the Election Commission of India on September 10, shows that there are over 30.13 lakh duplicate voter IDs in the state. Names of over 18 lakh voters are present in both, Andhra Pradesh and Telangana voter lists. The age of nearly 21,000 voters has been found to be between 100 and 2,017 years.
The ECI had sent a team to inspect the poll preparedness in the state. Senior deputy election commissioner Umesh Sinha said that the voter list is only a 'draft' and voters can file their objections. The EC said that all voters must confirm their names and file their claims and objections between September 10 and 25. Due to the early dissolution of the Telangana Assembly, the EC has decided to publish the final electoral rolls list on October 8 instead of January 1, 2019.
Nearly 30.13 lakh duplicate voters have minor variations in parameters such as gender, age, husband, father's name. The ECI has deleted names of over 20 lakh voters in Telangana from the rolls between 2014 and 2018. While there were 2.81 crore voters in 2014, there are now 2.61 crore voters in the electoral rolls.
Another glaring error that has come to the fore is that names of nearly 18 lakh voters were found in the electoral rolls of both, AP and Telangana. For instance, in Khammam district, among the seven mandals which were transferred to Andhra Pradesh during the bifurcation, there are about 1 lakh voters who have not yet been deleted from Telangana's electoral rolls.
Congress spokesperson Abhishek Manu Singhvi said that the EC must look into the matter. "Polls held on the basis of these deeply and deliberately flawed and inaccurate voter lists would undermine the entire process and would lead to a distorted mandate. It will erode the faith that the people of this country need to have in the EC," said Singhvi.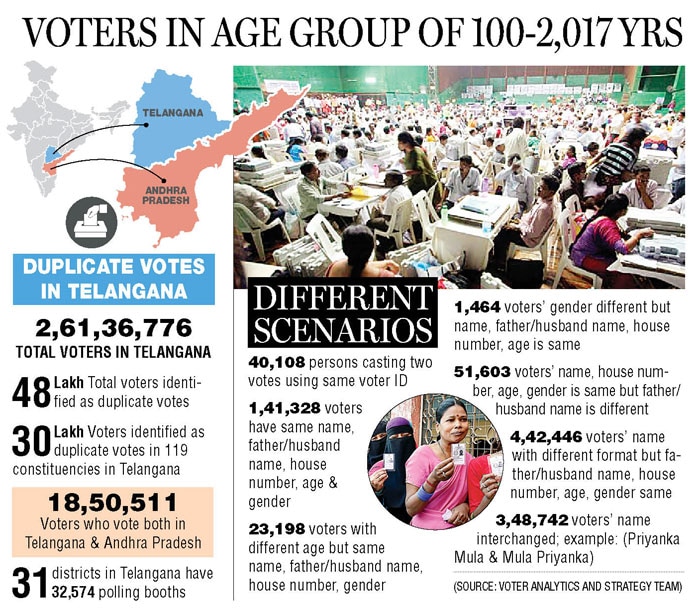 CURIOUS CASES