RIFT VALLEY
By
Kennedy Gachuhi

| May 25th 2022 | 2 min read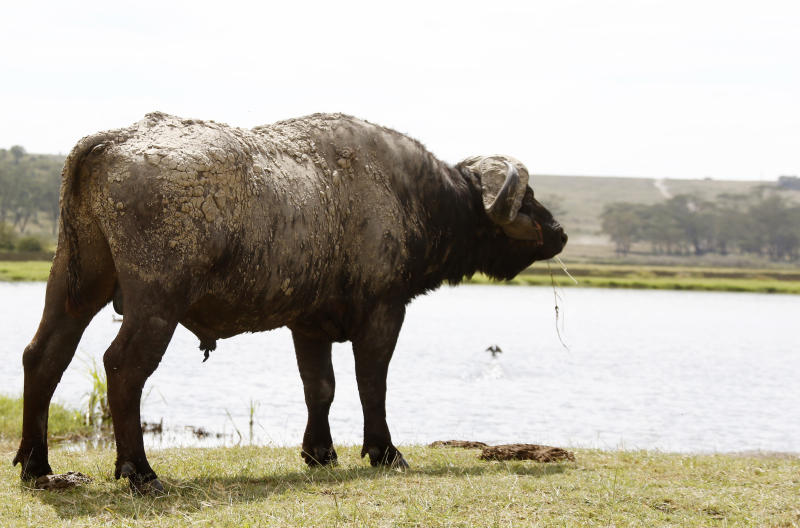 A buffalo at Lake Nakuru National Park in 2020. [Kipsang Joseph, Standard]
Njoro residents living near Lake Nakuru National Park have appealed to the Kenya Wildlife Service (KWS) to ensure the park is properly fenced to prevent straying of wildlife.
The community in Pwani village fears possible attacks. "We have been waking up to destruction of crops on our farms. The hoof prints left behind indicate that these are huge animals," said Mr David Ng'ang'a.
He said the wild animals had been bringing down a section of the fence along the park border, despite repairs, in search of greener pasture, as part of their grazing land in the park is waterlogged. "The electric fence is supported by very weak poles. Most of the time it is not electrified, allowing strong animals to bring it down. Timber poles should be replaced with concrete ones," said Mr Ng'ang'a.
Mr Allan Maina, a resident, said the community had been spotting buffaloes on their farms. "They are heavy grazers, now threatening food production. The government must ensure there is no conflict between us and the animals. We are not ready to turn to ask for relief supplies," said Mr Maina.
He said the animals had been retreating to bushy areas in the morning. "One has to be extra careful while leaving their homes at dawn. We fear for our children who go to school very early," he said.
Ms Alice Wanjiru said it was by luck that no attacks from more dangerous animals had been reported.
Incidents of stray lions finding their way into the village and killing livestock were reported in previous years. "Buffaloes coming to human settlements will end up being trailed by predators. We have in the past lost our cattle and sheep to lion attacks. This has to be addressed now," said Ms Wanjiru.
Lake Nakuru National Park Senior Warden Mr Edward Karanja said the concerns raised by the community had been brought to their attention and were being acted on. He said they had established that a herd of buffaloes had exited the park through a weakened section of the perimeter fence, which has since been reinforced.
He said after the repairs were done on the fence, they realised the herd was locked outside the park. "We have today held a meeting with the community and the issue now is not about the fence. Around four buffaloes are suspected to be outside the park. We are making plans of getting them back in," said Mr Karanja.
He said the matter was being dealt with albeit with challenges posed by the thick vegetation where the animals have retreated to. "We urge the community to be more vigilant, not to provoke the animals," he said.