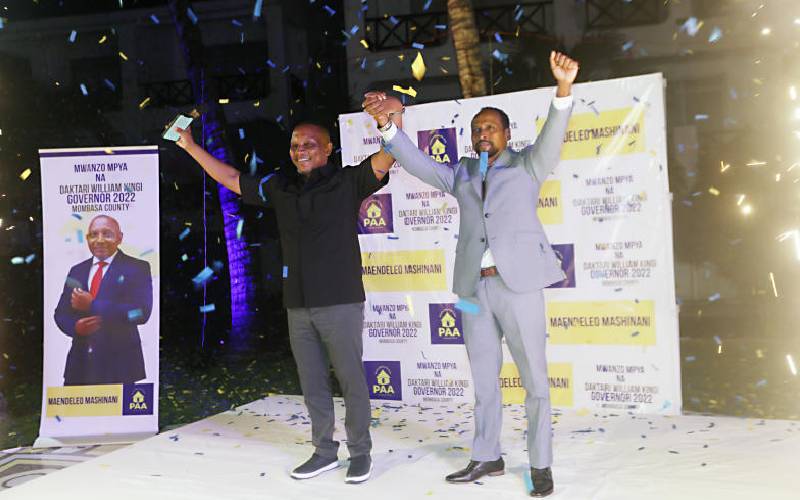 Mombasa County Governor candidate on Pamoja African Alliance ticket, William Kingi [left] during the unveiling of his running mate, Amin Roble at Nyali Holiday Resort in Mombasa on June 5, 2022. [Omondi Onyango,Standard]
Mombasa Deputy Governor William Kingi has accused his own administration of running a poor and stressful business environment.
Dr Kingi, who has been Governor Hassan Joho's deputy since 2017, said many businesses in Mombasa have closed down and business owners lost hope over the last 10 years.
Kingi, an academician, is vying for the governor's seat on Pamoja African Alliance (PAA) ticket after Joho fronted Mvita MP Abdulswamad Nassir who clinched the ODM ticket.
While unveiling his running mate Amin Jamah and launching his manifesto, the deputy governor said the businesspeople in Mombasa have suffered in silence.
He urged them to get out of hopelessness and rebuild Mombasa brick by brick into its glorious days and create employment.
"Do you want the government to remain the way it has been for the last 10 years? Businesspeople, stop being hopeless, sitting and being left behind. Let us advocate for the change we need," Kingi told the traders in Nyali.
He promised to invest Sh1 billion to help women, the youth and persons with disability (PWDs) if elected governor.
Kingi said procurement in infrastructural development has been left to those with huge capital while discriminating against women, the youth and PWD.
He said his administration will scrap the revolving fund and replace it with a Sh1 billion fund to assist small businesses owned by PWDs, women and youth in partnership with reputable financial institutions.
"Most of the youth and women have been left behind and this has led to high unemployment rates in the county," said Kingi.
He said Mombasa has suffered a huge economic setback since 2019 when the Standard Gauge Railway (SGR) took away port services to Naivasha, denying over 40,000 families jobs.
"The transfer of port services to Naivasha hit us hard because the county is reliant on logistics and clearing and forwarding which over 10,000 jobs were lost in 2019. Coupled with the effects of Covid-19, by 2022, 40,000 jobs have been lost. The new governor must see how to deal with all these issues," said Kingi.
He said his administration will observe fairness, equity, transparency and capability building. "We need a different Mombasa starting from the Assembly that does not pass laws because someone has whipped them. That won't help the people of Mombasa. If the Assembly passes laws that are not helping the residents, send it back to the executive because this has been a big problem in Mombasa," said Kingi.
He promised to devolve all the governor's functions to the ward level to be able to reach and effectively serve all the people, including those in the informal settlements as opposed to centralizing all the services in the city centre.
Kingi said he will improve the governance structure to ensure fairness, equity, transparency and capacity building of the people and institutions.
"It is my submission that throwing in more money into projects without reworking the governance structure of Mombasa is tantamount to throwing good money after bad," he said.
He said the budget and planning process will be participatory.
Kingi said each ward will have a representative development committee to vet all government projects and completion documents and oversight before the contractors are paid.
"I will have an inclusive and participatory government by bringing the government to the people. The ward is going to be very important and people don't need to come to town to get services. There will be public participation in developing and budgetary allocation for projects," he said.
He said his regime will ensure all sub-county hospitals are completed within the shortest time to decongest Coast General Hospital (CGH).
Corrupt water dealers
Kingi put the corrupt water dealers on notice and said he will ensure there is enough water supply for both locals and visitors.
He said the current water supply into the county is 40,000 cubic metres against a daily demand of 200,000 cubic metres.
"The current water supply is not enough nor is it generating enough revenue. We will ensure there is enough water supply to all the residents and visitors and I will deal with the corrupt water dealers who frustrate the supply process," he said.
In his manifesto, Kingi said he will ensure there are enough funds for bursaries and to enable vocational training institutions to absorb as many youths as possible.
He said the transition rate from primary to secondary school is 40 per cent in the country and termed it a crisis. Kingi said most youth are not going to school due to a lack of fees.
"The Sh300 million for bursaries is not enough. Kwale has allocated Sh400 million for bursaries yet its population is less than that of Mombasa.
"If you have a high rate of young people not going to school, it will lead to drug abuse and increase the crime rate in our society," said Kingi.
He promised to give investors incentives to allow them to put up more businesses to create employment. He also pledged to settle all squatters in their land.
Kingi said the poor garbage disposal has been due to a lack of goodwill by the present administration.
"Mombasa generates 900 tonnes of waste daily and we can only manage to collect half of that. However, in my government, we shall be collecting garbage at sub-county level and also partner with private recycling plants," he said.