RIFT VALLEY
By
Robert Amalemba

| Jun 10th 2022 | 2 min read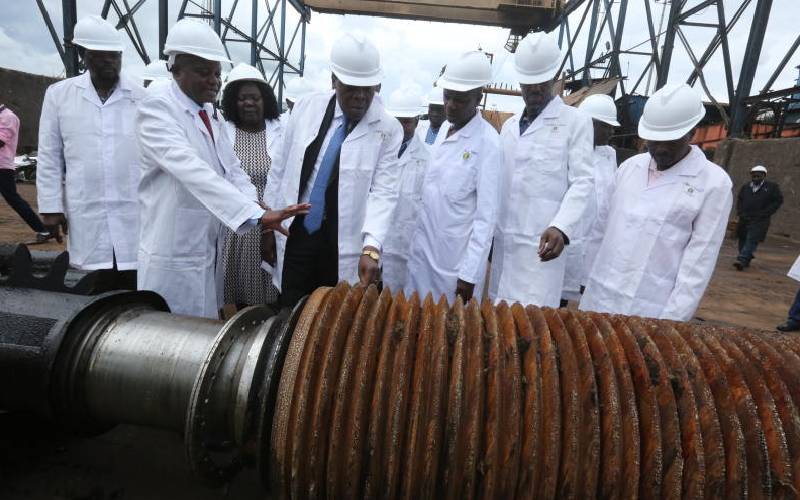 Defense CS Eugene Wamalwa inspects some of the newly purchased rollers and boilers for maintenance of the Nzoia sugar factory on June 8, 2022. [Benjamin Sakwa, Standard]
Defence Cabinet Secretary Eugene Wamalwa wants the Senate to pass the Sugar Bill which he says will address the sugar sub-sector's woes.
Speaking on Wednesday at the Nzoia Sugar factory when he launched the miller's maintenance programme, the CS was optimistic that the sector would regain its lost glory if supported through good legislation.
"After the government invested resources again and again in the journey to resuscitating the sector, we want President Uhuru Kenyatta to give us the final gift before he leaves office - that of signing the Sugar Bill into law," he said.
He added: "Let the Senate prioritise the passing of the Bill before the House goes on its final recess."
The Bill by Kanduyi MP Wafula Wamunyinyi was passed in the National Assembly in September last year and forwarded to Senate.
It proposes reforms such as the gazettement of the sugar sector regulations including import rules, amendment of the Agriculture and Food Authority Act and Crops Act in line with the Constitution.
It also proposes strict compliance with the Comes regulations and outlines measures needed to increase the sugar sector's productivity, and a review of the taxation regime to enhance investor incentives.
"We were here in December together with Agriculture CS Peter Munya to invest Sh500 million in the factory. Some Sh284 million went towards offsetting farmers' debts and Sh216 million went to factory maintenance. That means the company still owes farmers some Sh450 million," said Wamalwa.
Nzoia's Managing Director Crispin Omondi said the company, with a sugarcane crushing capacity of 3,000 tonnes per day, has gone too long without service.
"We have gone for six months without maintenance and that has affected the production. We will be back to full operation after two months," said Omondi.
The factory employs 751 people on a permanent basis and some 2,057 casuals. He said the company established in 1978 was losing talent to other sectors.
Family dynasty in sports
Fathers and sons are a (relatively) common occurrence in professional sport, but several generations from the same family is a much rarer feat indeed.