FROM THE DVB NEWSROOM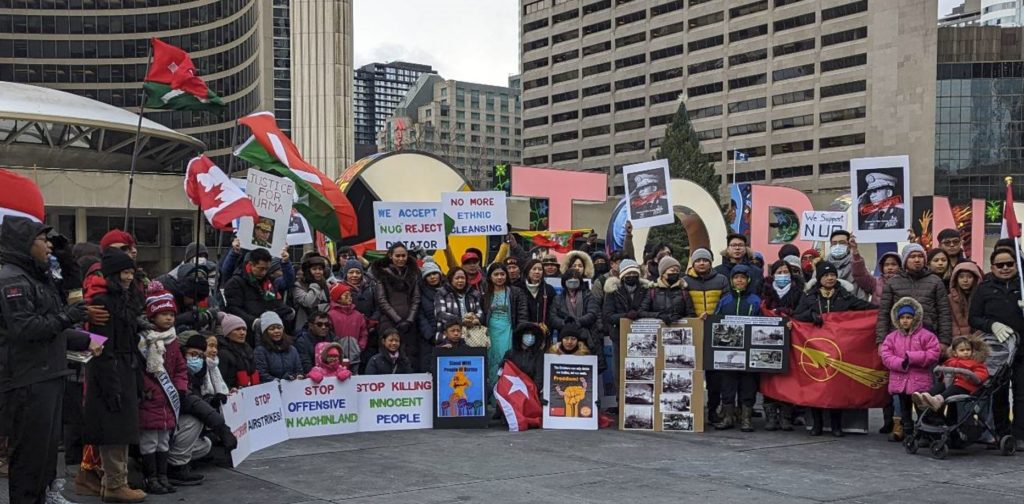 Burmese-Canadians, and supporters, rally alongside special guest Han Lay at Toronto City Hall's Nathan Phillips Square on Nov. 19.
Burma's diaspora communities in Canada and Australia held rallies over the weekend to raise awareness about the junta's brutal war against the people of Burma. Burmese model and Miss Grand International Myanmar 2020 winner, Han Lay, attended and spoke at the protest in Toronto, Canada on Nov. 19. The Committee Representing Pyidaungsu Hluttaw (CRPH) and National Unity Government (NUG) Support Group in Queensland, Australia held a protest in Brisbane on Nov. 19. Those in attendance lit candles and prayed for all civilians killed since the 2021 military coup.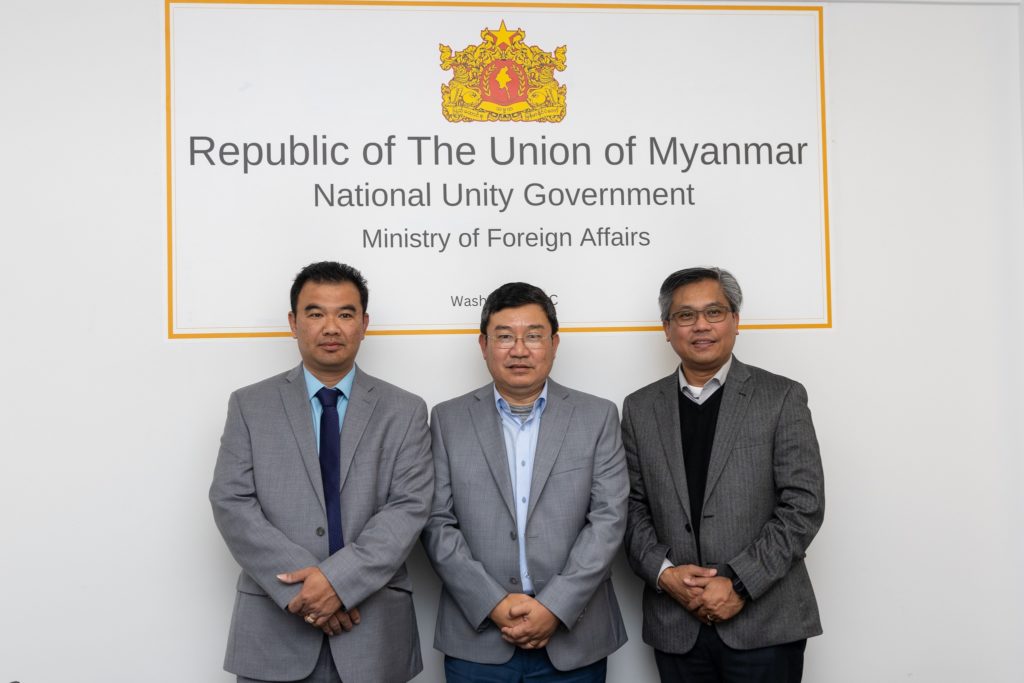 The NUG opens its new diplomatic mission in Washington, DC with the support of Burma's Permanent Representative at the UN.
The National Unity Government (NUG) unveiled its Ministry of Foreign Affairs office in the U.S. capital of Washington, DC. Burma's Permanent Representative at the United Nations, U Kyaw Moe Tun, joined the NUG Communications, Information and Technology Minister, U Htin Lin Aung, and Deputy Foreign Affairs Minister, U Moe Zaw Oo, at the new Ministry of Foreign Affairs office on Nov. 18. The NUG has opened diplomatic offices in the U.K., Australia, Czechia (also known as Czech Republic), Japan, and South Korea.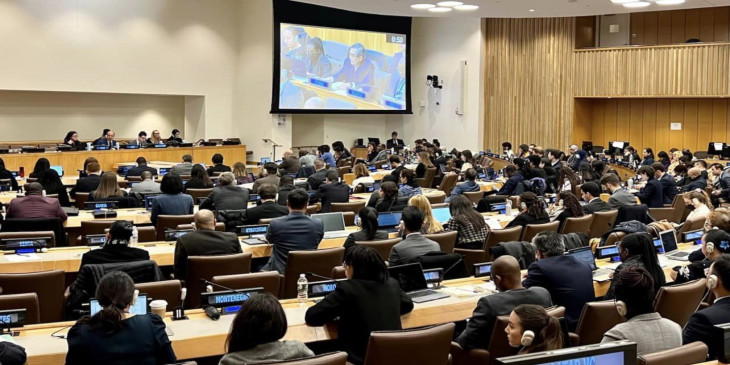 The UN General Assembly approved a draft resolution titled the "Situation of human rights of Rohingya Muslims and other minorities in Myanmar." The draft resolution was confirmed by all members at the 3rd committee meeting of 77th UN General Assembly held on Nov. 17. It called for the Burma Army to halt all violence against ethnic nationalities and for the junta to be held accountable for the crimes it is committing against the people of Burma.
News by Region
KACHIN—Almost all gas stations in Hpakant have closed due to the lack of fuel and some stations are only selling 92 octane for K22,000 [$10.50 USD] per gallon. "They restricted cargo and fuel trucks that supplied goods to the town. We are facing shortages of food and basic commodities. Because of those restrictions, legitimate jade mining companies are afraid to operate normally and have caused hardship to people who rely on mining for living," a local told DVB. Internet services in Hpakant have been cut off for more than a year. | BURMESE
A Burma Army squadron commander was reported killed at a hotel on Hpakant-Lonekin road in Lonekin village tract of Hpakant Township on Nov. 19. "The injured one is not able to survive," hotel staff told DVB. The attackers wore masks and drove into the hotel with a Toyota surf vehicle, according to witnesses.
KAREN—Four villagers were killed when a Border Guard Force (BGF) opened fire on Mikayin village in Hpa-An Township on Nov. 17. "Three, including a young girl, were killed instantly and another died at the hospital due to blood loss," a local said. DVB is still trying to confirm which BGF is responsible for the attack. Locals in Mon and Karen states are concerned about the outbreak of potential clashes due to the increasing Burma Army presence in the regions.
MANDALAY—A man was killed in an explosion near Mya Taung monastery, located between 35, 85th and 86th roads in Maha Aung Myay Township, on Nov. 17. "The sound of the explosion was very loud and even the ground shook," a resident told DVB. Soldiers, and people dressed in civilian clothes with weapons, blocked off the area and cursed at local residents. Another explosion occurred near a cemetery in Bagan Tat village of Patheingyi township on Nov. 17. A member of the village administration was injured.
A member of the ward administration was shot dead in Mahaaungmyae Township on Nov. 19. The Generation Z Power (GZP Mandalay) claimed to have carried out the attack. The Burma army arrested at least six locals, accusing them of being involved.
SHAN—Smuggling of "all types of wood" is occurring in the forest of Pyin Oo Lwin Township and Naung Hkio Township, a local told DVB. It has been reported that valuable wood, including teak, has been smuggled out of the forest. Reports of illegal mining and logging have increased since the coup.
TANINTHARYI—Myeik District People's Defense Force (PDF) announced on Nov. 17 that its two section commanders were killed. "There was an accident with artillery when our comrades fired shells at the camp," a spokesperson said. The spokesperson added that the PDF is "extremely sad" over the deaths and that they will honor "comrades that risk their lives."
Anti-military protesters in Launglon town were shot at by pro-military thugs on Nov. 19. "We, four people, were shot. After that, the military vehicle came out from the police station and chased us." The protesters reportedly evaded arrest.
YANGON—A village administrator was killed in Yoe Kyi village, Kayan Township on Nov. 18. "It was around seven rounds of shots and he was killed at the place," the source said. The victim was reported to be a member of the Union Solidarity and Development Party (USDP). The security forces blocked the village and checked residents following the murder.
A man was killed on 38th Street in Kyauktada township on Nov. 18. "He was robbed and stabbed. The robber was not able to loot the phone and money because the people came around," a local told DVB. Seven people have been killed and four have been injured in attacks so far this month in Yangon.