Bauchi state Governor, Sen Bala Mohammed cried out that the state is getting overwhelmed by immigrants from troubled states who are gradually becoming agents of criminal activities.
The Governor however stressed that it is only when the issue of security becomes two-way traffic between the people and the security concerns, that when the government can be better.
The Governor who was addressing participants of Course 14 of the National Institute of Security Studies (NISS) on a study tour of Bauchi State on Monday at the Government House, said that security is supposed to be everybody's business and not left to government alone.
Talking further to the participants, the Governor said that, "Your coming together is a sign that the security infrastructure of Nigeria is becoming very very formidable and being reinforced with knowledge and best practice in a manner that will do a two-way traffic between the people and the security concerns so the government can be made better."
He added that, "I Understand that there are about 26 agencies participating in this study tour. Your selection by your various agencies is an attestation of the confidence reposed in you and you are to look out so that you don't become an armchair student. You want to have a touch of what is happening outside so that you can objectively adjudge the security infrastructure looking at their gaps and others inadequacies with a view to plugging them."
Coming to issues in the state, Bala Mohammed said that, "In Bauchi, we are within the zone that is so pervasive in terms of security. We have the Boko Haram and the incursion of other security issues entangled".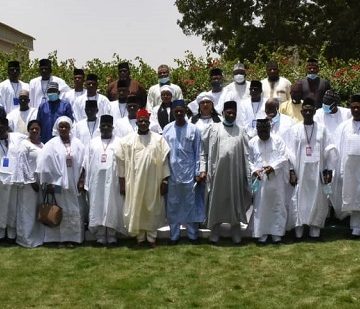 "With the help of the security agents, some of the issues on community relations, the conflict between herders and farmers and even between our own brothers and sisters of various faiths in terms of religion are being tackled," he assured.
He however said that "there appears to be a certain lull over the polity and is giving us some solitary effects in a manner that we will be able to sit down and plan and do so many things that border on the theme of your course which is 'security and sustainable development' in the various sub-nationals and in Africa generally".
He declared that "Here, the only problem we have is that of demographics, migration and immigration, people running from centres that are devastated by insecurity in Borno and Yobe states and sometimes Adamawa and, they move in mass."
"And because we have similar peculiarities and characteristics, it is difficult to decipher between those from Bauchi and those places, so we are really involved in constructive engagement, not the kind of IDPs that you see," the Governor said.
He added that "our population has risen from the official record of 6.5 million to about 10 million in Bauchi, thereby overstretching our services and infrastructures. We have the highest number of out-of-school children and therefore there is unemployment, youth restiveness and of course there are infrastructure and service gaps in health, in education and even in our transportation and the rest. There are high expectations from the polity thereby overstretching our security agencies."
Bala Mohammed however said that "We are happy we have established a joint patrol team that is very robust and we are funding it every month to make sure that our own security agencies with the military are always on their toes going around to local governments that are more vulnerable because of the exposure."
He explained to the participants, "Mind you, Bauchi is the gateway to the North-East and North-Central and, so we are bordered by about seven States and some of them have their own level of security challenges and problems and they all pass through Bauchi."
"So we are very conscious, if there is religious tension in the Plateau, Bauchi will receive the barrage of people that are running, even in Kano, if there's any religious or tension, it comes here and of course from the North – West. When we have these issues of banditry through Kaduna, we are bordered by them, course you know that Borno is part and parcel of us and Yobe and Adamawa."
He also said that "We've been able to chart the moment of all those security challenges from the North-West, they come through Toro local government to Dass, Tafawa Balewa and Alkaleri LGAs and of course, most of those people are bandits and armed robbers, criminals and of course you know our Jigawa, Gamawa and Zaki that is where we border Yobe and we have those coming with the Boko Haram tendencies.
"But certainly, out of providence, I will say that here appears to be a sanctuary for everybody. I don't believe that it is only because of what we do, but because even the criminals want a place where they will enjoy some peace and Bauchi has given them that particular sanctuary.
"Of course, we are working with the security agencies, we are always on their toes, we are working very hard to make sure they maintain the little capital assets that they have so that they will be doing it very well and at optimal."
The Governor however lamented that "We have not benefitted from the distribution of vehicles from other agencies, but we are repairing our own. Recently, we procured some for our security agencies so that they will be able to do their work. The important thing is teamwork but most importantly, we have realized that we have to help the security agencies to help us through community engagement with the traditional institutions and community leaders.
"Sometimes, they create the problems, they create the problems in such a manner that the intensity is beyond the capacity of our security agencies because of the inadequacies in human capital."
He then pointed out that, "So, we have established stakeholding in the state where we engage the Emirs, the district heads and all those that are in the villages and hamlets because even the criminals coming here, are given some allowances to operate by those who seemingly have a responsibility by community leadership.
"We have done so much and I must thank the DSS, the Police and the military, we don't compromise that, we deal decisively with those found to be compromising and they are many and on the increase, but we have decreased that, that's the only way to go," he stressed.
He also added that "Our surveillance, monitoring and evaluation is so effective that we know what is happening at the peripheral, otherwise, we'll forget about it because there are those that will bring the bandits, keep them."
He assured that "So, with the kind of engagement we are having, I must thank our emirs and some very Senior citizens for coming to our aid and understanding that we are not just denigrating the traditional institutions although they do not have any Constitutional roles, we have made them sit up to their responsibilities taking into cognizance that they are the natural rulers of this state, we are just political appointees who have tenures but they don't have tenures."
Earlier, Emiloye Oyeyele who is the Syndicate Leader said that Bauchi State was chosen as one of the states to understudy because it had successfully managed its security situation and challenges thereby promoting good governance and sustainable development.
Emiloye Oyeyele added that "as a former Senator, a former Minister and now a Governor, we will like to tap from your wealth of experience in governance and we hope that you will oblige us."
YOU SHOULD NOT MISS THESE HEADLINES FROM NIGERIAN TRIBUNE
We Have Not Had Water Supply In Months ― Abeokuta Residents
In spite of the huge investment in the water sector by the government and international organisations, water scarcity has grown to become a perennial nightmare for residents of Abeokuta, the Ogun State capital. imported security challenges ; imported security challenges ; imported security challenges ; imported security challenges.