The photos of a disabled man pampering his son along the street goes viral online and touched the heart of the social media users.
Nowadays, street beggars asking alms in public place are very common not only in the Philippines but also in different countries all around the world.
Street people can be usually found in public places waiting for some coins or food from kind-hearted people passing by.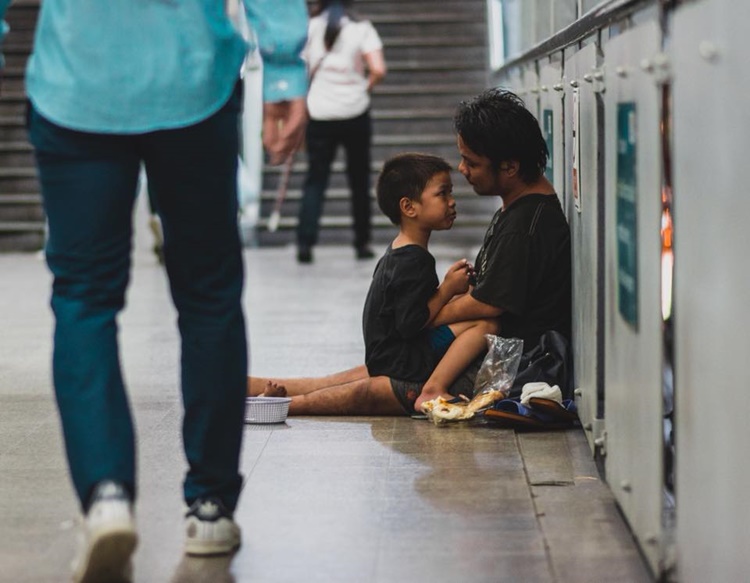 Recently, the Facebook page Mackchipelago has uploaded the photos of a disabled man pampering his son along the busy street.
The man and his son were waiting for alms coming from the people passing on that area while showing their love for each other despite their situation.
Here is the full post:
"What makes you happy?
It was a gloomy Thursday evening. I was on my way to my weekly men's small group. I get off at BTS Onut station to pick up groceries and I saw a man with a disability with his son sitting on the floor of the footbridge waiting for some coins from people passing by. I saw that they were very happy together. They look at each other with love, regardless of how much they have or the situation they are in. It was a lovely scene that wiped every negative thought in my head that day.
I learnt that happiness is not just a feeling, it's a decision you make for yourself and for the people you love. We should not let our current situation dictate the terms, let's choose to love and to be happy.
Tag and Hug your Dad!
I thought it only happens in Thai commercials until I saw it with my very eyes. No wonder the country is known as the Land of Smiles. #Thailand#landofsmiles #Thai"

The social media users have also expressed their reactions on the post:
Rhins Mho: " Love is not about .money. ..
Khit wlang wla na cla nkukuha prin nilang ngumiti"
DH CR: "Want to hug my papa like that,if only he was still with us. Never take your parents for granted. Life is unpredictable to make us cherish every moment with them."
Vy Dijamco: " i suddenly miss my dad"
Jay Bolo: "Upon looking at the pictures I remembered my daughter because this is how my daughter hug me and smile.'
Abegail Robrigado Casirayan: " I really miss my dad.. Msswerte ung mga anak na may ksama pang tatay hanggang ngaun.. 🙁
Never ever forget to hug and say I love you to your dad and mom.. Kasi baka dumating ung araw na hindi na nila ito marinig o maramdaman.."
What can you say about this? Just feel free to leave your comments and reactions to this article.