The Caribbean Premier League (CPL) and Republic Bank Ltd (RBL) are forging a new cricketing partnership, with Republic Bank today being announced as the T20 League's title sponsor for the next three years.
Though monetary details of the sponsorship were not disclosed by CPL CEO Pete Russell, RBL was also announced as the title sponsor for the Women's Caribbean Premier League (WCPL)—which will see its final hosted in Trinidad and Tobago for 2023.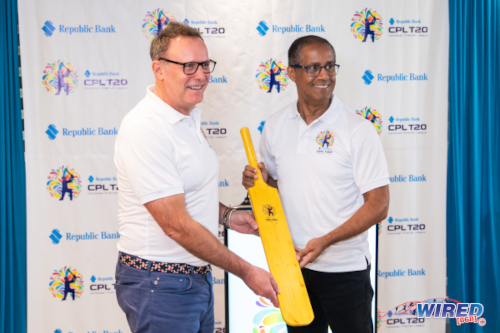 CPL CEO Pete Russell (left) and Republic Group president and CEO Nigel Baptiste at a media launch to announce Republic Bank's title sponsorship of the CPL at the Queen's Park Oval on 29 March 2023.
(Copyright Daniel Prentice/ Wired868)
The Trinbago Knight Riders (TKR) franchise walked away as inaugural WCPL winners last year.
This year's CPL tournament will run from 16 August to 24 September, with the draft date tentatively set for 5 June.
Aside from hosting the WCPL final, the Ministry of Sport and Community Development confirmed that Trinidad and Tobago will host six CPL and four WCPL matches this year.

At least four of the CPL fixtures and three of the WCPL games will feature the Trinbago Knight Riders.
"It was an opportunity we felt the group couldn't bypass," said Republic Group president and CEO Nigel Baptiste, as he spoke during today's press briefing at the Queen's Park Oval. "On every island in the Caribbean, you'll find children of all ages playing cricket anywhere that they could actually make a cricket field, with any piece of equipment they could use to play cricket. It is that passion that Republic Bank and the Caribbean Premier League really support.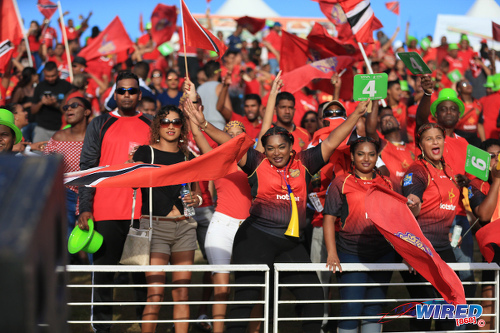 Trinbago Knight Riders supporters get behind their team during the CPL T20 final against against the Guyana Amazon Warriors at the Brian Lara Academy in Tarouba on 16 September 2018.
(Copyright Allan V Crane/ CA-Images/ Wired868)
"As far as we are concerned, the CPL is of us and it is for us as a Caribbean people. Therefore, we felt that it was only right that it should be championed by an organization that was from us.
"As we move forward, we are seeing this as an investment in the future of the sport and an investment in the future of our youth."
Russell, beaming from ear to ear, affirmed that the CPL has an identity that distinguishes itself from other T20 Leagues around the world.
"I think the point we're driving home today is that [CPL] is very much a Caribbean brand and that's what resonates around the world," Russell said. "I don't want to take a swipe at some of the other Leagues but I don't think they have an identity as we do.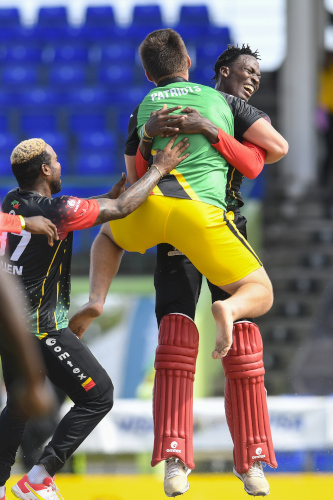 St Kitts and Nevis batsman Dominic Drakes (right) gets a hug from teammate Joshua de Silva after his match defining knock against the St Lucia Kings in the 2021 Hero CPL final on 15 September 2021 in Warner Park, Basseterre, Saint Kitts and Nevis.
(Copyright Randy Brooks – CPL T20/ Getty Images)
"The CPL has a very strong identity and we are very loyal to our beliefs that we're a Caribbean-first product."
Russell hinted at expanding the number of teams in the CPL in the coming years. But at present, both the CPL and WCPL will stay as constructed—with six and three teams respectively.
There will be twice as many games played in the WCPL this season though, with Barbados Royals and Guyana Amazon Warriors eager to overthrow the TKR unit.
"The dynamics of the way T20 cricket is evolving, especially in America, I won't bet against us having more teams in the coming years," Russell said. "We're very happy with the six that we've got but there's always the option to expand for sure."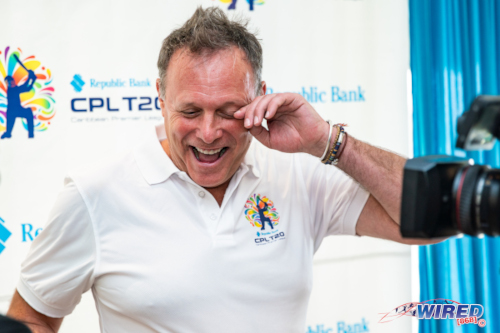 CPL CEO Pete Russell has a light-hearted moment during the media launch to announce Republic Bank's title sponsorship of the CPL at the Queen's Park Oval on 29 March 2023.
(Copyright Daniel Prentice/ Wired868)
With the West Indies and the USA set to co-host the ICC T20 Cricket World Cup next year, Russell also flirted with the idea of an additional regional T20 tournament, outside of the CPL. However, penciling in the appropriate dates on the cricketing calendar for a tournament of that nature is of utmost importance.
"[Former West Indies captain] Kieron Pollard has been very vocal about that—I actually support it, I think there should be a local tournament," Russell said. "We at CPL are creating a very strong local brand for a global audience. We have over 740 million viewers because people tune in to see the superstars as much as the local players.
"Those are conversations we're having with Cricket West Indies as to where do we place that tournament and what's the criteria for it."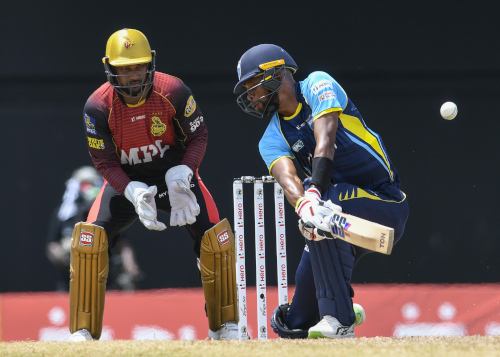 St Lucia Kings batsman Roston Chase (right) hits for 4 runs while TKR wicketkeeper Denesh Ramdin looks on during the 2021 Hero CPL semifinals at Warner Park on 14 September 2021 in Basseterre, Saint Kitts and Nevis.
(Copyright Randy Brooks – CPL T20/ Getty Images)
Russell explained that the innovative ten-over 6ixty tournament was designed to "try and get more local players involved". This year, he noted, the 6ixty tournament will be held in late 2023, and not prior to the start of the CPL season—as was done in its inaugural campaign last year.
"I'm sure we'll see in the next couple of years that something will happen in that regard [to involve more domestic cricketers]," he said.
After disastrous back-to-back T20 World Cup campaigns, in which the Windies failed to reach the knockout stages, several CPL standouts played key roles in West Indies' exciting 2-1 T20I series win vs South Africa this past week.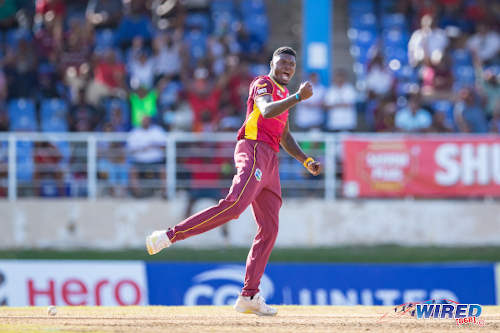 West Indies pacer Alzarri Joseph celebrates the wicket of India batsman Shreyas Iyer during the second ODI at the Queen's Park Oval, Port of Spain on 24 July 2022.
(Copyright Daniel Prentice/ Wired868)
In the third and final T20I, Antiguan fast bowler Alzarri Joseph took his maiden 5-wicket haul in the format as the Windies managed a nail-biting 7-run win to clinch the series.
Another exciting quick, 21 year-old Jayden Seales, is eager to play in the Republic Bank CPL and rub shoulders with the likes of Joseph and Kemar Roach again, as he makes his way back from knee surgery.
"Watching the T20I yesterday, I was pleased that we won the series and again I was very happy for Alzarri who got his first 5-wicket haul in a T20I game," said Seales, who, at 19 years and 336 days, was the youngest ever West Indian to take a 5-wicket haul in Test cricket. "It's good to see him performing and once fully recovered I could get back there as well.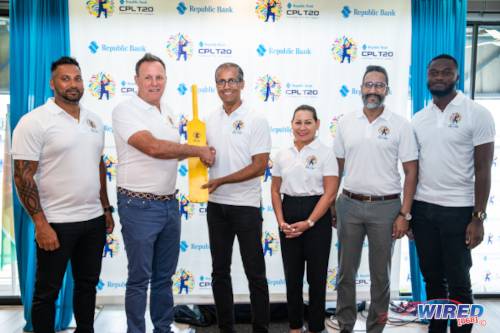 CPL CEO Pete Russell (second from left) and Republic Group president and CEO Nigel Baptiste (third from left) celebrate the partnership of their respective organisations at the Queen's Park Oval on 29 March 2023.
Looking on are West Indies past and present bowlers Ravi Rampersad (far left) and Jayden Seales (far right).
(Copyright Daniel Prentice/ Wired868)
"I actually told my parents that seeing Alzarri perform over the past year or so, I was very happy to see that he's bowling to his best and I can't wait to get back into the side. Because if Alzarri doesn't get wickets I will get, and if I don't get, Alzarri will get."
With Joseph perhaps showing his best bowling form since he helped the Windies to the Under-19 Cricket World Cup title in 2016, Caribbean fans can salivate about the prospect of a Joseph/Seales partnership in the near future.
Good luck to the opposing batsmen who will have to face them in the 2023 Republic Bank CPL and beyond though.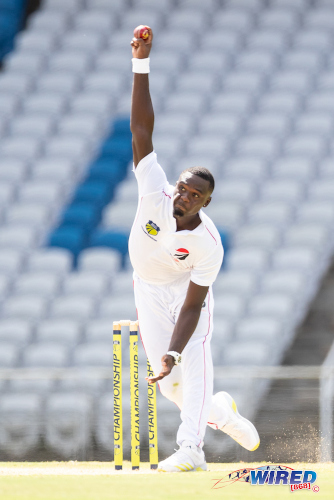 T&T Red Force pacer Jayden Seales in action against the Jamaica Scorpions during Day 1 of the West Indies Championship in Tarouba on 9 February 2022.
(Copyright Daniel Prentice/ Wired868)
New West Indies T20I captain Rovman Powell, who also skippers reigning CPL champions Jamaica Tallawahs, may have a thing or two to say on the matter before CPL 2023 is concluded.