The Trinidad and Tobago Men's National Senior Team and neighbours Guyana could end up scrapping for a solitary berth at the 2023 Concacaf Gold Cup, according to a ranking system revealed today. The Gold Cup preliminaries will be played on 16, 17 and 20 June with two rounds of matches. Losers are immediately eliminated.
The final draw for the Gold Cup will be held on 14 June. However, Concacaf revealed its seeds for the qualifying round today based on current rankings.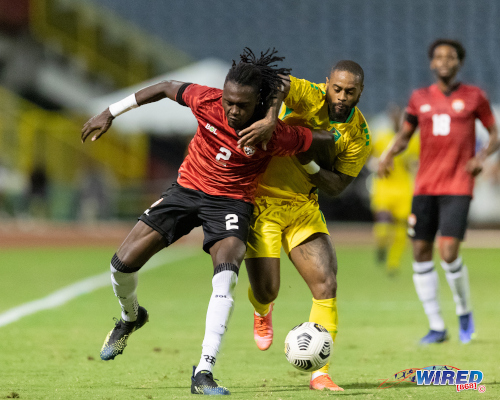 Guyana forward Tyrel Ondaan (right) presses Trinidad and Tobago defender Aubrey David during an exhibition match at the Hasely Crawford Stadium on 29 March 2022.
(Copyright Daniel Prentice/ Wired868)
The Soca Warriors, ranked 104th in the world, are the highest ranked team in the qualifying stage followed by Martinique, Curaçao, French Guiana, Suriname and, the lowest ranked team, Guyana.
If all the seeds win their opening match, the subsequent match ups will be: Trinidad and Tobago versus Guyana; Martinique versus Suriname; and Curaçao versus French Guiana.
At present, Guyana's "Golden Jaguars" are led by Trinidadian coach Jamaal Shabazz. The Jaguars have only ever defeated Trinidad and Tobago once in a competitive match—but Shabazz was in charge when it happened in 2011.

It was a result that eliminated Trinidad and Tobago from the 2014 World Cup qualifying series at the first hurdle. And there is a lot at stake again for the football programmes of both nations.
Guyana, who have only ever qualified for the Gold Cup in 2021, would be anxious to show they remain a competitive football nation—after finishing six points behind Haiti in their Nations League B group.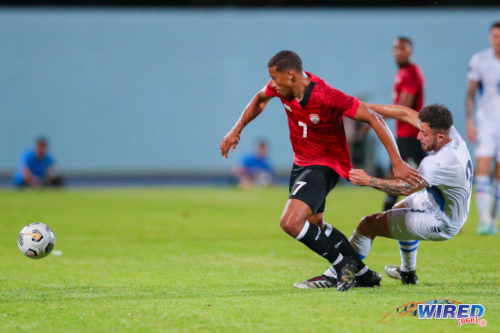 Trinidad and Tobago attacker Ryan Telfer (left) tries to break free of Nicaragua left back Oscar Acevedo during CNL B action in Bacolet on 27 March 2023.
(Copyright Daniel Prentice/ Wired868)
For Trinidad and Tobago, who finished as runners-up to Nicaragua, they are pushing for their third straight Gold Cup berth.
Head coach Angus Eve steered the Warriors through the qualifying rounds, two years ago, and would want to remind his TTFA employers of his value—with his contract set to expire in a few months.
Guyana and Trinidad and Tobago, both fielding weakened teams, drew 1-1 in their last meeting in 2022. And it took a second half stoppage time goal from star forward Levi García to ensure that Eve did not lose face against Shabazz at the Hasely Crawford Stadium.
The draw was enough for Trinidad and Tobago to snare the Court's Caribbean Classic trophy on goal difference, but Shabazz's Jaguars might have been encouraged by the result as well.
Before a potential rematch between "Curry Chicken" and "Chicken Curry", both teams still have to navigate their opening qualifying match.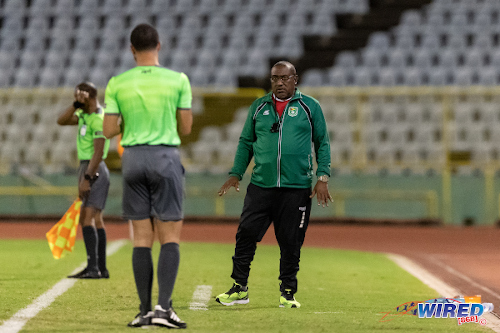 Guyana coach Jamaal Shabazz (right) shares his views with fourth official Nikolai Nyron during international action against Barbados at the Hasely Crawford Stadium on 27 March 2022.
(Copyright Daniel Prentice/ Wired868)
Sint Maarten would be seen as the weakest potential opponent with Guadeloupe or Puerto Rico being the most difficult.
Also in the mix are: Grenada, St Kitts and Nevis, and a St Lucia team coached by Trinidad and Tobago all-time leading goal scorer, Stern John.