Trinidad and Tobago Men's National Senior Team head coach Angus Eve insisted there is nothing amiss about a string of omissions for tomorrow's Concacaf Nations League A clash with Curaçao and retorted that he is "refreshing" his team for the 2026 World Cup qualifying campaign.
The Soca Warriors face Curaçao from 6pm on Thursday 7 September at the Hasely Crawford Stadium for their opening Group A fixture.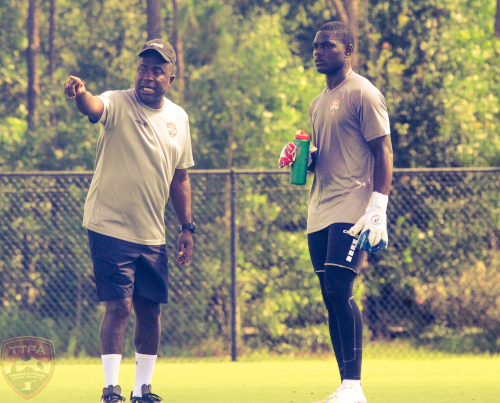 Soca Warriors head coach Angus Eve (left) has a word with goalkeeper Denzil Smith during their pre-tournament camp in Florida.
(via TTFA Media)
However, at today's pre-match press conference, Eve faced a string of questions on his former captain Kevin Molino, who announced his retirement last week before offering a damning review of the coach in an exclusive Wired868 interview.
"Nothing really happened [last week]—I don't know what you mean," said Eve, when asked about potential distractions to his squad. "We picked a squad that can go into this game and be competitive."
Questions about Molino's critique of his coaching acumen would not go away that easily, though.
Eve was fairly gracious to the 33-year-old Molino, who he described as "a massive loss" and "a stalwart for Trinidad and Tobago's football for a long time". There was a caveat.
"I was left out of the [2006] World Cup team, unceremoniously I thought," he said, "and I never went and said anything about coach [Leo] Beenhakker. I accepted the decision that he made.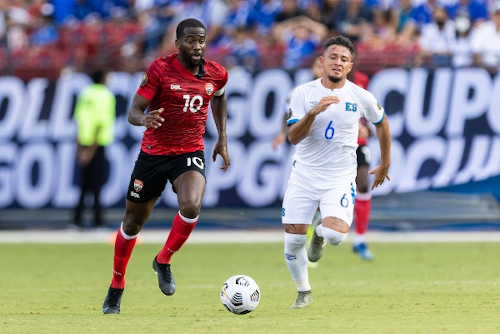 Photo: Trinidad and Tobago playmaker Kevin Molino (left) looks for options while El Salvador midfielder Narciso Orellana tries to keep up during Gold Cup action at the Toyota Stadium in Frisco on 14 July 2021.
(Copyright Andy Jacobsohn / AFP via Getty Images)
"[…] If there were issues with me, why didn't [Molino] say it at the time between 2021 and 2023?"
On the matter of his team overhaul, Eve said he turned to youth but simultaneously denied age was a factor. The current Trinidad and Tobago squad has an average age of 26, while Eve's Gold Cup team had an average age of 27.3.
"Age is not a factor once people are performing," he said, pointing to Portugal's Pepe who played at the Qatar 2022 World Cup at 39-years-old.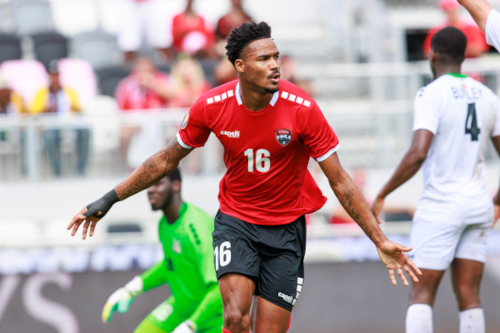 Trinidad and Tobago right back Alvin Jones celebrates his team's first goal of the 2023 Gold Cup during a 3-0 win over St Kitts and Nevis in Fort Lauderdale on 25 June 2023.
(Copyright Concacaf)
A reporter asked why 29-year-old right back Alvin Jones was omitted, despite being one of Trinidad and Tobago's better players at the recent Gold Cup
"Alvin's team (Club Sando) got knocked out a couple of months ago," said Eve, "and we just feel Shannon [Gomez] is probably a little more match fit than him at this point in time. That is part of the decision why Alvin isn't here."
Jones' employers, Club Sando, were eliminated from the Concacaf Caribbean Shield three weeks ago—on 13 August.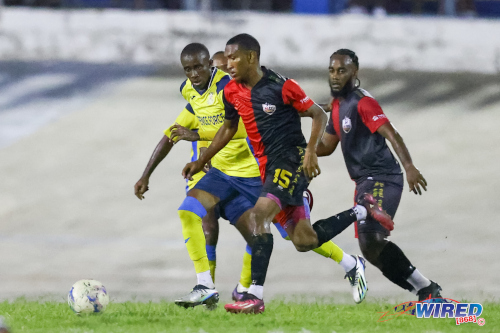 AC Port of Spain attacker John-Paul Rochford (foreground) tries to find an opening in the Defence Force backline during TTPFL action at the Arima Velodrome on 24 June 2023.
(Copyright Daniel Prentice/ Wired868)
At the same time, Eve responded to a query about the absence of AC Port of Spain attacker John-Paul Rochford from his match squad by noting that he chose Club Sando forward Nathaniel James instead.
Rochford's AC Port of Spain are still active in the Concacaf Caribbean Cup and were in action last week. James' last competitive match was almost two months before Jones, as the talented forward went on trial soon after the inaugural Trinidad and Tobago Premier Football League (TTPFL) season ended in June.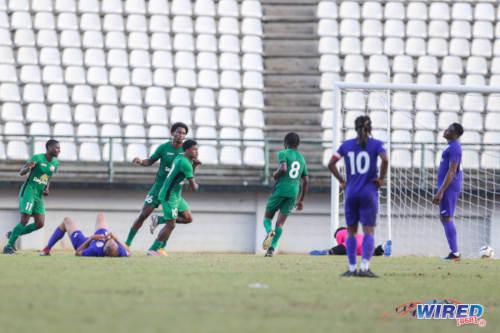 Club Sando attacker Nathaniel James (centre) knocks the stuffing out of the AC Port of Spain defence during their TTPFL clash at the Larry Gomes Stadium on 19 March 2023.
Photo: Daniel Prentice/ Wired868
In fact, Jones and Rochford played in competitive outings more recently than: Denzil Smith, Jabari St Hillaire, Ross Russell, Jesse Williams, and James, who are all in Eve's team.
But, of course, the coach said match fitness was "part of the decision"—and was never pressed on the unspoken part.
Eve insisted that his players were in a good place and focused on the international challenges ahead.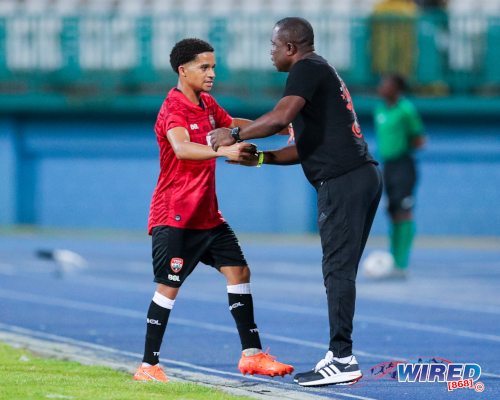 Soca Warriors head coach Angus Eve (right) thanks flanker Kaile Auvray for his efforts during their CNL B clash with Nicaragua in Bacolet on 27 March 2023.
(Copyright Daniel Prentice/ Wired868)
"I respect the players, I think I have a good relationship with all of the players," he said. "That is as much as I want to say on that."
Incidentally, Curaçao are also without their captain Cuco Martina, who decided to skip this match window after the Dutch-speaking islanders sacked their own head coach roughly two weeks ago.
The Trinidad and Tobago Football Association (TTFA), run a Robert Hadad-led Fifa-imposed normalization committee, just as controversially opted to keep its own coach in place.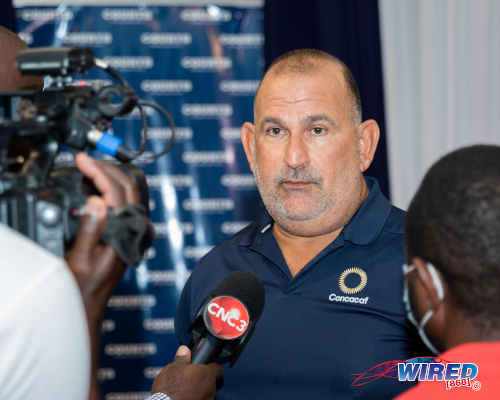 Fifa-appointed normalisation committee chairman Robert Hadad.
(Copyright Daniel Prentice/ Wired868)
"I want people to focus on the young men we are giving a chance to play, and focus on the positive stuff," said Eve. "I don't focus on the negative stuff… Young people are dying all over the place with guns and violence […] and these young men are trying to do something positive. I want to focus on them.
"It is sad that all the questions are focused on me."
Eve disagreed with former TTFA board member Brent Sancho's suggestion that the normalization committee should investigate Molino's accusations. He said Molino's complaints were the view of one man and suggested he might have viewed it differently if there was a petition from his players.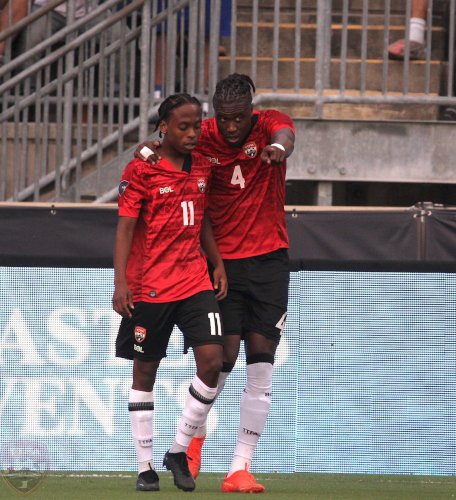 Trinidad and Tobago veteran defender Sheldon Bateau (right) offers some advice to rookie forward Real Gill during international friendly action against Guatemala in Subaru Park, Pennsylvania on 11 June 2023.
(Via TTFA Media)
And, he insisted, the other missing names—Sheldon Bateau, Marvin Phillip, Alvin and Joevin Jones—were all named in his 40-man squad and still technically available for selection if need be.
He urged supporters to focus on the Soca Warriors who are here though. And he promised a positive showing against Curaçao.
"We are comfortable with the work we have done as a group and we are very confident going into the game," he said.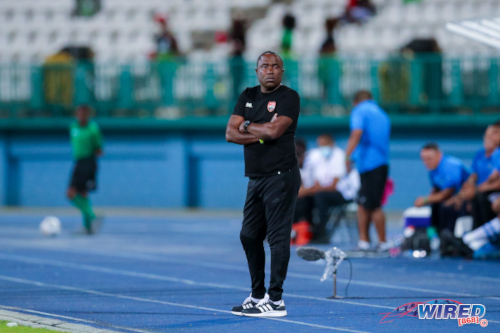 Trinidad and Tobago head coach Angus Eve looks on from the sidelines during CNL B action against Nicaragua at Bacolet on 27 March 2023.
(Copyright Daniel Prentice/ Wired868)
In two years at the helm, Eve has never won a competitive match against a team ranked among Fifa's top 100 nations. At home to a Curaçao team in some turmoil, he has a decent chance to address that.
The best way to answer doubters in sport remains through success.
Trinidad and Tobago team (tabulated as club; age; caps/ goals)
Goalkeepers: Christopher Biggette (Defence Force; 27; 0/0), Denzil Smith (W Connection; 23; 1/0), Jabari St Hillaire (Defence Force; 23; 0/0),
Defenders: Aubrey David (Club Sport Cartagines—Costa Rica; 32; 73/1), Justin Garcia (Defence Force; 27; 11/0), Shannon Gomez (San Antonio FC—USA; 26; 10/0), Kareem Moses (FF Jaro—Finland; 33; 18/1), Andre Raymond (GD Vilar De Perdizes—Portugal; 22; 1/0), Ross Russell Jr (TLH Rangers; 31; 10/0), Jesse Williams (Central Valley Fuego—USA; 22; 8/0),
Midfielders: Michel-Poon Angeron (AC Port of Spain; 22; 9/0), Kevon Goddard (Defence Force; 27; 8/0), Neveal Hackshaw (Oakland Roots SC—USA; 27; 34/2), Kristian Lee Him (IFK Eskilstuna—Sweden; 29; 1/0), Duane Muckette (AC Port of Spain; 28; 17/1), Daniel Phillips (St Johnstone—Scotland; 22; 7/0), Andre Rampersad (HFX Wanderers—Canada; 28; 5/1),
Attackers: Kaïlé Auvray (Sporting KC Academy—USA; 19; 8/0), Nathaniel James (Club Sando; 19; 2/0), Reon Moore (Defence Force; 26; 19/4), Brent Sam (Defence Force; 27; 1/0), Malcolm Shaw (Atletico Ottawa—Canada; 28; 3/0), Ryan Telfer (Miami FC—USA; 29; 20/8).