The Trinidad and Tobago Women's National Senior Team suffered a chastening start to their 2024 Concacaf W Gold Cup qualifying campaign last night, as they were crushed 6-0 by Mexico at the Estadio Hidalgo in Pachuca.
After 14 months without an international game and a third of their roster comprised of unattached players, the Women Soca Warriors could not pick a worse location or opponent for their resumption.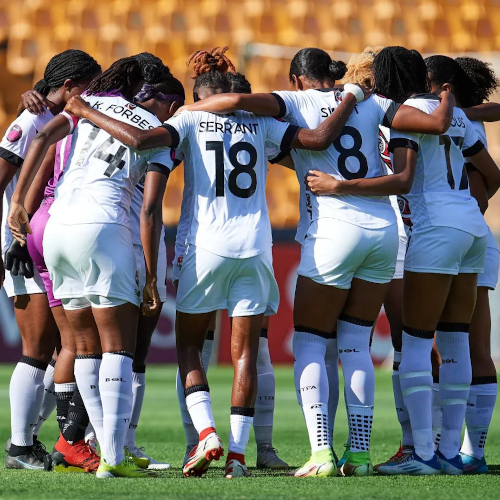 Photo: The Trinidad and Tobago Women's National Senior Team players huddle before kickoff against Costa Rica for a Concacaf W Championship fixture on 8 July 2022.
(via TTFA Media)
Pachuca is 2,432 metres above sea level (just 68 metres below what Fifa controversially deemed as a health risk for players in 2007) and Mexico are third highest ranked women's nation in Concacaf and 36th in the world.
(The Trinidad and Tobago women are ranked eighth in the confederation and 75th by Fifa.)
And the game was effectively over as a contest within the first half hour, with the hosts already four goals clear.
In fact, Mexico broke Trinidad and Tobago's resistance after just three minutes when flanker Scarlett Camberos' right side cross was converted by attacker Maria Sanchez at the far post.
Veteran Warriors goalkeeper Kimika Forbes spilled a shot from opposing forward Alicia Cervantes in the 10th minute, to allow defender Greta Espinoza a simple tap-in.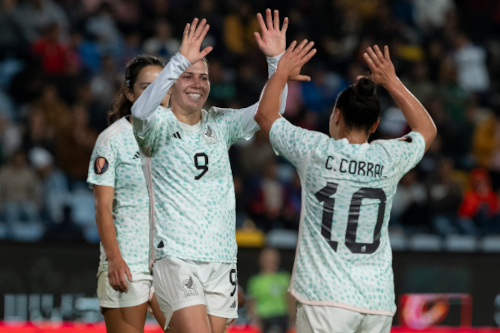 Mexico forward Alicia Cervantes (left) celebrates her goal with teammate Charlyn Corral during their 2024 Concacaf W Gold Cup qualifier against Trinidad and Tobago at the Hidalgo stadium, in Pachuca, Mexico on 26 September 2023.
Photo: Luis Licona/ Straffon Images
And Forbes won't enjoy seeing replays of Mexico's third and fourth items either as Cervantes shot below her body in the 19th minute while, six minutes later, she got a hand to a long-ranged blast by midfielder Alexia Delgado but could not keep it out.
Charlyn Corral got in on the action in the 39th minute, as she converted the rebound after Forbes' save from Sanchez. And, three minutes before the interval, Cervantes doubled up from close range after a Corral cross.
Trinidad and Tobago coach Richard Hood might take consolation from a scoreless second half, although the final shot count—28 shots to Mexico versus two from T&T—summed up a one-sided affair.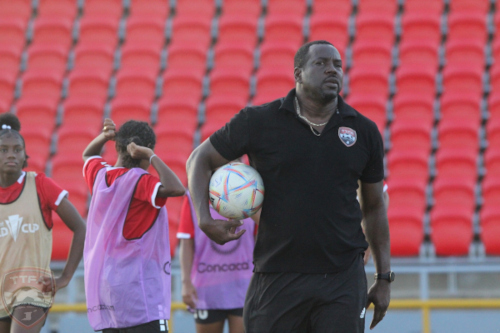 Trinidad and Tobago Women's National Senior Team head coach Richard Hood.
Photo: TTFA Media
Last night's contest was Mexico's second match of the group and followed on from their 2-1 win over Puerto Rico at the Estadio Azteca in Mexico City.
"La Tri" and Trinidad and Tobago will meet again at sea level in Port of Spain on 27 October before the Women Warriors play away and then at home against Puerto Rico on 1 and 5 December respectively.
Almost certainly, their target will be getting a result against Puerto Rico to get to the playoff rounds of the W Gold Cup qualifying tournament.
Even with lowered ambitions, though, Trinidad and Tobago will not be favourites.
(Teams)
Trinidad and Tobago (4-2-3-1): 1.Kimika Forbes (GK); 6.Chrissy Mitchell (19.Noamie Guerra 62), 8.Victoria Swift, 14.Karyn Forbes (captain), 20.Kedie Johnson; 17.Sarah De Gannes, 19.Christa Waterman; 11.Raenah Campbell (7.Alexcia Ali 62), 10.Asha James, 12.Marie-Frances Serrant; 15.Tsaianne Leander (13.Talia Martin 87).
Unused substitutes: 21.Simone Eligon (GK), 2.Crystal Molineaux, 3.Tamara Johnson, 4.Chelcy Ralph, 5.Renee Mike, 9.Jolie Sr Louis, 16.Brittney Williams, 23.Taliah Simon.
Coach: Richard Hood
Mexico (4-1-2-3): 21.Esthefanny Barreras (GK); 2.Kenti Robles (captain) (23.Araceli Torres 56), 4.Greta Espinoza, 16.Karla Nieto, 20.Nicolette Hernandez; 15.Kimberly Rodriguez (14.Karina Rodriguez 46); 6.Alexia Delgado, 7.Maria Sanchez (22.Mayra Pelayo 68); 11.Scarlett Camberos, 9.Alicia Cervantes (19.Maricarmen Reyes 56), 10.Charlyn Corral (17.Natalia Mauleon 78).
Unused substitutes: 1.Itzel Gonzalez (GK), 12.Alejandria Godinez (GK), 3.Crisrina Ferral, 5.Anika Rodriguez, 8.Carolina Jaramillo, 13.Joseline Montoya, 18.Reyna Reyes,
Coach: Pedro Lopez
Referee: Natalie Simon (USA)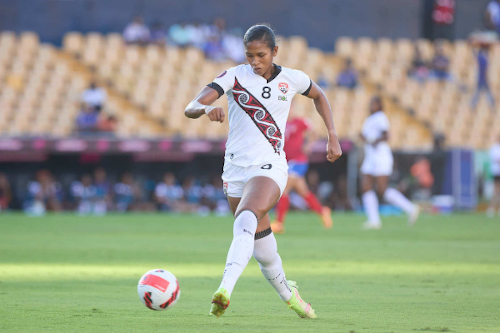 Photo: Trinidad and Tobago defender Victoria Swift passes the ball during Concacaf W Championship action against Costa Rica in Mexico on 8 July 2022.
(via TTFA Media)
2024 W Gold Cup qualifier
(26 September 2023)
Mexico 6 (Maria Sanchez 3, Greta Espinoza 10, Alicia Cervantes 19, 42, Alexia Delgado 25, Charlyn Corral 39), Trinidad and Tobago 0 at Pachuca, Mexico.