Trinidad and Tobago Men's National Under-17 Team coach Shawn Cooper is banking on solid defensive organisation, versatility and flashes of dynamism on the ball as he leads the junior Soca Warriors to battle in the 2023 Concacaf Under-17 Championship in Guatemala this month.
Cooper announced a 20-man squad today, which will represent the two-island republic in the Concacaf competition.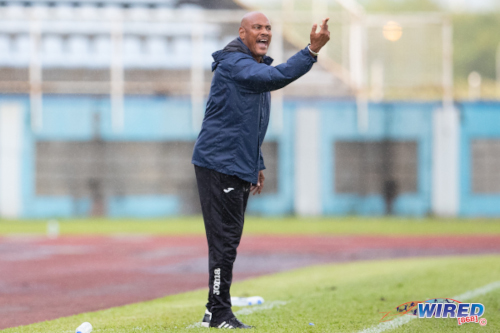 Trinidad and Tobago National Under-17 head coach Shawn Cooper makes a point during SSFL duty with Presentation College (San Fernando).
(Copyright Daniel Prentice/ Wired868)
The National Under-17 Team comprises 13 local-based schoolboys and seven overseas-based players. Only one, Crystal Palace flanker Rio Cardines, is attached to a top-flight club.
In contrast, the United States roster includes two FC Barcelona youth players (goalkeeper Diego Kochen and midfielder Adrian Gill), two Bundesliga youth defenders (FC Aubsburg's Noahkai Banks and Eintracht Frankfurt's Aiden Harangi) and Liverpool FC forward Keyrol Figueroa.
Cooper admits that there is a gulf in terms of experience but he is happy with the ability and attitude of his players.

"They have a lot of potential," Cooper told the TTFA Media. "[…] The boys are taking the advice on hand and I expect big things from them."
St Benedict's College account for a quarter of the final National Under-17 Team roster with defender Lyshaun Morris, midfielder Jeremiah Ochoa, flankers Jeremiah Niles and Darrel Garcia, and attacker Malachi Webb all booked for the Concacaf adventure.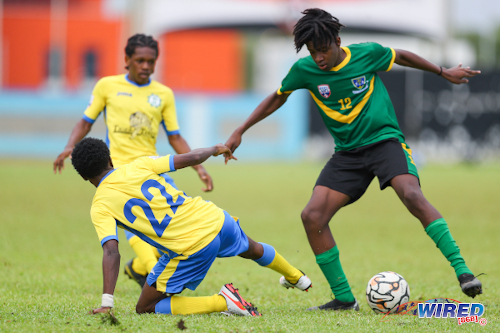 St Benedict's College midfielder Josiah Ochoa (right) evades a challenge from Carapichaima East left back Kemanuel Christopher during SSFL Premier Division action in Couva on 17 September 2022.
Ochoa is expected to be a key member of the current National U-17 Team.
(Copyright Daniel Prentice/ Wired868)
Fatima College, the focus of much debate after the school had over a dozen players on the long-list, ended up with three players on Cooper's 20-man squad: goalkeeper Jaden Ottley, defender Jaden Williams, and attacker Michael Chaves.
San Juan North Secondary contributed just one player, versatile attacker Lindell Sween. Yet, Cooper hinted that Sween could be one of their stars in the making, and much is expected of him if the young Warriors are to have an impact.
Ochoa and Chaves are understood to be in fine form as well, alongside Presentation College (San Fernando) flanker Vaughn Clement.
Cooper also commended the team's overseas-based additions for what they brought to the table.
"We wanted players who could add value and not just be equal to our guys," said Cooper.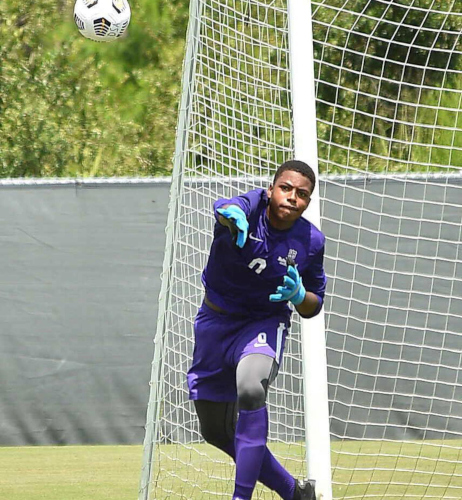 Trinidad and Tobago National Under-17 Team goalkeeper Ailan Panton.
Darlington Soccer Academy goalkeeper Ailan Panton, the son of former Miss Universe Wendy Fitzwilliam, certainly ticks that box, while Cardines, Concorde Fire midfielder Jeremiah Cateau and Charlotte FC left back Samuel Duncan are also expected to play prominent roles in Guatemala.
Duncan is the son of former national youth team midfielder and Signal Hill Comprehensive standout Jason Duncan.
The National Under-17s leave for Jamaica on Friday for warm-up matches against the young Reggae Boyz on Saturday 4 and Tuesday 7 February in Kingston. They will then head to Guatemala on 9 February, just two days before their tournament opener against Canada.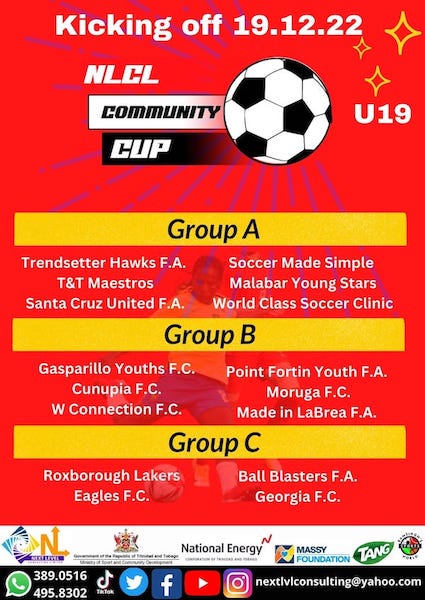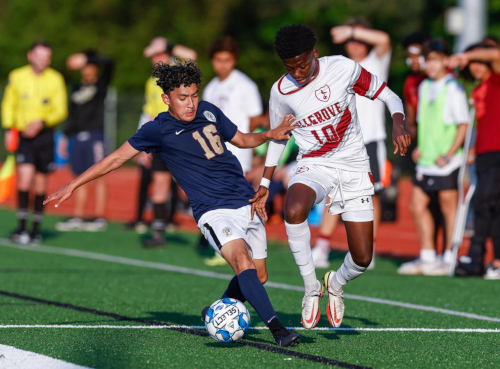 Trinidad and Tobago National U-17 midfielder Jeremiah Cateau (right) in action for Hillgrove High School.
Their late arrival in Guatemala is by design, as Cooper looks for a way to minimize the impact of playing at altitude—the Estadio Pensativo in Antigua Guatemala is 5,069 feet above sea level.
The medical wisdom is that sport teams can acclimatize to altitude by getting to the venue two weeks before the competition; or, conversely, by landing less than 48 hours before your first competitive exercise so your body does not realize what's happening yet.
Incidentally, Trinidad and Tobago will travel with 21 players to Jamaica. Cooper convinced the Normalisation Committee on the importance of having 14-year-old midfielder Seth Hadeed involved in those matches at least.
Hadeed, a left-footed attacking midfielder, is so young that Trinidad and Tobago would have needed special permission from Concacaf to use him alongside 17-year-olds in Guatemala.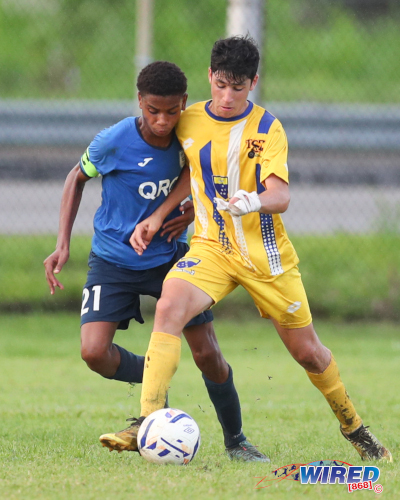 Fatima College playmaker Seth Hadeed (right) holds off QRC captain Phillip Nelson during the 2022 North Zone U-14 Final.
Hadeed scored the winner in a 3-2 Fatima win.
(Copyright Daniel Prentice/ Wired868)
It is some testimony to his precocious ability that he made it this far and, even as Cooper prepares for a testing competition, he still made space on their flight so that Hadeed could make his international debut.
"Seth has a bright future," said Cooper. "He has developed very quickly and I am looking for big things from him for the future.
"[…] We think his development could do with a game or two at this level because as far as I can see he is above most of the under-14s. So I had a word with (National Under-15 Team coach) Densill Theobald and I told him we need to carry him [to Jamaica]."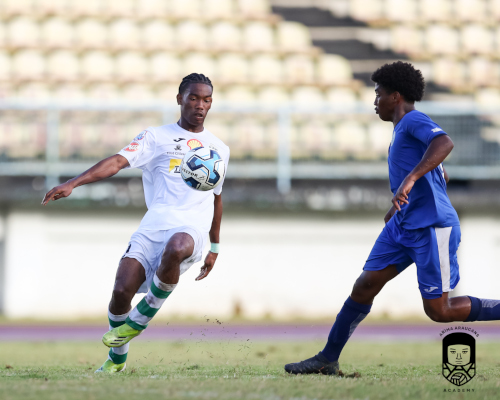 San Juan North Secondary attacker Lindell Sween (left) runs at Arima North Secondary defender Ezekiel Ramdialsingh during East Zone Intercol semifinal action at the Larry Gomes Stadium on 15 November 2022.
(Copyright Daniel Prentice/ Arima Araucans Academy)
In the end though, facing a physically grueling competition with three group stage matches in just five days, Cooper put a premium on versatility—with players capable of filling in at multiple roles having an edge.
As teams are only allowed 20 players, an absurd Concacaf ruling magnified by the frequency of the matches, it is important that coaches can replace any player at a moment's notice.
In Trinidad and Tobago, most youth players are active for between four to seven months. In developed football nations, youth leagues generally run for 10 months.
Cooper will soon discover how much his training sessions were able to bridge that gap, as they try to keep pace with the likes of Canada and the United States.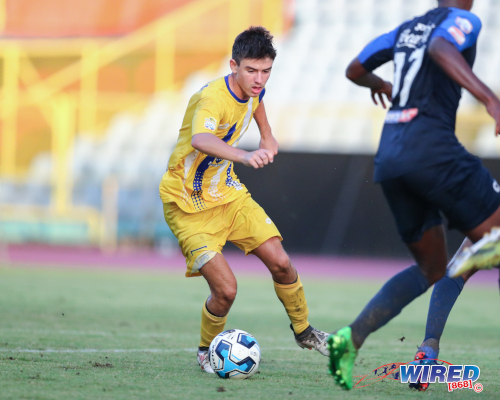 Fatima College forward Michael Chaves (left) runs at a QRC defender during the North Zone Intercol final at the Hasely Crawford Stadium on 18 November 2022.
(Copyright Daniel Prentice/ Wired868)
"We need to be organized to play against these teams," said Cooper, who is also the head coach of Presentation (San Fernando). "We want to be stronger in the back and I think we have some guys who are very dynamic in transition, like Sween and Ochoa and Chaves.
"But what we really want to do is have the team structured properly, so we can be in the game for long periods."
Trinidad and Tobago play their opening Group F fixture against Canada on 11 February, before tackling USA and Barbados on 13 and 15 February respectively.
The top three teams in each group advance to the Round of 16 knockout stage from 18 February, while the four Concacaf semi-finalists qualify automatically for the Peru 2022 Under-17 World Cup.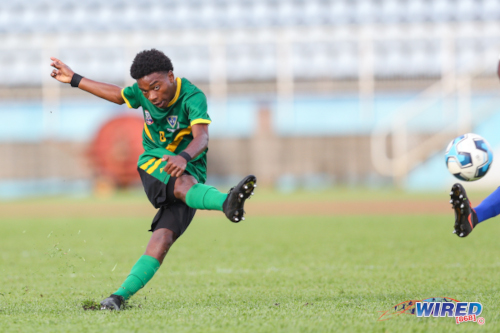 St Benedict's College midfielder Darrel Garcia.
(Copyright Daniel Prentice/ Wired868)
(Trinidad and Tobago National Under-17 Team)
Goalkeepers: Ailan Panton (Darlington Soccer Academy—USA), Jaden Ottley (Fatima College/ QPCC);
Defenders: Rio Cardines (Crystal Palace—England), Jaden Williams (Fatima College/ QPCC), Lyshaun Morris (St Benedict's College/ Point Fortin Academy), Joshua Figaro (Trinity College East/ Trendsetter Hawks), Samuel Duncan (Charlotte FC—USA);
Midfielders: Josiah Ochoa (St Benedict's College/ Point Fortin Academy), Tau Lamsee (QRC/ Pro Series), Armani Rowe (Cedar Stars—USA), Aydon Caruth (QRC/ Police FC), Jeremiah Cateau (Concorde Fire—USA);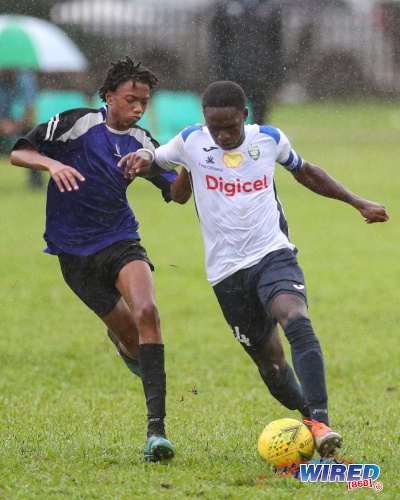 QRC captain Aydon Caruth (right) tries to hold off Chaguanas North midfielder Nikosi Foncette during SSFL Premier Division action at QRC grounds on 21 September 2022.
(Copyright Daniel Prentice/ Wired868)
Attacking midfielders: Vaughn Clement (Presentation College, San F'do/ Cox FA), Darrel Garcia (St Benedict's College/ Cox FA), Michael Chaves (Fatima College/ QPCC), Jeremiah Niles (St Benedict's College/ Point Fortin Academy), Dominic Wilson (Nashville FC Academy—USA);
Forwards: Malachi Webb (St Benedict's College/ Premier FC), Lindell Sween (San Juan North Secondary), Tyrell Moore (Nashville FC—USA);
Standby: Seth Hadeed (Fatima College/ QPCC).