Dan De Luce
Dan De Luce is a reporter for the NBC News Investigative Unit.

Monica Alba
Monica Alba is a White House correspondent for NBC News.

Abigail Williams
Abigail Williams is a producer and reporter for NBC News covering the State Department.

Andrea Mitchell
Andrea Mitchell is chief Washington correspondent and chief foreign affairs correspondent for NBC News.
Carol E. Lee contributed .
The Biden administration is pushing for more aid to get into Gaza and signaling Israel to "pause" its military offensive against Hamas militants, amid concerns that days of heavy bombardment and a siege of the Palestinian enclave are creating a growing humanitarian disaster and raising the risk of a wider conflict.
At a news conference Wednesday with Australian Prime Minister Anthony Albanese, President Joe Biden expressed strong solidarity with Israel but said the flow of humanitarian aid into Gaza needed to "increase," that Israel needed to do "everything in its power to protect innocent civilians" and condemned reports of "extremist" Israeli settlers in the West Bank targeting Palestinians.
The president's comments came a day after Secretary of State Anthony Blinken for the first time said publicly that "humanitarian pauses must be considered" so that food, water, medicine and other essential humanitarian assistance can flow into Gaza.
Just last week, the administration vetoed a resolution at the U.N. Security Council calling for humanitarian pauses, saying that more time was needed for diplomacy to play out to secure aid deliveries.
A U.S. official said the shift in the administration's language was deliberate.
The White House is now backing the idea of a "pause" of indeterminate duration to allow for more aid to get to Gaza and to help those trying to gain safe passage out of the enclave, the official said.
The administration was trying to walk a fine line, the official said, balancing the need to support Israel and its right to defend itself after suffering a brutal surprise attack, while also acknowledging the need to create a window for the delivery of humanitarian aid.
The Israelis are "hearing" the administration's call for a humanitarian pause and it is "actively being discussed," the official said. The Israelis appeared "open" to a pause for their own negotiations to free hostages taken by Hamas, though no final decision had been reached, the official said.
If Israel agreed to a pause, it is unclear exactly how long it would last, administration officials said.
The Israeli Embassy could not immediately be reached for comment.
The president and his team have repeatedly defended Israel's right to take military action against Hamas after the militants' Oct. 7 attack on Israel that left 1,400 dead and more than 200 taken captive. But more than two weeks into Israel's relentless air campaign in the densely populated Gaza Strip, with outrage mounting among Arab governments, the administration's public statements on the humanitarian situation have taken on an increasingly urgent tone.
Speaking at the U.N. Security Council on Tuesday, Blinken said that the U.S. believed every civilian life was "equally valuable."
"There is no hierarchy when it comes to protecting civilian lives. A civilian is a civilian is a civilian, no matter his or her nationality, ethnicity, age, gender, faith," Blinken said.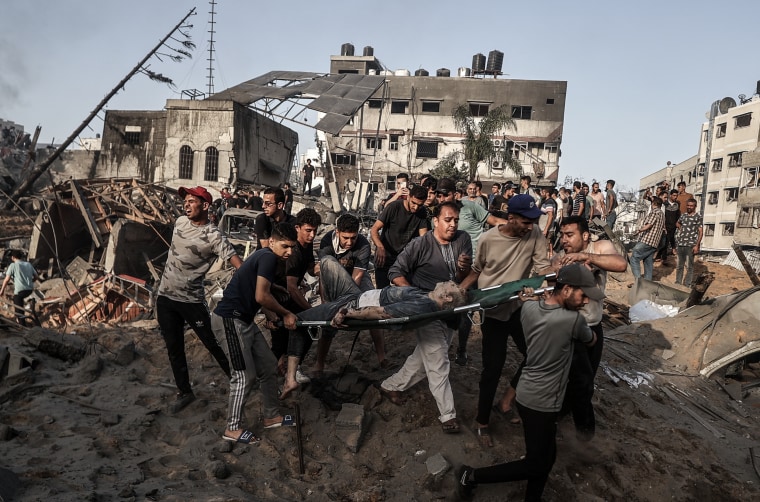 Injured Palestinians are taken away from destroyed buildings after Israeli airstrikes and artillery fires continue in Gaza on Oct. 25.
Ali Jadallah / Anadolu via Getty Images
But U.S. partners in the Middle East, including those closely aligned with the U.S. who have quietly cooperated with Israel, have condemned Israel over its tactics in Gaza and rejected how Washington has portrayed the crisis.
In a speech in Cairo over the weekend, Jordan's King Abdullah II accused Israel of committing war crimes in Gaza. "The relentless bombing campaign underway in Gaza as we speak is cruel and unconscionable — on every level," the king said, calling it "collective punishment of a besieged and helpless people."
Jordan, other Arab governments and Russia have supported calls for an immediate cease-fire, an idea that Israel and the U.S. have rejected, saying it would play into Hamas' hands after it launched an assault on civilians inside southern Israel.
At a U.N. Security Council meeting on Wednesday, governments failed to reach a consensus on the crisis in Gaza. A U.S.-drafted resolution calling for humanitarian pauses was opposed by Russia, China and the United Arab Emirates. A resolution backed by Russia, China and the U.A.E., calling for a cease-fire, was vetoed by the U.S. and the United Kingdom.
At his news conference at the White House, Biden also used tough words to describe incidents in the West Bank in which Israeli settlers staged retaliatory attacks on Palestinians, saying the assaults had "to stop now."
"I continue to be alarmed about extremist settlers attacking Palestinians in the West Bank," Biden said, saying it amounted to "pouring gasoline on fire."
"It has to stop," said Biden. "They have to be held accountable."
The White House is increasingly concerned that the actions of some Israeli settlers could open a new front in the war along the West Bank, according to two administration officials.
The president's strong language was intentional and designed to send a "crystal clear" message to anyone seeking to expand the conflict to reconsider, "given the possibility that tensions could spread and enflame violence further," one of the officials said.
The potential for an expanding war has been a concern for the White House since the Hamas attack on Oct. 7, but until Wednesday administration officials have focused on America's adversaries — warning Iran, for instance, not to mobilize its proxies in the region. Now, the president is warning of Israelis potentially sparking a wider conflict along the West Bank.
While the Biden administration has expressed concern over "extremist settler attacks" against Palestinian civilians in the past, the president's pointed language on Wednesday marks the first time he's specifically cautioned about the potential for such violence to expand the Israel-Hamas war that began two-and-a-half weeks ago.
"They're trying to be more empathetic and sympathetic to the whole question of innocent Palestinians being attacked, killed and injured," said Aaron David Miller, a former Middle East negotiator for the State Department. Miller said Biden's remarks were "by any standard very strong."
The president, however, also cast doubt on Wednesday on the number of Palestinian deaths that Hamas has reported.
Meanwhile, the United Nations, which oversees aid efforts in Gaza, warned it would soon run out of fuel in Gaza and would have to scale back relief efforts in the territory unless a blockade on fuel, water and power was lifted.
Doctors at hospitals in Gaza said they were struggling to treat large numbers of wounded as Israeli air strikes continued to pummel the enclave.
The head of the U.S. Agency for International Development, Samantha Power, spoke with U.N. aid officials on Wednesday to discuss the humanitarian crisis in Gaza. Power "emphasized strong U.S. support for sustained and unhindered humanitarian access, and for the protection of civilians in accordance with international humanitarian law," the State Department said.
Blinken traveled around the Middle East last week to try to negotiate the opening of the Rafah border crossing between Egypt and Gaza and an agreement to allow humanitarian aid in to the Palestinians in Gaza and foreign nationals out. Although some humanitarian aid trucks have been able to cross the border into Gaza, aid agencies say many more are needed given the crisis conditions.
"These deliveries are a drop in the bucket compared to the vast scale of needs," Lynn Hastings, U.N. deputy special coordinator for the Middle East Peace Process, told the Security Council on Tuesday.