The Food and Drug Administration said they are looking into the death of a University of Pennsylvania student with a heart condition whose parents allege died after consuming a caffeinated drink at Panera Bread.
The lawsuit claims that Sarah Katz, 21, believed the Charged Lemonade was a "traditional lemonade and/or electrolyte sports drink containing a reasonable amount of caffeine safe for her to drink." On Sept. 10, 2022, the University of Pennsylvania student drank the drink and then suffered cardiac arrest, the lawsuit says.
On Wednesday, the FDA said it was gathering information on the incident.
"The FDA is saddened to hear of the passing of a consumer and as always, takes seriously reports of illnesses or injury from regulated products," the agency said in a statement to CBS News.
"At this point, we are gathering information about this event," the agency added. "The agency monitors the marketplace of FDA-regulated products and takes action as appropriate, including collaborating with the Federal Trade Commission regarding marketing claims."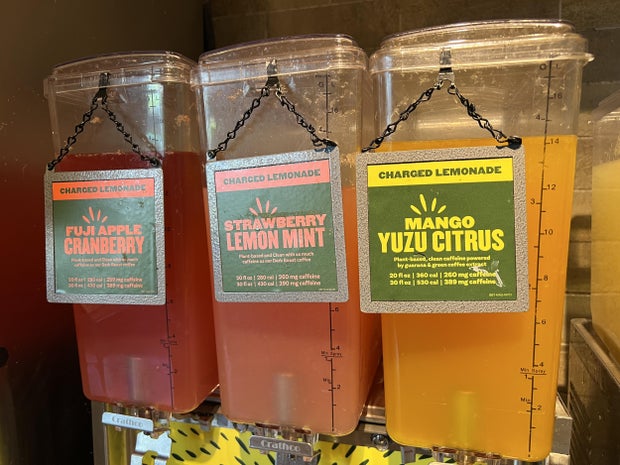 Dispensers for Charged Lemondade, a caffeinated lemonade drink, at Panera Bread, Walnut Creek, California, March 27, 2023. (Photo by Smith Collection/Gado/Getty Images)
Smith Collection/Gado
Katz was diagnosed as a child with the heart condition Long QT Type 1 Syndrome. Throughout her life she avoided energy drinks and heavily caffeinated drinks that could "adversely affect the heart's rhythm" in people with the syndrome, the lawsuit states.
But Panera Bread failed to alert consumers to the caffeine levels in its "Charged Lemonade," according to the lawsuit, which says the chain advertises the drink as "plant-based and clean with as much caffeine as our dark roast coffee."
"Panera Charged Lemonade does not declare the total quantity of caffeine from all sources on the container itself — rather, it merely compares it to an unspecified size of Panera Dark Roast coffee, a beverage which does not contain the added stimulants of sugar and guarana," the lawsuit alleges. The beverage "is a dangerous energy drink," the suit claims.
The lawsuit against Panera Bread claims that a 30-ounce serving of Charged Lemonade contains as much as 390 milligrams of caffeine, more than the combined caffeine levels of a Red Bull and Monster Energy Drink, which together have about 274 milligrams of the stimulant.
Panera markets the product as a juice beverage, and serves it next to other non-caffeinated juice drinks, the lawsuit claims.
"We were very saddened to learn this morning about the tragic passing of Sarah Katz, and our hearts go out to her family," a Panera spokesperson said in a statement issued Monday in response to the lawsuit. "At Panera, we strongly believe in transparency around our ingredients. We will work quickly to thoroughly investigate this matter."
Thanks for reading CBS NEWS.
Create your free account or log in
for more features.