The three giant pandas at Smithsonian's National Zoo in Washington, D.C., will be going back to China slightly earlier than planned, the zoo announced in statement on Wednesday, October 25.
"Giant pandas Mei Xiang, Tian Tian and Xiao Qi Ji will leave for China by mid-November," the National Zoo posted on X, formerly known as Twitter.
"Make sure to plan your visit or tune in online to the Giant Panda Cam for your panda fix."
The pandas were originally thought to be leaving in early December, per an agreement with the Chinese government.
GIANT PANDAS TO LEAVE SMITHSONIAN'S NATIONAL ZOO IN WASHINGTON, DC, IN DECEMBER
Multiple Washington outlets reported that the giant pandas will instead be departing the city by November 15, rather than December 7.
The pandas will be flown from Virginia's Dulles International Airport to their new home in Chengdu, China.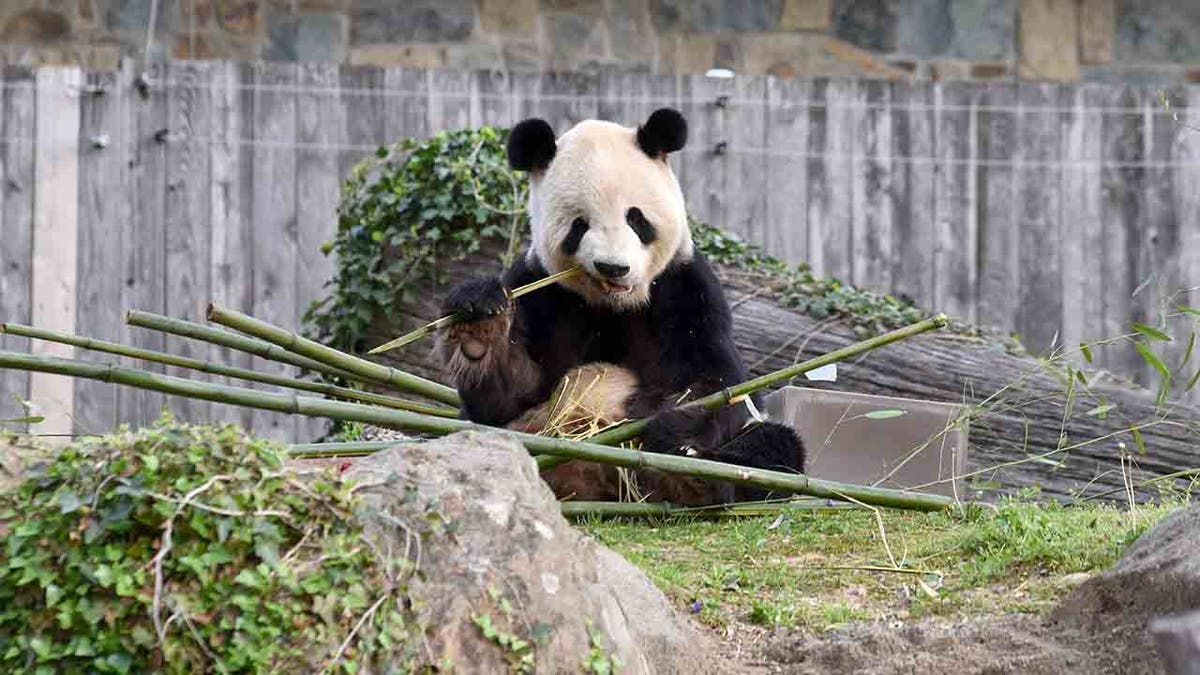 Tian Tian, pictured here, will be leaving D.C. by November 15 after living at the National Zoo for 23 years. (Chen Mengtong/China News Service via Getty Images)
The flight will take about 19 hours, the Washington Post said on Wednesday, and the pandas will be kept in special storage containers containing lots of bamboo and water for their journey.
While the zoo has told China that it's interested in having pandas again in the future, there have not been any formal discussions with the country, said the Washington Post. In the meantime, the National Zoo will renovate the current panda enclosure, said the publication.
With the pandas' imminent departure, the National Zoo is set to be completely panda-less for the first time in many decades.
BRAIN TEASER: CAN YOU FIND THE 3 PANDAS WITHOUT SUNGLASSES?
Hsing-Hsing and Ling-Ling, the zoo's first pandas, arrived in April 1972 as a gift from China, said the National Zoo.
In February 1972, during President Richard Nixon's visit to China, first lady Patricia Nixon told Chinese Premier Zhou Enlai that she had quite liked the pandas she had seen at the Beijing zoo, said the National Archives website.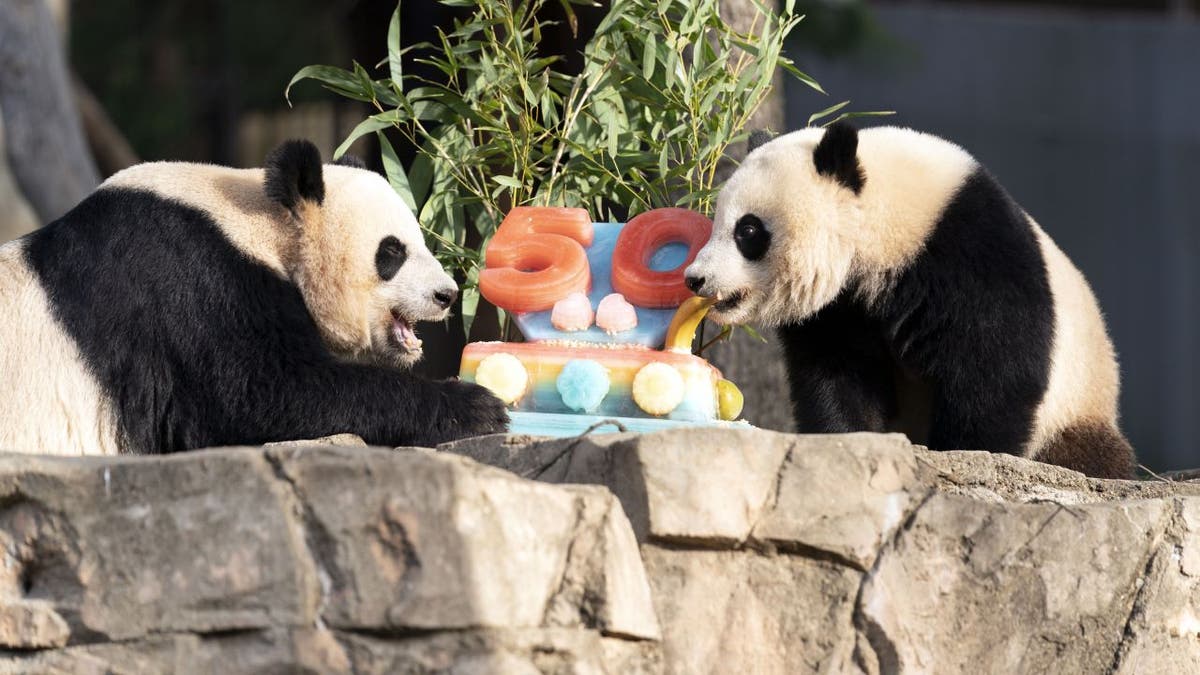 Giant pandas Mei Xiang (left) and her cub Xiao Qi Ji (right) eat a fruitsicle cake in celebration of the 50th anniversary of the Smithsonian's National Zoo and Conservation Biology Institute's panda exchange program. The animals will be leaving D.C. in November, along with Xiao Qi Ji's father Tian Tian. (AP Photo/Jose Luis Magana)
"I'll give you some," said Enlai — and Hsing-Hsing and Ling-Ling were sent over shortly thereafter.
Hsing-Hsing and Ling-Ling died in the 1990s, said the National Archives.
They had no surviving offspring and had documented troubles in conceiving.
NATIONAL ZOO CELEBRATES PANDA EXCHANGE PROGRAM'S 50TH ANNIVERSARY WITH TREAT
Their replacements, Mei Xiang and Tian Tian, have lived at the National Zoo since Dec. 6, 2000, said the Smithsonian's National Zoological Park's website.
The two pandas were born at the China Research and Conservation Center for the Giant Panda, located in the province of Sichuan.
Unlike their predecessors, Mei Xiang and Tian Tian were a loan from China, not a gift.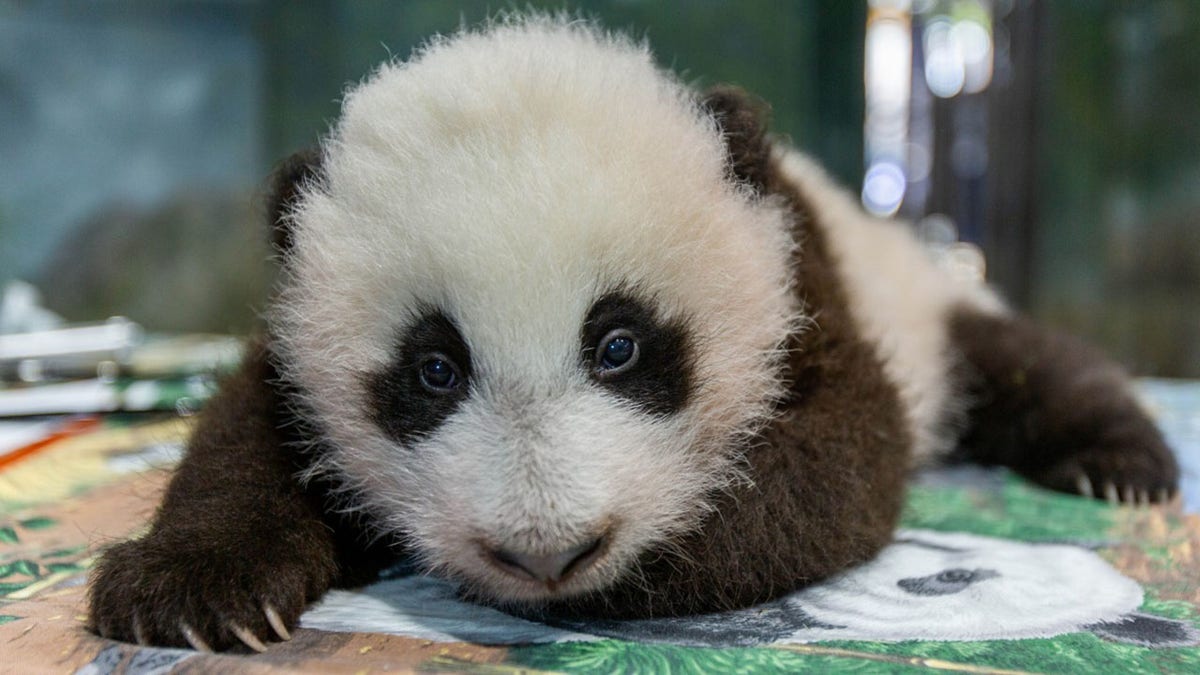 Xiao Qi Ji, the youngest of D.C.'s three pandas, is shown here as a three-month-old cub. (Smithsonian's National Zoo & Conservation Biology Institute)
The agreement that kept the two adult pandas in the United States has been re-negotiated several times, most recently in 2020.
Mei Xiang and Tian Tian are the parents of several cubs — all of whom were conceived through artificial insemination.
Their first cub, Tai Shan, was born on July 9, 2005, and returned to China a few months before his fifth birthday.
CLICK HERE TO SIGN UP FOR OUR LIFESTYLE NEWSLETTER
In January 2011, the National Zoo and the China Research and Conservation Center for the Giant Panda signed the "Giant Panda Cooperative Research and Breeding Agreement," said the zoo's website.
The agreement initially allowed for Mei Xiang and Tian Tan to stay at the zoo through December 2015, and that all cubs born to the two would be sent to China at the age of four.
CLICK HERE TO GET THE FOX NEWS APP
Since that agreement was signed, six cubs have been born, but only four of Mei Xiang's cubs lived long enough to be sent to China.
The newest cub, Xiao Qi Ji, was born on Aug. 21, 2020 – meaning he will be returning to China when he is a little over three years old.
For more Lifestyle articles, visit www.foxnews.com/lifestyle
Christine Rousselle is a lifestyle reporter with Fox News Digital.