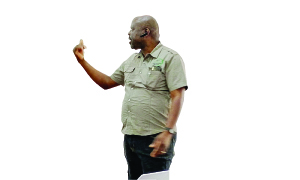 •Health consultant Dr Jonathan Kaunda Mwansa makes a presentation during the workshop. Picture by DOROTHY CHISI
By DOROTHY CHISI
The Executive and Personal Assistants Association of Zambia (EPAAZ) has over the years developed a focus to have highly trained administrative professionals with appropriate skills needed to meet both current and future demands in the field.
The association seeks to develop an administrative field with a high level of excellence that can produce desired results.
To enhance its vision, the association recently held a four-day training for administrators from various institutions across the country.
Speaking at the opening of the workshop, EPAAZ acting president Perry Mweetwa said the work of administrative professionals is important in all sectors, ranging from construction and finance, health, education, engineering and others.
Ms Mweetwa said the birth of the association was meant to embrace and accommodate all professionals in administration for effective and efficiency performance.
She said the association is not just there to train, but also learn because it believes administration is the nerve centre of any institution.
Ms Mweetwa said EPAAZ welcomed efforts aimed at improving the quality of services of the profession and provide significant contribution in performance and development of the nation.
She said the aim of the association is to ensure that it raises the status and image of its members through the provision of continuing professional development and maintenance of integrity for the profession.
Ms Mweetwa said EPAAZ maintains and sets professional standards to ensure the conduct of members is in conformity with ethical expectations.
The association welcomes efforts aimed at improving the quality of the services of the profession and believes training provides significant contribution in performance and foster reputation in various institutions.
Health Consultant Jonathan Kaunda said maintaining the health and wellbeing of employees has the potential to benefit an organisation in areas such as reduced absenteeism.
Dr Kaunda said organisations and companies that prioritise and invest in employee health demonstrate that they recognize and value their employees' contributions to the business and their role in its success.
"A workplace that pushes its employees to be more productive without managing their health can fall into a vicious cycle. Exhausted employees rarely work to the best of their abilities," he said.
Dr Kaunda noted that alternatively, a company that prioritizes its employees' health promotes an engaging, inspiring and motivating work environment.
He said neglecting employee health is linked to sickness, reduced engagement levels, burnout, stress, coupled with worries triggered by geopolitical tensions and disease outbreaks.
The consultant also said companies and organisations should open and supportive of mental health initiatives.
He said they should encourage their employees to seek assistance as some employees may be too embarrassed to ask for help.
Siavonga District Commissioner Geoffrey Jakopo commended the association for spearheading training for private and public administrators as it is cardinal in the development of the nation.
Mr Jakopo said he is sure the training will help to improve the standards and performance in offices not only at individual level but as national level too.
The district commissioner commended the institutions for ensuring that they support growth and effectiveness among officers, executive officers and secretaries by participating in the training.
Mr Jakopo said it is good that the administrative professionals have recognized the importance of belonging to the association.
"This year's theme, 'Impacting Knowledge and Transforming the Administrative Profession', denotes how career minded administrative professionals are positioning themselves for success in today's ever changing business environment by mastering advanced technology," he said,
He urged EPAAZ to be focused in order to have highly professionally trained administrative members with appropriate skills needed to meet the current and future demands in the administrative field with a high level of excellence.
Mr Jakopo said it is the duty of the Government as well as the private sectors to improve the relationship between themselves and personal assistants in order to minimize the temptation of leaking information.
He said forging ahead in upholding the profession, it is the responsibility of the association to educate employers in private and public institutions about the value that secretaries, administrative and executive officers take to organizations and institutions.
Japhet Mwiinde, one of the training participants, said the four days training was important for Government workers, especially administrators who manage various activities in administration.
He said capacity building is cardinal as indicated in some of the topics that were covered during the training programme, which included the art of communication, and understanding organising skills, which are important in administration.
Mr Mwiinde said many times, administrators feel they are not appreciated in their institutions.
He said the coming up of EPAAZ is commendable because administrators are now confident of their need being taken care of.
Mr Mwiinde said it is also interesting to note that most of the participants in the training initiative have shown interest in belonging to a professional association.
"EPAAZ is not there to fight other associations, but to see to it that people who handle administrative work are also incorporated into a professional body which they will feel they belong to," he said.
Mr Mwiinde appealed to the association to consider holding similar meetings to help the administrators in their daily duties as well as give them room to interact and share experiences with colleagues.
He said it is through such engagements that they administrators learn new things and become effective and efficient in the development of their career.
Training initiatives are part of capacity building as well as manpower development, which is among key activities that any organisation must engage in if it hopes to survive in a changing business environment.
Professional development ensures that knowledge and skills remain relevant and up-to-date.
This allows employees to be more aware of changing trends and directions in their industry.
Career development learning being delivered through associations such as EPAAZ contribute to the enhancement of skills of each employee.
This helps employees and organisations to remain relevant and competitive in a changing global environment.