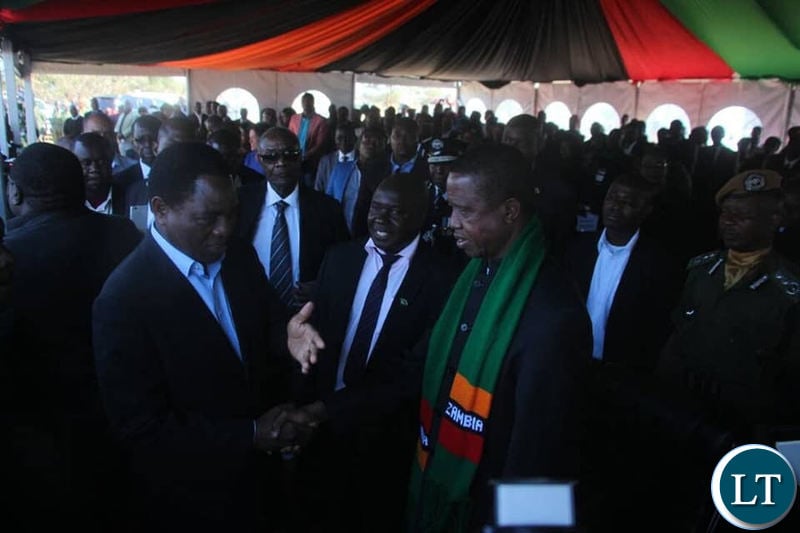 HH greets First Lady Esther Lungu at late Munkombwe's burial in Choma
Veteran politician Vernon Mwaanga has said that the delay by President Edgar Lungu and opposition UPND leader Hakainde Hichilema to engage in dialogue shows levels of immaturity from both leaders.
Dr. Mwaanga said that he found it it unfortunate that President Lungu and Mr. Hichilema have never met in person to talk about anything since the Commonwealth initiated the dialogue process between them.
In an interview by telephone with QTV News Dr. Mwaanga stated that it was important that, as Zambians the two leaders are seen to be talking to each other.
Dr. Mwaanga thought that having earlier agreed that Church mother bodies lead the dialogue, after the ground work laid down by the Commonwealth, the dialogue process should have started by now.
Dr. Mwaanga wondered what the problem was and who was holding the dialogue process from taking place.
Dr. Mwaanga also said the he believes that holding of this dialogue process is an urgent matter that needs to be undertaken immediately in order that ground work is prepared for 2021 by ensuring that outstanding issues such as constitutional reforms are ironed out ahead of this year.
Dr. Mwaanga noted that there was need for Zambia to reach a point where people of different political affiliations and persuasions do not treat each other as enemies.
Dr. Mwaanga said that he did not think that people in the Country should treat other as enemies because, in his view, politics is not war