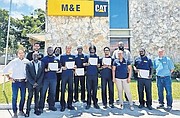 A group of apprentice service technicians successfully completed the training programme at Machinery and Energy Limited (M & E).
The apprentices graduated from the CVA Inspections and Preventative Maintenance training program in CATERPILLAR® Heavy Equipment and Electric Power Generation.
They participated in a month long theoretical and hands-on, instructor-led, and web-based training programme that covers inspections, preventative maintenance, and troubleshooting and equipes apprentices with the necessary skills and knowledge to excel in their future careers.
The rigorous programme provided the apprentices with a holistic understanding of industry best practices, advanced machinery inspection techniques, and preventive maintenance strategies.
Alan Osorio, general manager at M&E Limited said that investing in the apprentices education and training will enhance the nation's skilled work force and development.
He said: "At M&E Limited, our primary focus lies not only in delivering high-quality heavy construction machinery and energy solutions but also on nurturing and developing the country's youth through training programs such as these.
"We believe that investing in the education and training of our Apprentices is pivotal for building a better Bahamas and ensuring a talented and skilled workforce for the nation's development and future."
Nia Mills-Bethel , HR Lead at M&E Limited, said that the programme helps to company to meet their employment needs and grow local talent. She added that the apprenticeship allows the company to tap into 'fresh talent' that is 'hungry and eager' but lacking the necessary skills.
"This apprenticeship program helps to meet the company's employment requirements while marrying the need to grow our own local talent.
"Within the HR space, we have observed that the employment market is identifying a need to upskill potential candidates who may have been ordinarily precluded for certain positions.
"This apprenticeship has opened the door for us to invest in fresh talent who are hungry and eager to learn but have not yet garnered the skills needed. We are pleased to do our part in bridging the skills gap."