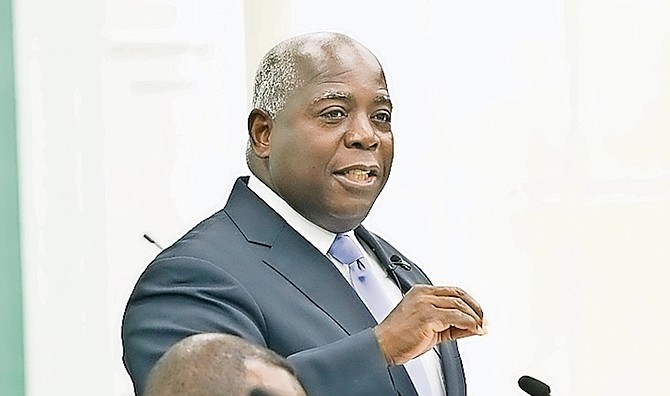 PRIME Minister Philip "Brave" Davis. (File photo)
PRIME Minister Phillip "Brave" Davis said his administration is pleased with its performance in office so far, but also acknowledged that there is still much more work to be done.
Mr Davis also said that he plans to reveal "in due course" his administration's legislative agenda for next year.
"Our accomplishments for the last year, we are very pleased with, though we have accomplished a lot, we do recognise that there is still much to be done and we are guided by that fact that there's still a lot of work ahead of us," Mr Davis said before attending yesterday's Cabinet meeting.
The Progressive Liberal Party, led by Mr Davis, assumed office last September after defeating the former Minnis FNM administration, whose term in office was marked with challenges such as Hurricane Dorian and then the COVID-19 pandemic.
Since assuming office, the party has eliminated the COVID-19 Emergency Powers Orders, introduced and enacted several pieces of legislation, including laws that aid in the sale of carbon credits, reduced the value-added tax (VAT) rate across the board from 12 percent to 10 percent and increased the national minimum wage, among other things.
Still, while the Davis administration has several accomplishments, there are many promises that they have yet to fulfil, such as the presentation of marijuana legislation to Parliament.
Officials had previously said they planned to do so before the end of the year; however, Attorney General Ryan Pinder recently told The Tribune that this is "not likely". He said the government was still working on the proposed legislation.
In addition to this, the Davis administration has also pledged to address the country's citizenship issues through legislative means.
Asked about this yesterday, Prime Minister Davis said: "I will give a full statement of what is expected legislatively in due course before the year is out."