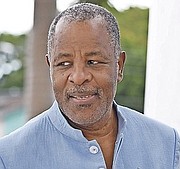 By NEIL HARTNELL
Tribune Business Editor
nhartnell@tribunemedia.net
Sir Franklyn Wilson's Eleuthera Properties is locked in a legal battle with Massachusetts Institute of Technology's (MIT) chairman emeritus over the latter's bid to exit his $7.5m investment in the Bahamian developer.
Justice Deborah Fraser, in a May 26, 2023, ruling granted Robert B Millard's demand that Eleuthera Properties make "further and better disclosure" of all conveyances, sales agreements and appraisals involving real estate in the Jack's Bay development dating between 2007 and 2018.
Jack's Bay recently celebrated the ground-breaking for its $20m, 18-hole golf course by Nicklaus Design to complement the existing nine-hole variety designed by Tiger Woods' firm, and the valuation of the south Eleuthera development's lots lies at the heart of the dispute between Mr Millard and Eleuthera Properties.
Sir Franklyn, chairman of Eleuthera Properties and Jack's Bay, told Tribune Business he was aware of Justice Fraser's ruling when contacted yesterday. "We remain confident in our position," he said. "This is a legal process and we respect the process. We remain confident in our position. I'm aware of the judgment. I'm taking the advice of counsel and we're going to act on it."
Confirming that Mr Millard is indeed the MIT Corporation's chairman, Sir Franklyn added: "This isn't the first time we've had to defend ourselves against him. He's a wealthy man, but he's a man, and we've had to defend ourselves against him previously."
Mr Millard's biography confirms his background as a prominent US citizen. Besides the MIT Corporation involvement, he is also named as a director of Evercore, an international investment bank, and a member of the Council on Foreign Relations.
Justice Fraser's judgment deals only with a preliminary, interlocutory matter and does not represent a decision on the substantive merits of the case. Noting that Eleuthera Properties owns some 4,600 acres in that island's south, she revealed that the battle has is roots in Mr Millard's June 30, 2007, decision to acquire 10,000 shares in the company.
"Subsequently, and after speaking with the chairman of the Sunshine Group of Companies, Sir Franklyn Wilson, Mr. Millard invested an additional $1m into Eleuthera Properties resulting in Mr Millard being transferred an additional 5,000 ordinary shares in Eleuthera Properties," Justice Fraser said.
The share purchase agreement stipulated that, if Mr Millard retained at least 10,000 shares in Eleuthera Properties for at least ten years, he could then sell or part of his investment at a "strike price" equal to 125 percent of the share price. This sale was to be exercised by way of a 'put option', which Eleuthera Properties had the option to satisfy via providing "no less than five acres of land" from its south Eleuthera holdings which could be selected by Mr Millard.
This land, the agreement said, could include "contiguous sand beachfront" in the Jack's Bay area. The land's value was to be determined by an independent appraiser, selected by both Mr Millard and Eleuthera Properties. Once the ten-years were up, Mr Millard gave written notice that he intended to exercise the 'put option' and sell all his 17,500 shares in the Bahamian development company.
"Mr Millard claims that the additional 2,500 shares, at $400 per share, were given to him under similar terms to the initial 10,000 ordinary shares. This, Mr Millard claims, was orally agreed between himself and Sir Franklyn," Justice Fraser wrote in her ruling. "Eleuthera Properties refused to acknowledge the additional 2,500 shares and stated that it would honour the 15,000 ordinary shares issued.
"In anticipation that the strike price of the 'put option would be satisfied in whole or in part by conveyance of land to Mr Millard, the parties jointly engaged Bahamas Realty for a valuation on certain lots at Jack's Bay on or about January of 2018."
The Bahamas Realty report detailed that four lot sales, each worth $1m, occurred at Jack's Bay between February 2018 and March 2018, while "three additional transactions were provided for ocean view lots that sold in 2018 with an approximate average sales price of $6,250 per lineal foot. Jack's Bay beach front lot sales number approximately five in the past six months indicating an absorption rate of approximately 10 units per year".
"The concluding summary of the report was amended to include an estimate of how many lots would be required to satisfy a sum of $7.5m," Justice Fraser added. But, while Mr Millard asserted that he selected lots eight-22 as the real estate he desired to satisfy his $7.5m investment, Eleuthera Properties alleges that he "never definitively identified" what he wanted.
This led Mr Millard to initiate legal action in the Supreme Court some five months later in late 2018. "He claims that Eleuthera Properties failed to act in good faith by instructing the independent appraiser to add information to the report without Mr Millard's knowledge, and Eleuthera Properties inaccurately, fraudulently and/or negligently represented to him that five lots in Jack's Bay was sold within six months which significantly influenced the report," Justice Fraser wrote.
A discovery dispute then erupted between the two sides, with Mr Millard demanding "a further and better list of documents" and Eleuthera Properties retorting that this request was "overly broad". The documents requested included all Eleuthera Properties' financial statements from 2009-2018, plus all sales documents, conveyances, appraisals and communications involving real estate sales at Jack's Bay.
Sir Franklyn, in a September 29, 2022, affidavit asserted that Jack's Bay Development, an affiliate company, owned the land in question and it had not been subdivided between 2009 and 2018. He also confirmed that, in July 2017, Beacon Bahamas and Beacon Land Development, had been contracted to manage Jack's Bay and handle all marketing and sales. This deal ended in September 2018 and, as a result, Eleuthera Properties had no contact with buyers during this time.
"Sir Franklyn's affidavit also stated that Eleuthera Properties used best efforts to retrieve from Beacon and Jack's Bay the remaining documents specified in Mr Millard's request concerning the sale of the lots in Jack's Bay over the relevant period," Justice Fraser recorded. "Sir Franklyn personally contacted Michael Abbott and asked him whether Beacon had any documents relating to lots at Jack's Bay.
"Mr Abbott told Sir Franklyn that Beacon was dissolved and that he no longer had any documents or correspondence pertaining to the sales in Jack's Bay during the period of 2009 to 2018. The documents from Jack's Bay establish that Lots BF-1 and BF-2 were sold to third parties for the price of $1m gross, which price is also aligned with the appraiser's valuation of the beachfront lots in Jack's Bay in 2018."
While Sir Franklyn asserted that Eleuthera Properties "does not have within its possession, custody or control any other documents relating to the matters in question in the action, Mr Millard's attorneys pointed out that Jack's Bay Development was wholly beneficially owned by the same Eleuthera Properties. And Sir Franklyn sat as chairman for both entities.
"Mr Millard's counsel asserts that Eleuthera Properties produced a valuation chart that refers to agreements and reservations in its discovery without producing the actual agreements and reservations being referred to. He submits that Eleuthera Properties must have these documents in its possession," Justice Fraser wrote.
"Mr Millard's counsel asserts that data used to compile the valuation chart produced by Eleuthera Properties during discovery is clearly connected to issues which have been raised by Mr Millard in his pleadings.... Eleuthera Properties counsel submits that it used its best efforts to retrieve from third parties who were directly involved in the sale of land at Jack's Bay (being Beacon and Jack's Bay Development Ltd) further documents requested by Mr Millard.
"Its counsel asserts that several documents have been submitted by the two entities and, subsequently Eleuthera Properties filed a supplemental list of documents on September 29, 2022, in its attempt to comply with Mr Millard's counsel's request for further documents."
Justice Fraser, though, found for Mr Millard as he had made "a prima facie" for the real estate-related documents he was seeking. Brian Simms KC, the Lennox Paton senior partner, acted for Mr Millard while Robert Adams KC represented Eleuthera Properties.