Will genealogy sites help solve cold cases?
More than 47 years after a teenage girl went missing and was later found dead in northern Indiana, authorities say they have arrested and charged two men in connection with the crime thanks in part to a recent DNA match. In an announcement Tuesday morning, Indiana State Police confirmed the new developments after a homicide investigation spanning the better part of five decades.
On August 6, 1975, the teenager, Laurel Jean Mitchell — who was 17 at the time of her death — did not return home from her job at the Epworth Forrest Church camp, located on the northern side of Webster Lake in Kosciusko County, authorities said.
Mitchell's parents reported her missing to police, but the teenager's body was found the following morning in the water roughly 17 miles away from her home. Although Mitchell's cause of death was ruled as drowning, police say the autopsy report suggested that she "had fought for her life," so police initiated a murder investigation.
"The initial investigators spent thousands of hours trying to solve her murder," said a spokesperson for the Indiana State Police in a news release issued Tuesday. "Over the next five decades numerous detectives would continue to work on her case, all the while her family would suffer with no answers."
Investigators finally arrested two suspects this week who are now charged in Mitchell's death, police said. The suspects, identified as Fred Bandy, Jr., 67, and John Wayne Lehman, 67, respectively of Goshen and Auburn, Indiana, were arrested at their homes on Monday without incident, the law enforcement agency said. Both men face one count of murder and are currently being held without bond at the Noble County Jail.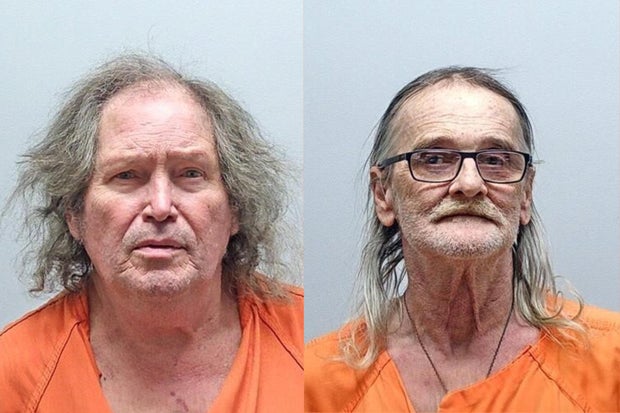 Fred Bandy Jr. (left) and John Lehman (right) were arrested and charged on Monday, Feb. 6, in connection with the death of Indiana teenager Laurel Jean Mitchell in 1975.
Noble County Jail
The investigation into Mitchell's death changed course several months ago, when lab workers with the Indiana State Police were able to match a DNA sample taken from Mitchell's clothing to one collected from Bandy at the end of last year.
The positive correlation led authorities to Bandy as well as Lehman, who, according to a tip shared with the Noble County Sheriff's Department almost a decade ago, had previously admitted to committing a crime with Bandy, his friend, in 1975. At least two individuals, whose names were not disclosed, also previously told investigators that Bandy had admitted to the crime on more than one occasion.
"This case is a culmination of a decades-long investigation," said Indiana State Police Captain Kevin Smith at Tuesday's news conference, adding that "science finally gave us the answers we needed." Smith also thanked the "many citizens" who came forward over the years to share tips and other relevant information, which he said "was key to solving this case."
In:

Cold Case

Indiana

Murder
Thanks for reading CBS NEWS.
Create your free account or log in
for more features.