CNN —
It is the tale of two of the NBA's most beloved players.
There's Nikola Jokić of the Denver Nuggets – the hulking Serbian center who has battled underappreciation and misinterpretation to become one of the league's greats and a two-time Most Valuable Player.
Then there's the Miami's Heat Jimmy Butler – another undervalued player whose grit and never-say-die attitude against the odds has earned him plaudits and fans in recent years, but in particular, these playoffs.
It's the performances of Jokić and Butler which help to explain why the NBA Finals are being contested by Denver Nuggets and the Miami Heat as the 2022/23 NBA season concludes.
The two teams have a lot in common; both are led by a star player with complimentary contributors around them and both have long-tenured head coaches at the helm – Miami's Erik Spoelstra has the second longest active spell as a team's head coach while Denver's Michael Malone has the fourth longest.
After sweeping the Los Angeles Lakers in the Western Conference Finals, the Nuggets have had over a week off while the Heat have come off a grueling seven-game series with the Boston Celtics, so tiredness could be a factor.
Whoever is left standing with the Larry O'Brien trophy held high come the end of the Finals – whether it be Jokić or Butler – is likely to be a great story for neutral fans, with both players aiming to win their first rings.
Game 1 of the NBA Finals begins on Thursday, June 1 at Ball Arena in Denver, Colorado, with Game 2 taking place on Sunday.
The series then travels to Miami for Games 3 and 4 before returning to Denver for Game 5 if necessary. If required, Game 6 will be held in Miami and Game 7 in Denver.
The finale of the NBA season will be broadcast on ABC in the US, while all games are available via the NBA League Pass.
International viewers can watch all the action on the League Pass, as well as through local broadcasters.
For the Nuggets, a run to the Finals was the only acceptable outcome at the beginning of the season after years of near misses. And as the No. 1 seed in the Western Conference, they have made good on those desires.
Jokić has become a transformative player for Denver over recent years; but this season in particular, the two-time MVP has gone from regular-season monster to postseason juggernaut.
The 28-year-old has averaged a triple double of 30.4 points, 13.8 rebounds and 10.2 assists in 13 games this postseason as Denver has romped through the playoffs.
He has fended off challenges from a long list of superstar opposition – LeBron James, Anthony Davis, Kevin Durant and Devin Booker have all fallen by the wayside.
It's Jokić's unique combination of passing, scoring and vision that have made him such a dominant force and, paired with Jamal Murray's scoring ability, the Nuggets have been almost unstoppable on offense.
Due to some savvy additions in recent years – in particular, Aaron Gordon and Kentavious Caldwell-Pope – Denver's defense has also been stifling.
Jokić admitted that the celebrations were short-lived after the Western Conference Finals sweep of the Lakers as Denver's goal is lifting the title.
But he admits that if they are able to claim that ring, he might allow himself to fully soak it all in.
"I'm going to have bigger emotions, yes. We won the (Game 4 against the Lakers) and I was really happy, yes, yes, we made history, this, that," Jokić told reporters. "But at the end of the day, next year, nobody is going to remember us or two years from now.
"So maybe, if we win it all, maybe it's going to be different, but we will see."
The Nuggets have remained unbeaten in home games these playoffs, and with home court advantage in the Finals, Denver is a strong favorite to claim a first title in franchise history.
While the Nuggets' journey to the Finals wasn't unexpected, the Heat's run certainly was.
Having stumbled through the regular season – battling consistent injuries and shooting woes – Miami eventually booked a spot in the Play-In tournament.
But even then they struggled, first losing to the Atlanta Hawks before overcoming a late deficit to squeak past the Chicago Bulls into the playoffs.
Their reward for squeaking through the Play-In route was a match-up with the No. 1 seeded Milwaukee Bucks. Miami was given little hope, but five games later, the Heat had shocked the Bucks 4-1 and advanced to the next round.
The New York Knicks were the next to succumb to Butler and Co. and the Boston Celtics, despite recovering from a 3-0 deficit to force a Game 7, failed to get the better of the Heat.
The 33-year-old Butler has been at the forefront of Miami's extraordinary run and has been consistently unfazed in the face of unimaginable pressure.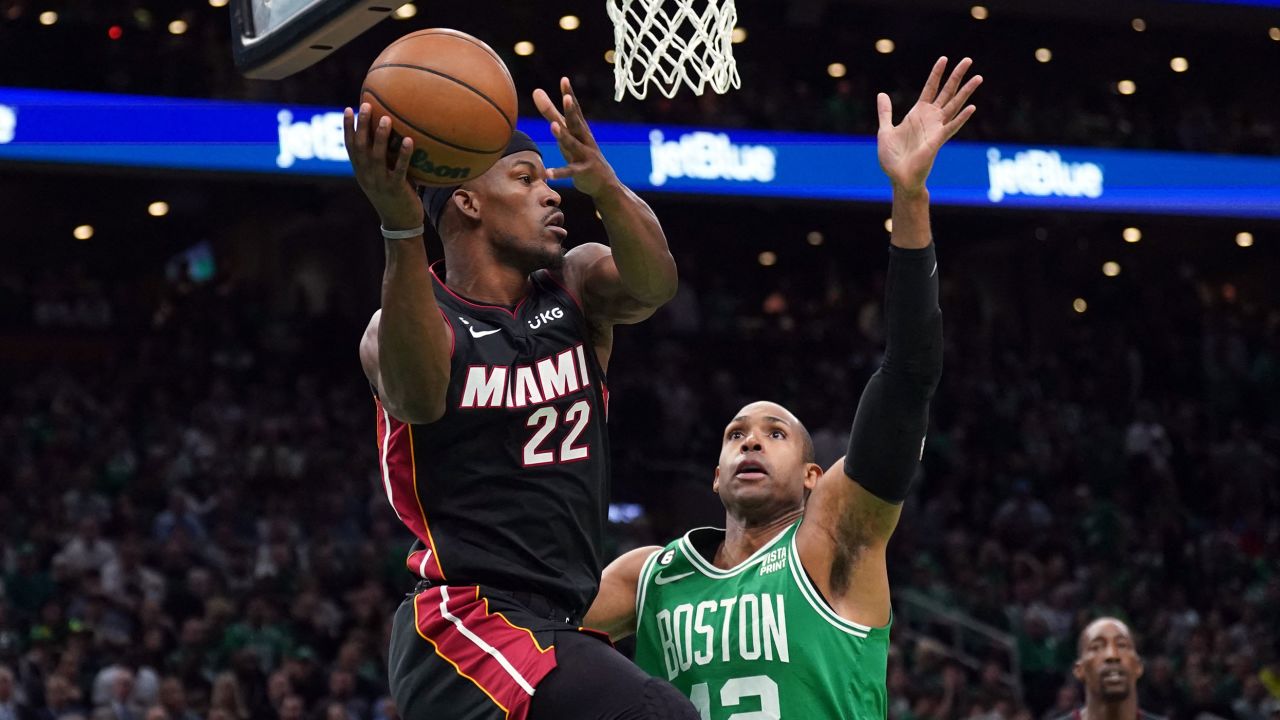 This postseason, he has averaged 28.5 points, 7.0 rebounds and 5.7 assists as he has led the Heat to within four wins of a first title in 10 years.
But more than that, his confidence has been praised even when the odds seem stacked against his team.
Following the Heat's demolition of the Celtics in Game 7 of the Eastern Conference Finals – having lost three games in a row prior to it – Butler pointed to the team spirit which has gotten them to where they are now.
"I'm not going to say losing three in a row is part of the Heat culture we like to talk about because we don't play to lose and we don't want to lose. [The Celtics] are an incredible team over there and they will be for a while," he told reporters.
"I just think the guys that Coach (Spoelstra) and Coach Pat (Riley) put together, when a guy goes down, the next guy could fill in that gap and do exactly what that guy that went down did and do it at a high level.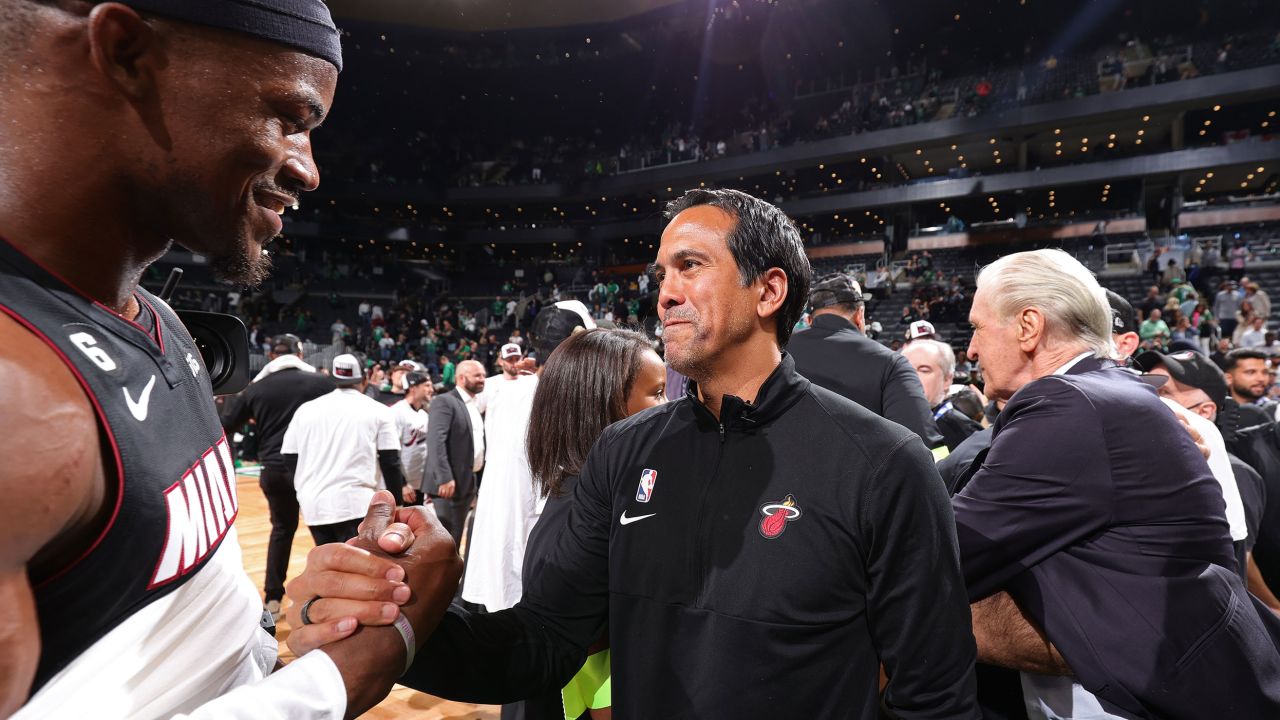 "Then be humble enough to know that when that guy comes back, you've got to take a step back and get back in your role. Nobody ever complains. They always do exactly what you ask of them to do, which is why you want to play with guys like that, which is why they are the reason we win so many games.
"I don't call them role players; I call them teammates because your role can change any given day, especially how many games I've missed, in and out of lineup, off nights, whatever you want to call it.
"But we have some hoopers. We have some real-deal basketball players that can score, can defend and can pass and can win games for us."
Will it be the wily old veteran or the Serbian superstar to claim their first ring? We will soon find out.