Three EMTs who responded to the fatal beating of Tyre Nichols were fired Monday after an internal investigation, the Memphis Fire Department said.
Robert Long, JaMichael Sandridge and Lt. Michelle Whitaker were found to have violated multiple department policies in their patient response to Nichols on Jan. 7, the fire department said in a statement.
"Their actions or inactions on the scene that night do not meet the expectations of the Memphis Fire Department and are not reflective of the outstanding service the men and women of the Memphis Fire Department provide daily in our community," it said.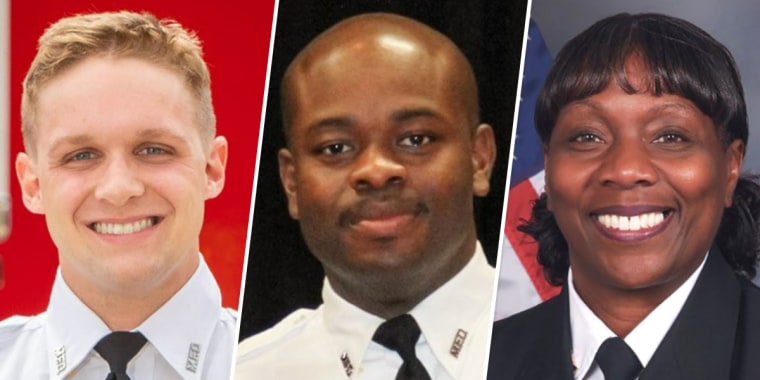 Robert Long, JaMichael Sandridge and Michelle Whitaker.
Memphis Fire Dept via Twitter
The fire department was sent to the scene of Nichols' traffic stop at 8:31 p.m. after police called because of a "person pepper sprayed," the fire department noted. Long, Sandridge and Whitaker were sent to a second location and arrived to find Nichols leaning against a police vehicle 10 minutes after the call.
Long and Sandridge responded to Nichols, while Whitaker and a driver remained in the vehicle, the fire department said.
"Our investigation has concluded that the two EMT's responded based on the initial nature of the call (person pepper sprayed) and information they were told on the scene and failed to conduct an adequate patient assessment of Mr. Nichols," the fire department said.
Voicemails left at phone numbers listed for Long and Whitaker were not immediately returned Monday evening. Sandridge did not immediately respond to an email requesting comment.
Video of the traffic stop showed officers using force against him multiple times, including pepper spray. The officers also appeared to punch Nichols, strike him with a baton and seemingly kick him in the face while he was detained, the videos released Friday showed.
Nichols was taken in critical condition to the hospital, where he died three days later. A cause of death has not been released.
Police initially said Nichols was pulled over in a reckless driving stop, but Police Chief Cerelyn "C.J." Davis said her office has found no proof to substantiate the claim. Officers ordered Nichols on the ground, giving him conflicting commands, before he ran away.
Officers pursued Nichols, using a stun gun on him as he fled, according to the videos. He was repeatedly pepper-sprayed before he was beaten an estimated 80 yards from his mother's home. He died three days later.
Preliminary findings in an autopsy a forensic pathologist conducted for Nichols' family show he was severely beaten before he died, the family's attorneys have said. The Shelby County medical examiner's office hasn't released an official cause of death.
Five officers — Tadarrius Bean, Demetrius Haley, Emmitt Martin III, Desmond Mills Jr. and Justin Smith — were fired Jan. 20 after an administrative investigation found they had violated department policy about the use of force. A sixth officer, Preston Hemphill, was "relieved of duty," police said Monday.
Bean, Haley, Martin, Mills and Smith were charged with second-degree murder, two counts of official misconduct, two counts of aggravated kidnapping, one count of official oppression and one count of aggravated assault, prosecutors announced last week.